The United States is a very popular destination among Australians as the country is massive and has so much to offer.
From the beautiful nature to the sheer diversity between the different states, it is an excellent holiday spot. That being said, it is important to prepare for your trip physically and mentally as it is a long way away!
This guide is full of countless tips and advice for traveling to America!
Travel Tips: Flying from Australia to the USA
Prepare for Your Flight
Flying from Australia to the US is quite a feat! Flights can take anywhere from 13 hours to 23 hours, depending on the point of departure/arrival.
The fastest journey is from Sydney Airport to Los Angeles Airport, with a 13.5h direct flight. The most common arrival destinations are Los Angeles, Dallas, Honolulu, and San Francisco.
If your destination is elsewhere and you have a layover at one of these destinations, be sure that you leave a substantial amount of time between flights, as you will have to go through customs at the first arrival point.
In terms of finding a cheap flight to America, it is definitely possible! It pays to search in advance and keep an eye on price trends for flights.
If you want to save even more money for your trip, consider booking your airport parking in advance as well!
Flyparks is an online comparison site for airport parking across all major airports in Australia. They can help you find excellent deals and book the best rates at highly rated car parks like Andrew's Airport Parking Melbourne.
Another helpful tip is to be fully prepared for the long journey to America. It helps to wear comfy clothing for the plane ride and try to do some stretches and walking throughout the flight.
You most likely will be jetlag when you arrive but aim to stay hydrated and get some sleep on the flight to help you acclimate faster.
Visa – Admin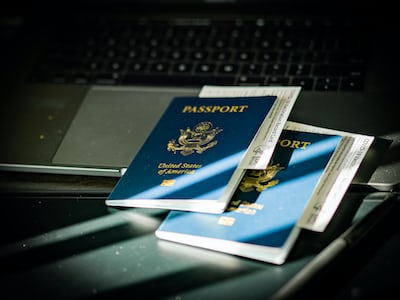 Before heading to the United States, there are a number of administrative things you should check and or complete before you embark on your trip. Below is a list and some advice of all the things to keep in mind when traveling to America from Australia.
Have a Valid Passport
First things first, be sure that your passport is valid before you leave! Many people also forget to check that it will remain valid for the entire duration of their stay abroad, so be sure to check the expiration date as well!
Travel Visa – ESTA
Before traveling to the USA, check with your government all requirements for a travel visa. Normally, Australians can typically apply for an ESTA 72 hours prior to departure. The form is filled out online and only takes a few minutes for just a small fee.
This is for business-related travel as well as pleasure and allows you to be in the country for up to 90 days. Those who are interested in staying longer would need to obtain a different type of visa.
Keep in mind that with the ESTA, the 90 days start once you land in the United States
Travel Insurance
Travel insurance is always an important thing to consider for any trip or vacation. It is especially crucial if going to the United States because the medical bills can be quite expensive.
Get your insurance well in advance just in case anything happens while you are abroad.
You can be sure that you are covered and taken care of without worrying about breaking the bank.
International Driving Permit
If you are planning on renting a car or driving at all when in the states, consider getting an international driving permit before you head out on your trip.
This can be done easily through the NRMA for just a small fee. That way, you won't encounter any problems in the U.S. if you decide to get behind the wheel.
Destination Planning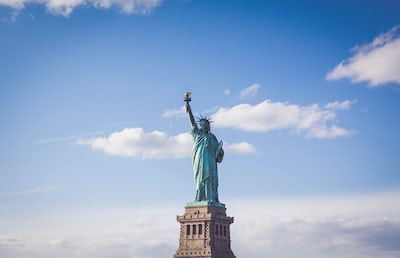 Traveling to the United States from Australia is quite a long journey, and it is tempting to see as much as you possibly can.
It is recommended to stick to a few states or a specific region of the U.S. Below is a list of some of the top destinations in the United States.
Top Places to Visit in America
New York
Los Angeles
San Francisco
Boston
Seattle
Maui
San Diego
New Orleans
Chicago
Miami
Getting Around the USA
The USA is a massive country, and traveling domestically within the country can be very difficult.
If you are going across the country, it is recommended to go by plane, as you can usually find affordable flights and save a lot of time. There are limited options for taking trains in the United States and they can be quite expensive.
There are some bus options for travelers, but if you are going to be driving, it is best to just rent a car and make a road trip out of it!
Traveling by car is the most efficient and effective way to get around America as there are so many beautiful things to see when going from one destination to another.
There are also plenty of car rental providers to choose from that will offer you excellent deals and rates.
Be sure to keep in mind that you must be 25 to rent a car in the United States and that cars are driven on the right side of the road in the states.
Things to Pack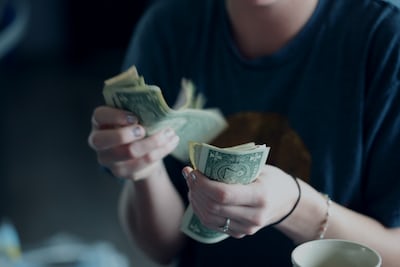 It can be stressful to remember all the necessary things to pack for your trip to America.
That is why we have made a short list for you here of all the most important things to bring with you on your vacation:
Universal power adaptor
American/Australian Currency
Copies of all your travel documents and itineraries
Portable charger
First aid kit
Variety of clothing and layers for all weather
Backpack
Reusable water bottle
Comfortable walking shoes
Things to Do: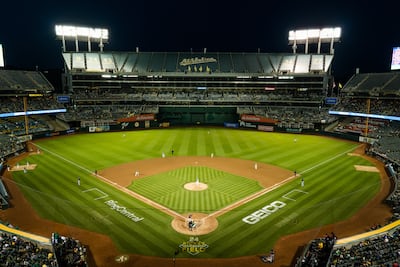 There are so many activities and unique experiences in the U.S. that it can be hard to decide what to do during your trip. Below is a list created for those who are interested in experiencing all the great things that America has to offer:
Sports Games
If you are looking for a truly American experience, then head to any local sports game. Whether it's baseball, basketball, ice hockey, or football, it is a very important cultural experience.
Amusement Parks
America has over 500 different theme parks throughout the country! If you're traveling with children, then visiting a theme park can be an excellent, exciting experience for the whole family.
National Park
America is a large country with a very diverse landscape and hundreds of beautiful national parks. Below is a list of some of the most incredible ones to see in the USA:
Grand Canyon National Park
Yosemite National Park
Yellowstone National Park
Glacier National Park
Zion National Park
Grand Teton National Park
Olympic National Park
Useful Things to Know About America: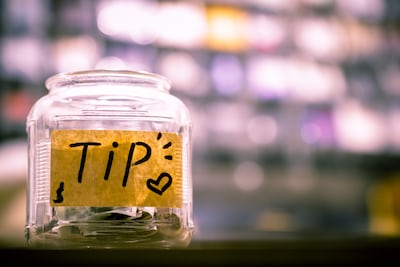 The Legal Drinking Age is 21.
They do not use the metric system, so familiarize yourself with some conversions before you arrive.
Uber and Lyft are available in every major city and are excellent options for getting
around, especially if you have some alcohol in your system!
Driving is on the right side of the road in the USA.
You must be 25 to rent a car.
Sales tax is not included in the price of items displayed in supermarkets, stores, restaurants, hotels, etc.. Every state has its own state sales tax, and they vary from 7% to 11.5% or so.
Tipping is a very common practice. Below is a short guide of how much to tip in different situations in the U.S.
Taxi drivers: 10-15%.
Restaurant waiters: 15-20% of the bill (25%if dining with a group of more than 4 people).
Bartenders: US$1-$2 per drink.
Hotel staff: About US$5 for room cleaners, 10-15% of the bill for room service, and about US$5 for valet drivers.
Be sure to get an international phone plan before you leave. You can also use wifi whenever you can if you prefer. Another common option is to get a prepaid sim card once you arrive.
The emergency service number to call is: 911
There are multiple different time zones in the United States. The Eastern zone is five hours behind Greenwich Mean Time (GMT). The Central zone, from Chicago down to Texas, covering the great plains, is an hour behind the east. The Mountain zone, covering the Rocky Mountains and most of the Southwest, is two hours behind the East Coast. The Pacific zone includes the three coastal states on the west and Nevada and is three hours behind New York. Lastly, most of Alaska is nine hours behind GMT, while Hawaii is ten hours behind GMT. Also, it may be important to note that for daylight savings clocks turn forward on the second Sunday in March and turn back on the first Sunday in November.
Final Remarks
Hopefully, you are fully prepared now for your trip to the United States after reading this helpful guide full of tips for Australians traveling to America!