Consistently ranked as one of the best American cities to live in, Rochester, Minnesota, is a welcoming place to visit.
The city is also the third-largest city in the United States, just behind Minneapolis and St. Paul.
It is home to the Mayo Clinic, a prominent healthcare institution. In fact, you can't mention Rochester without mentioning the Mayo clinic.
Furthermore, Rochester is well-known for its unique beauty, relaxed pace, and diverse dining, shopping, and entertainment opportunities.
It is distinguished by its culture of caring, the spirit of innovation, and its fascinating history.
Come and have great fun in this beautiful city.
Here are the 25 best things you should do to enjoy your stay.
Things to do in Rochester, Minnesota
1. Rochester Art Center
Located in the center of Rochester's historic downtown, the Rochester Art Center is a Museum of Modern Art.
Rochester Art Center is one of the amazing places in Rochester which depicts Arts and science.
Since its founding in 1946, the Art Center has presented a steady stream of exhibitions by local, regional, national, and international artists.
It also offers engaging educational opportunities for students of all ages, as well as a variety of community partnerships and visitor engagement programs.
In addition, the Rochester Art Center offers a warm, inclusive, and diverse experience that promotes inquiry, creativity, and critical thinking via top-notch exhibitions and programming.
One of its programs, the Emerging Artist Series fosters commissions and creates fresh work by Minnesota's emerging artists.
The program encourages, supports, and pushes the artists to take chances.
If you love contemporary arts, you shouldn't miss visiting Rochester's art center.
Address: 30 Civic Center Dr SE STE 120, Rochester, MN 55904, United States
2. The Plummer building, Rochester
The Plummer Building, a national historic landmark since its opening in 1928, is a recognizable representation of Mayo Clinic.
It is named after Henry S. Plummer, M.D., the "diversified genius" behind many of the systems and processes still in use at Mayo Clinic today.
The systems and processes also include the medical record and registration system. So visit this majestic hall without fail.
After almost a century, the Mayo Clinic still uses the Plummer building, a masterwork of architecture.
Additionally, The Mayo brothers' offices are immaculately kept, and you can see how much they contributed to humanity and the field of medicine.
Bronze doors weighing two tons and marble floors from all over the world fill the lobby of this remarkable building.
The bell tower illuminates Rochester's skyline at night.
See the original examination rooms and offices, instruments used or invented.
You can even check out the ceramic hand casts of famous surgeons.
Admission for adults is $10, while it costs $5 for children.
Address: Rochester, MN, United States
3. Rochester Symphony Orchestra and Chorale
Get away from the city's bustling and have a good time at the beautiful Rochester symphony.
The Rochester Symphony is inspiring, and the chorale is equally thrilling.
The Rochester Symphony is a professional orchestra and volunteer chorale that offers free community performances and educational events all year long.
The 70-member orchestra and the choir's additional 60+ members perform beautiful interpretations of classic tunes.
Even though the chorale isn't in every performance, however, you can be sure that every presentation will be fantastic.
Their talents and efforts go beyond the concert venue.
They provide excellent community programs, particularly when working with children.
Rochester Symphony also offers a concert season that runs from fall to spring, so don't forget to attend a concert.
The Rochester Symphony Orchestra has been a vital component of the city for over a century, and the chorale is the icing on the cake.
Check out their itinerary for the upcoming season, and be sure to purchase some tickets.
The experience and all the incredible music you hear should enthrall you.
Address: 1530 Greenview Dr SW #120, Rochester, MN 55902, United States
4. Rochesterfest
You might want to time your visit/vacation to Rochester if you want to witness and participate in the Rochesterfest.
Rochester fest is one of Rochester's top attractions every year and holds for nine days in June.
Since 1983, Rochester fest has been a yearly tradition.
It is a weeklong celebration of the city of Rochester and a chance to bring locals and visitors together through a range of fun events and activities.
Come to Rochester fest to say hello to the summer and plenty of wonderful folks.
You may enjoy wonderful live music, load up on delicious food, and complete their triathlon.
Similarly, live performances all week long at Soldier Field Memorial Park are some of the highlights of Rochesterfest.
Don't miss the largest procession in Southern Minnesota, with over 100 units.
Be prepared to catch some candy tossed by parade participants as you support various neighborhood organizations, sports teams, and more.
In fact, Rochesterfest is the top event to attend in this city in June.
Lastly, don't come with a full stomach because food vendors will be set up all over the park.
You will even get up for 20 fantastic cuisine options to explore.
Address: Rochester, MN, United States
5. Mayowood Mansion
Maywood mansion is a good place to visit if you are interested in the history of Mayo.
Dr. Charles H. Mayo, a co-founder of the Mayo Clinic, built his 3,300-acre estate Mayowood west of Rochester.
The 1911-built, 38-room residence, which was included in the National Register of Historic Places in 1970, serves as the property's focal point.
Similarly, the doctor's decorative arts collection is housed on the estate, along with gardens.
The furnishings in more than 40 rooms are antiques with English, German, French, Spanish, and American roots.
The Mayo family gave the Olmsted County Historical Society the house and ten acres in 1965.
In addition, tours are available, and the tour docents do a great job of telling the story and explaining everything.
This place is worth the time, and if you are in Rochester, you shouldn't miss here.
Make sure to check your schedules on their websites.
Address: 3720 Mayowood Rd SW, Rochester, MN 55902, United States
6. History Center of Olmsted County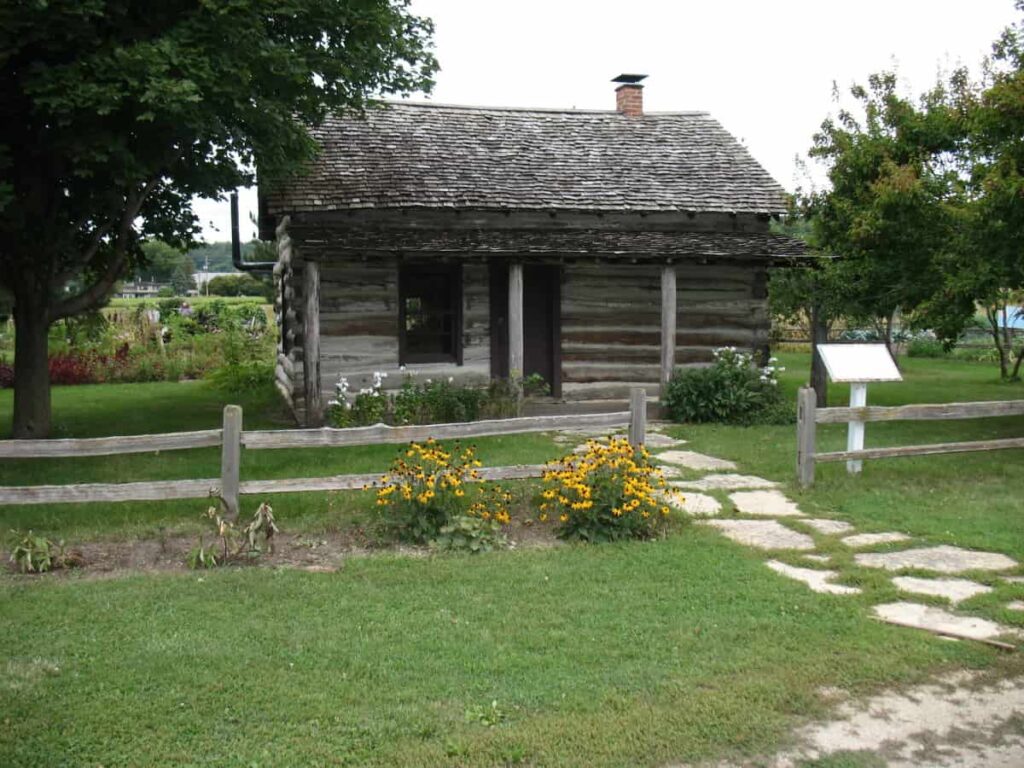 History time! Be prepared to learn some history as the history center of Olmsted county will take you down memory lane.
This history center in Rochester features an excellent collection of historical artifacts, items from Southeast Minnesota, and more.
Paleo, Native American, Early Rochester, and Mayo Clinic periods are just a few of the historical interpretations on display at the Olmsted County Historical Society.
There are also research libraries and archives with more than 600,000 maps, photographs, diaries, journals, and books, mostly focusing on Olmsted County and southeast Minnesota.
Similarly, with the assistance of its committed volunteers, the History Center of Olmsted County yearly provides talks, outreach and education initiatives, special events, museum exhibits, and more.
The History Center now owns and oversees two historic buildings and two historic farmsteads.
Address: 1195 W Circle Dr, Rochester, MN 55902, United States
7. Quarry Hill Nature Center
If you are in Rochester with your children, this is a good place for the whole family to have fun.
The Quarry Hill Nature Center has been the Natural Science gem of Olmsted County in the City of Rochester.
After being renovated, the new look changed it from a science fair exhibit to a modern museum and interactive zoo.
The Nature Center is very interesting, they even have a small library and a bird observation area.
They also keep some animals there like snakes, bees, birds, a tarantula, turtles, and fish.
Take advantage of the 5 miles of trails covering 320 acres as you hike, bike, cross-country ski, or snowshoe through the meadows, and floodplain.
Similarly, a 3-acre pond, the Rochester State Hospital Cemetary, and a former active quarry are all located on park territory.
In addition, a 1,700-gallon aquarium with native fish is among the interactive exhibits and demonstrations of the local animals and natural beauty offered by the Nature Center.
Moreso, the interpretive center, with its fish and critter exhibits, are great places for kids to see creations and marvel.
Address: 701 Silver Creek Rd NE, Rochester, MN 55906, United States
8. Calvary Episcopal Church, Rochester
Do you want to connect and also feel close to your spiritual self? Then, this church is for you.
You do not even need to be religious to fall in love with this place.
The church is the oldest church building in Rochester and also one of the oldest Episcopal parishes in Minnesota.
Furthermore, this historic building is located downtown in the middle of the Mayo Clinic campus area.
The core of the new church is still the original brick chapel that was constructed in 1862.
The walnut altar base was constructed in 1880, while the stone baptismal font dates to 1871.
Similarly, the church's other woodwork dates from the middle of the 20th century.
Even though Minnesota is home to many excellent churches, the Calvary Episcopal Church stands out.
You will see a beautiful faith community and a historic structure together at one of their services.
Address: 111 3rd Ave SW, Rochester, MN 55902, United States
9. Heritage House Victorian Museum
Experience life in the 1800s at the Heritage House Victorian Museum, just two blocks north of Rochester's downtown.
Tim and Eliza Whiting commissioned the construction of this Italianate-style house in 1875.
This home (barely) survived the large tornado that ultimately led to the construction of the Mayo clinic.
Many donated artifacts from the Victorian era, some of which were initially owned by the family but most of which came from other sources, have now been used to restore the house.
In addition, they also have a copy of the bed that Abraham Lincoln slept on while in the White House as well as the doorway from the Mayo brothers' office.
June, July, and August are when trained docents lead tours.
The tour takes about 20-30 minutes, and you will be taken on a tour of the entire house, including the features of each room, the period clothing on display, furniture, wallpaper, carpets, and much more.
Address: Central Park, 225 1st Ave NW, Rochester, MN 55901, United States
10. Chester's Kitchen and Bar
Chester's Kitchen and Bar is one of Rochester's best restaurants.
This place is always busy so be ready for a bit of a wait. But, don't worry, the wait is worth it.
On University Square, Chester's Kitchen and Bar is easily located and serves highly regarded quality American cuisine in a welcoming setting.
The menu begins with an excellent selection of salads and appetizers before moving on to a truly large selection of entrees to accommodate all palates.
Their farm-raised, antibiotic-free rotisserie chicken served with mash and asparagus is one of their specialties.
Chester's also offers an intriguing beverage menu, a menu just for kids, and some rich desserts to finish your meal.
Address: Shops At University Square, 111 Broadway Ave S #108, Rochester, MN 55904, United States
Looking forward to seeing more of Minnesota's cities? You should check out our list of things to do in Mankato and Stillwater!
11. Apache Mall, Rochester
Shop from all your favorite brands under one roof at Apache mall, Rochester.
Apache Mall has 87 stores in various categories, including department stores, electronics and entertainment, clothing, cuisine, home goods, shoes, specialty, sports and fitness, and health and beauty.
With the mall's variety of dining options, guests can enjoy a delicious cup of coffee, a light snack, or even a leisurely meal with friends or family.
Similarly, there are alternatives for snacks and drinks and full-service and quick-service restaurants.
Additionally, the mall offers a variety of events, including workshops and demos held inside the stores.
Services and amenities are available, such as free Wi-Fi and a nursing lounge.
Bring the family and spend the day browsing the mall's well-known stores before relaxing and enjoying lunch with loved ones in the spacious food court.
Address: US Hwy. 52 and, US-14, Rochester, MN 55902, United States
12. Rochester Farmers Market
Seeking farm-fresh flavors? The Farmers' Market should be your go-to place.
Fresh fruits and vegetables, herbs, flowers, and specialty items like gourmet coffee, salsa, fresh bread, and much more are available at the market.
A vendor-owned group of about 100 small company owners who live and farm within 50 miles of Rochester, Minnesota, runs the Rochester Farmers Markets.
It was created to facilitate and encourage neighborhood access to superior farm goods by supporting a healthy retail sector.
Furthermore, this area is teeming with pleasant sellers offering produce that is so excellent that you'll immediately begin thinking of new meals.
Along with fantastic meats, dairy products, and flowers, the Rochester Farmers Market also offers a wide selection of hip crafts.
In fact, the Rochester Farmer's Market is open all year long.
Similarly, summer Saturdays from May to October and Wednesday Markets from mid-June to September are held outside at Graham Park.
Address: 35 Fairgrounds Ave SE, Rochester, MN 55904, United States
13. Pescara, Rochester
While many travels to Rochester to receive the medical attention that the Mayo Clinic provides, Pescara restaurant in Rochester is prepared to satisfy your cravings for good food.
Located in Rochester's downtown DoubleTree hotel, Pescara is an upscale yet laid-back restaurant serving fresh food and providing an all-around classy experience.
While this restaurant primarily serves seafood, they also have plenty of other non-seafood options.
Freshness is a key component of the Pescara cuisine.
You can really taste the exquisite flavor when you eat their grilled salmon or their daily fish special.
In addition, there are several options available if seafood is not your thing.
Their wild mushroom risotto, chicken Pomodoro, steak, and filet are a few non-fish alternatives.
Make a reservation for a table as soon as possible.
Address: 150 Broadway Ave S, Rochester, MN 55904, United States
14. Soldiers Field Veterans Memorial
Another free thing to do in Rochester is going to the soldier's field veterans memorial.
The Soldier Field Veterans Memorial, located on the southern border of Rochester's downtown, serves as a place to reflect and remember all Americans who heroically fought for the country.
The Wall of Remembrance, which honors more than 3,000 service members from Southeast Minnesota, is part of Soldier Field and was built in 1995.
Moreover, about 6,000 pavers make up the Walk of Remembrance, which honors U.S. veterans and allies, both alive and dead, for their service.
In addition, each of the 50 states in the U.S. is represented by a tree of remembrance.
These days, this memorial is a symbol of optimism and a location where future generations can come to remember the heroes of the past, present, and future.
Furthermore, the surrounding park offers plenty of opening space, two play areas, picnic benches, park shelters, tennis courts, a baseball field, etc.
Adjacent pool/water park and golf course are also available.
Every person should always be mindful of heroes' struggles and shouldn't forget their hard work. Visiting this place is worth adding to your bucket list.
Address: 300 7th St SW, Rochester, MN 55902, United States
15. Kinney Creek Brewery
If you appreciate some craft beer, the Kinney creek brewery is the place to go in Rochester.
Kinney is operation a microbrewery with strong roots in Rochester, Minnesota that is locally owned and runs.
Come try out a different selection of craft beers and hard sodas.
This place is a great spot to bring a big group because there are lots of tables and interesting lawn/bar games (such enormous Connect Four).
Even though there's no food here, you can bring your own food in or just order food. However, you can get popcorn in-house.
Not only do they serve up great craft beers, but they also serve up oodles of fun with their plethora of in-house board games as well as adult-sized Jenga and connect four, not to mention Hammerschlägen and A-holes.
This is an absolute blast of a brewery!
Address: 1016 7th St NW, Rochester, MN 55901, United States
16. Silver Lake Park, Rochester
Silver Lake is a small freshwater reservoir in Southeastern Minnesota.
Walking around Silver Lake and hearing the water, geese, and ducks is a wonderful way to relax!
Enjoy riding, jogging, rollerblading, seeing the giant Canada geese, and taking leisurely strolls around Silver Lake.
Additionally, rentals are available for canoes, tandem bikes, bicycle strollers, and paddleboats.
Visitors can enjoy a day of swimming at the outdoor pool or bring a picnic and explore the Children's Adventure Playground, fully wheelchair and handicapped-accessible playground area.
A top-notch skate park is also present in the park. In addition, a large portion of Silver Lake's shoreline is located within a public park and provides convenient access to angling in a city setting.
There are also areas for baseball or soccer games and event space rentals.
Keep an eye out for the geese, as they are much here and they leave droppings.
Address: 770 W Silver Lake Dr NE, Rochester, MN 55906, United States
17. Salem Glen Vineyard and Winery
If you want a fantastic afternoon or evening mini-getaway in Rochester, Salem Glen is the place to go.
Salem Glen is a small, family-run winery that specializes in producing wine in limited quantities from grapes farmed nearby.
In addition, this small winery and vineyard is situated on a farmstead in the middle of the countryside.
The region's lush landscape, ideal for producing grapes for their wines, is the secret to their formula.
The wines are excellent, and the atmosphere is cozy and welcoming.
Similarly, they have indoor and outdoor seats and a small selection of snacks (cheese plates and artisan pizzas on Fridays and special events).
Every year, Salen Glen conducts an Easter egg hunt.
With special prizes available in the silver and gold eggs, participants compete to find all of the eggs. Cash and complimentary cheese platters are among the extra prizes.
And don't forget to grab some wine home.
Address: 5211 60th Ave SW, Rochester, MN 55902, United States
18. Assisi Heights
Are you looking for a peaceful, beautiful setting? The striking spiritual haven, Assisi Heights, might just be what you need.
Assisi Heights is a historical location that was established in the 1950s and offers visitors beautiful architecture and tranquil surroundings.
The grounds offer a unique setting for reconnecting with nature.
The church has some intriguing stained glass windows with nearly art deco motifs and mosaic stations of the cross.
How do you adequately describe a nice, serene, and stunning location?
You will also enjoy traveling along the scenic, winding road lined with flower gardens and trees teeming with birds.
Register in advance for a tour and mass to fully experience Assisi Heights.
Address: 1001 14th St NW, Rochester, MN 55901, United States
19. Thursday Downtown
Formerly called Thursdays on the 1st & 3rd, Thursday downtown knows Rochester is the place you want to be on a Thursday during summer.
Began more than ten years ago by Downtown Rochester to energize the neighborhood around downtown Rochester.
Every Thursday during the summer, from 11:00 a.m. to 8:30 p.m., Rochester, Minnesota's downtown is the site of an outdoor street fair.
There is a ton to see and do at this huge food, drink, craft, and artisan market, which spans several city blocks on Peace Plaza, 3rd Street Southwest, and 1st Avenue Southwest and Northwest.
Besides, you'll wish you could stay all summer because of the contagious energy and amazing sights.
On Thursdays, you can find vendors offering food and crafts on First and Third.
You won't miss an opportunity to kick back and enjoy some wonderful sounds.
Local musicians and bands perform many of these songs, with two stages and multiple periods throughout the day set aside for various bands to perform!
Most significantly, you'll notice how happy and neighborly people are.
Enjoy life, feel a feeling of place, and socialize with others.
Come to at least one of these events for enjoyable things to do in Rochester, Minnesota.
Address: 1st Avenue Southwest and Northwest, 3rd Street Southwest, and, Peace Plaza, Rochester, MN 55902, United States
20. Children's Dance Theatre, Rochester
This theatrical dance production business was established in 1987 as an independent, incorporated non-profit dance theatre to produce dance performances.
Its dancers have a range of backgrounds and education, and they are chosen for productions after auditions.
To audition, dancers must be enrolled in weekly courses and be at least five years old.
In addition, dancers in college are also eligible. By collaborating with various choreographers, this theatre investigates the art of dance and aims to give its dancers a welcoming and engaging learning environment.
It also provides performance opportunities for outreach and education throughout the year.
Address: Rochester, MN, United States
21. UNRAVELED Escape Rooms
Have you ever thought about trying out an escape room or probably looking for an exciting challenge for your friends and family? Then, the UNRAVELED Escape Room is a perfect choice. Everyone will enjoy the unique interactive adventure known as UNRAVELED Escape Room!
The UNRAVELED is a collection of interactive, real-world challenges in which participants are imprisoned in a room with a theme and must sleuth out the puzzles to get out.
Your team will need to cooperate to unravel the mysteries and leave the room in the allotted 60 minutes while embroiling in a complicated plot.
Perhaps you are in an organization, school, or club, Unraveled escape is a perfect choice if you need team-building exercises in Rochester.
Address: 300 11th Ave NW, Rochester, MN 55901, United States
22. Bowlocity Entertainment Center
Minnesota's Bowlocity Entertainment Center is a top entertainment destination in Rochester.
From bowling to video games, pizza to laser tag, this center will keep you busy.
24 cutting-edge lanes at the bowling alley offer the perfect bowling experience for players of all skill levels.
In addition, they do offer free bowling in the summer for youth.
If bowling isn't your thing, you and your pals can play your favorite redemption games in the 45-game arcade or the multi-level laser tag area.
Couches, a private bar, and a banquet room that holds up to 75-people are also available.
You will equally find a 45-game redemption arcade and a 20-vest, state-of-the-art, two-story laser tag arena.
With a total of four party rooms for groups to rent out, you won't need to have all the fun alone.
In addition, you can get some snacks, and drinks at the Sports Bar if you are hungry.
The good part is that the prices are affordable depending on your selected activities.
Address: 2810 N Broadway Ave, Rochester, MN 55906, United States
23. Rochester Trolley & Tour Company
Perhaps, you are a Rochester resident who wants to see Rochester through the eyes of a tourist, or you are new to the town and want to just relax and go on beautiful sightseeing? Then, the Rochester trolley is the way to go.
The Rochester Trolley and Tour Company provide a variety of guided trips across the Rochester region on a trolley or minibus.
Daniel Butterfass established the business in 2006 to offer coach and trolley charters for groups of any size, as well as public and private sightseeing trips.
The travel operator also provides guided hunting and fishing excursions.
Boarding sites include Saint Mary's Hospital and the History Center of Olmsted County.
Additionally, the trolley allows users to board or exit at several points along the tour route.
A Scenic Mississippi River Valley Tour, an Old Amish Country Tour, a Rochester City Tour, and a Twin Cities Tour are among its signature tours.
Others are the Rochester City & Mayo Historical Trolley Tour, Great River Road Wine Trail Trolleys Tours, Jolly Trolley Holiday Lights Tours, and the Haunted Rochester Trolley Tour.
Address: 970 14th Ave SW, Rochester, MN 55902, United States
24. Maple Valley Golf & Country Club, Rochester
As Tommy Armour said, golf is an awkward set of bodily contortions designed to produce a graceful result, and it's that graceful result you will get at this place.
Since 1963, Maple Valley Golf & Country Club has been a family-run public facility, and many consider it to be the most picturesque course in Southeast Minnesota.
In fact, the facility has been referred to be the most beautiful public golf course in southeast Minnesota.
Furthermore, Minnesota Golfer has selected it as one of their "Hidden Gems," and it has also been dubbed one of the state's "Hidden Gems" by Golf Minnesota.
The Maple Valley Golf & Country Club is among the best in southeast Minnesota since it aims to offer a superb experience at a reasonable price.
You'll agree that this is the ideal location for a golf course as you tee off on the third hole to the green 50 feet below.
Address: 8600 Maple Valley Rd SE, Rochester, MN 55904, United States
25. Charles E. Gagnon Museum and Sculpture Garden, Rochester
The Charles E. Gagnon Museum and Sculpture Garden is Rochester's cultural crown jewel.
In 1960, Charles Gagnon became a professional sculptor, devoting his life to creating magnificent sculptures that were intended to raise spirits and create an atmosphere of peace and tranquillity.
When Chuck died in 2012, the museum was established to memorialize his 50 years of creative work in bronze sculpting.
When you visit the museum today, you will be given a guided tour of the artist's residence and learn about his life as an artist.
His wife will be your tour guide, and she is the best person to relate to his amazing story.
The museum is open by appointment from Wednesday to Sunday.
Only from May to October is the outdoor sculpture garden open.
Address: 2500 4th St SW, Rochester, MN 55902, United States
Final Remarks
Rochester is a community in southeast Minnesota with a bustling hospital and a lively downtown. This city isn't a place you should miss.
As the third-largest city in the United States, you know you're in for a truckload of fun.
Safe Travels!