Are you planning to go on a visit to an affluent city with many unique attractions? Then you've got to check out Greenwich, Connecticut?
Greenwich tops the list of Connecticut's wealthiest communities, filled with great attractions and a variety of fun activities.
This coastal town in Fairfield County is simply the best place to be for those looking for a more upscale place to use as a home base for a fun-filled weekend. From historic cabins to pristine beaches. It has great attractions and a variety of fun activities.
The Greenwich of Connecticut's Gold Coast dominates the list of the most liveable places in America.
It is also a city of big money, with the wealthiest communities in the country and a stronghold of investment companies and hedge funds.
To give you an idea of ​​what we're talking about, the town has its own polo club that attracts thousands of spectators on Sundays in the summer, and the local library has an art gallery.
We can easily say that Greenwich is one of the unique attractions in the south of the state of Connecticut!.
Decide where to start with our list of the top Greenwich attractions and things to do.
Things To Do In Greenwich
1. Shopping on Greenwich Street
When you're in Greenwich, you can shop with the locals. With this activity, you explore the luxury of this remarkable city.
Greenwich Street is the city's response to a major road or highway. It is surrounded by vibrant window boxes decorated for the holiday season, and shops have pretty tempting offers.
Putting your savings aside and shopping for the best and exquisite products on this upscale street is one of the best things to do in Greenwich.
As expected for this smart city, many stores have big names and expensive price tags. We're talking about stores like Apple, Hermès, and Saks Fifth Avenue.
There are also slightly cheaper options: Lululemon and Shoes 'N' More, for example.
Half the fun of Greenwich Avenue is strolling the streets, watching the yoga moms and fine-haired men and women rushing to their next dates. If you're a bit hungry after practicing all this elaborate treatment?
Greenwich Street is full of mid-and high-end cafes and restaurants, so satisfy your need.
Address: Downtown, Greenwich, CT, 06831, United States.
2. Greenwich Point Park
Greenwich Point Park is a beautiful 147-acre park. It stands at the tip of a peninsula that descends into Long Island Sound. Visiting this upscale place can be a bit tricky, but the park is totally worth visiting.
It has a long golden beach that offers views of the Manhattan skyline and a lovely setting to relax by the sea.
There are also many hiking trails and discounts for those who want to relax with refreshments or a meal.
The garden also offers showers, grills, a covered pavilion, and many other activities that it's very easy to spend the entire day in the park.
Sunsets at Greenwich Point Park are breathtaking, and on a clear day, you can see the Manhattan skyline from the beach.
For the most part, fishing, flying kites, surfing, and windsurfing are popular activities in the park, as are swimming in calm shallow waters.
In addition, Greenwich Park has its marina and boat storage facility for residents. Lifeguards patrol the beach every time, so you're in safe hands.
There are also changing rooms and two snack bars right behind the shower.
In pure Greenwich style, the park has exclusivity to it.
Visitors need a beach pass.,and It can only be purchased on weekdays in one of the two houses in town. Without this pass, beach guests would be turned off.
So much hassle, right? Wrong.
Here's the good news: From November to March, there is free admission for everyone!
Ready to have a great time? Come here with your significant other and your family.
Address: 11 Tods Driftway, Old Greenwich, CT 06870, United States
3. Visit Bush-Holley House
Greenwich Historical Society is a hidden gem off busy I-95 in the Cos Cob neighborhood; the Greenwich Historical Society is well worth a visit.
The gardens are beautiful, lined with roses and complete with grapevines, a wonderful sight when in full bloom.
The main building houses huge museum galleries with paintings by members of the Cos Cobb artists' colony and a collection of works displayed in rotating exhibitions.
Strolling around this beautiful establishment is undoubtedly one of the best things to do in Greenwich.
Here, you will also find a library, rooftop terrace, shop, and a lovely cozy café.
The Greenwich Historical Society is also home to the Bush Holly House Museum.
This house is a fascinating piece of American cultural history built in the early 1700s.
It is originally owned by the Bush family. However, the Holly family purchased the house and used it as a guest house for artists and writers in the late 19th century.
The house is beautifully maintained, and from Wednesday to Sunday, you can visit it in the afternoon to learn about its colonial and artistic past.
Incredibly, many objects depicted in famous Impressionist works can still be found at the home as if they were left there yesterday.
A more interesting fact about the house is that. Entry is free on the first Wednesday of the month!
Address: 47 Strickland Road, Cos Cob, Greenwich, Connecticut, 06807, United States.
4. Bruce Museum
The Bruce Museum was founded by textile magnate Robert Bruce (1822-1908). He bequeathed the house to the city and requested that after his death, it would be turned into a museum.
This Bruce Museum currently occupies a well-appointed one-story building across from Bruce Park.
Besides, the museum always urges you to stay for something new with changing exhibitions.
You can find everything from sculptures and photographs to Chinese brushstrokes and giant geodes inside the great exhibition space.
Likewise, it has an impressive sculpture collection with works by Auguste Rodin and Frederick MacMonnies, and Hiram Powers.
Above all, this museum also has a science wing with permanent exhibits as each object tells a story about science, the earth's minerals, anthropology, and life between the tides.
Featuring interesting exhibits, these engaging exhibits educate visitors about the Earth's environmental history and contemporary concerns around the world and on the Connecticut coast.
Most locals have fond memories of visiting the Bruce Museum as children. It, however, has more than enough appeal for adults, too.
Address: 1 Museum Drive, Greenwich, CT 06830, United States
5. Greenwich Audubon Center
The Greenwich Audubon center is a beautiful and relaxing place for a day trip. Whether you are looking to stroll around this lovely establishment, it is one of the best things to do in Greenwich.
Here, you'll experience the peace, calm, and serenity of nature, and you'll also get environmental education; you will find it all here.
The Audubon center is one of Greenwich's top attractions. Offering miles of walking trails and plenty of places to stop and watch birds.
Make sure to pack binoculars; coupled with that, grab a good camera, so you don't miss a thing.
The center consists of 285 hectares of land. Besides, this place is home to a variety of species of native plant flora and different animal species.
Likewise, in this building, you will find a nature store full of beautiful gifts.
The Perch Coffee Lounge is the perfect place to unwind after you've spent some time watching birds fly and perch.
This bright and quiet space in the Training Center includes a reading area and a nature theater with documentaries and live feeds from bird camera recordings.
The Audubon Center is just simply unique.
Explore seven miles of hiking trails that take you through hardwood forests and historic fields, past a lake, waterfall, streams, and ponds.
It includes a welcome center, a gallery, gift shop, and children's study room are on the main reserve, and there's a delightful array of conservation-themed events throughout the year, such as B—high People's Guard.
There is always something exciting to do when visiting the Greenwich Audubon Center!
Address: 613 Riversville Rd, Greenwich, CT 06831, United States
6. The Greenwich Polo Club
Have you ever wanted to see a real game of polo?
Then your prayers just got answered. Polo games are available at the Greenwich Polo Club every Sunday from June through the end of August.
Being Greenwich, these games don't take place in boring farmland. In short, the lawns are cut immaculately, and the surroundings are beautiful.
Greenwich Polo Club is considered one of the "Elite Polo Sites of the World" and is home to the White Birch Polo Team, one of the most successful teams of all time.
Generally, guests arrive at the games in their best clothes, so expect the guys to wear colorful pants, narrow shorts, and women in heels and zips.
You also want to dress appropriately but strive for comfort.
You can stay here for a few hours and enjoy the sport.
At the same time, Food-wise, the place has a great selection of food.
A bit of advice-You should arrive early and be as close to the field as possible. This way, chairs or other umbrellas won't block your view of the games when the games begin.
Address: 1 Hurlingham Drive, Greenwich, CT 06831, United States
7. The Historic Greenwich Avenue
As you know, Greenwich Avenue is the heart of this luxurious city.
Besides the many luxury shops, cafes, and restaurants, the historic buildings are so impressive that they whisper to your ears and invite you to take pictures.
The iconic structure stands stoically on Greenwich Street, in front of impressive colonnades and is enclosed in a large copper ring.
Constructed in 1905, this stunning building is currently listed on the National Register of Historic Places and is now home to the Greenwich Senior Center.
It is designed in the Beaux arts style. And It is worth visiting.
Greenwich Avenue also stands out as a shopping destination for luxury department stores, galleries, designer stores, and chic bakeries mixed with homely names like Apple and Sephora.
There is no shortage of restaurants along the way, whatever your taste or budget is.
Address: 310 Greenwich Ave, Greenwich, CT 06830, United States
8. Putnam Cottage
This delightful colonial red "hut" at the top of Putnam Hill is hard to miss.
Putnam Cottage on Old Boston Post Road dates back to 1690 and has an exciting story to tell.
The house was originally built for Timothy Knapp in the 17th century and was used as a meeting place for local Freemasons.
However, it gained its fame during the War of Independence. The occupier, General Israel Putnam, succeeded in a heroic escape from the British at this point.
As a matter of fact, it is said that General Washington dined as a guest at Putnam Restaurant.
Today's Putnam Cottage adorns the Boston Post Roadside. (it's called Putnam Street in this part of Greenwich) and especially welcomes school groups to explore the three main rooms, the picturesque vegetable garden, and the trailer shed in the back.
The interior is decorated as if no time had passed, taking visitors back to the 18th century. So visitors can relive history in the present here.
Putnam Cottage has been preserved in bright red as a revolutionary pub museum and is usually open for tours once a month.
It is also considered one of the major attractions of Greenwich.
Cabin tours are offered by volunteer members of Putnam Hill Chapter and visiting must be arranged in advance, so call before you arrive.
Address: 243 East Putnam Avenue (also known as US Route 1), Greenwich, Connecticut, 06830, United States
9. First Presbyterian Church of Greenwich
On the corner of West Putnam Avenue and Lafayette Place, Greenwich, Stands The First Presbyterian Church, which is a beautiful sight to behold.
It is visible from busy Putnam Street and Greenwich Street. The elegant white tower adds a touch of beauty to the city's largest shopping district. The sight of this tower is also unbeatable during sunset, especially since it can be seen from Greenwich Street.
The impressive stonework of this picturesque 19th-century building stands proudly. Its arm-branched with an impressive array of large, mature trees.
In the spring, cherry blossoms appear next to the gray stone, inviting you to stop and take a picture.
Inside the building is amazing. The high vaulted ceiling and stained-glass windows are among the church's best features.
The wonderful device stands behind Altar and plays music to calm weary souls.
You can experience so much of this marvelous wonder, the peace, the beauty, and the tranquility at this church
Address: 1 West Putnam Avenue, Greenwich, Connecticut, 06830, United States
10. The Babcock Preserve
The Babcock Preserve is a natural wonderland. Nature's beauty is tucked away in Greenwich. It is a great place to spend an hour or two to visit.
With 300 acres and 11 miles of trails, this green preserve is Greenwich's largest park and is an ideal spot for hikers.
Open year-round from sunrise to sunset, the paths in this large park are special. They are also pretty straightforward as regards directions, but it is still a good idea to take a picture of the map before entering the forest.
When you visit this place, your efforts in coming here will be rewarded with gorgeous scenery, flowing streams, muddy swamps, and a variety of plant and animal flora and fauna.
If you look closely, you may see a deer or two.
For an afternoon picnic, Babcock Preserve in Greenwich offers 300 acres of woodland, an extensive network of trails and a variety of beautiful plants, species and delightful animals in nature.
This preserve is the largest urban park in the area and is an ideal destination for nature and outdoor enthusiasts.
This park is located off the Merritt Parkway. so next time you're visiting Greenwich, grab your walking shoes, grab a Babcock Preserve trail map and get the heartbeat of the race!
Address: Greenwich, CT 06831, United States
Want to explore more of Connecticut Cities? Why not check our lists of things to do in Bridgeport, things to do in Hartford, and things to do in Danbury?
11. Flinn Gallery
Here at the Flinn Gallery is a small but impressive space. It can sometimes be a little hard to find the vibrant Flinn Gallery, but it's absolutely worth visiting!.
It is located at the top of the Greenwich Library.
There are some signs in front of it. Go through the library doors and take the elevator or go up the stairs to find the place.
Inside you'll find a large selection of works, including from regularly changing exhibitions.
Each fair usually lasts about three months, so there is enough time to make up for lost time. There is also lots of interest to see, from landscape paintings to historical pieces left to the library for print and acquired by the library between the 1950s and 1990s.
It goes without saying that the Greenwich Public Library should have an art gallery of its own and it has an amazing one!
Meanwhile, the non-profit, volunteer-run exhibition venue displays art from a variety of media, genres, regions, and eras.
The artwork is often for sale, and the profits fund several programs of the Greenwich Library.
Address: Greenwich Library, 101 West Putnam Avenue, Greenwich, Connecticut, 06830, United States.
12. Great local food at By The way Bakery
No trip to Greenwich would be complete without sampling delicious food.
Besides the exclusive Thomas Hekelman (French restaurant with vegetarian options(and gluten-free) and L'Escale (another great French spot with impeccable views), you'll find mid-range fare at Thai Basil that's delicious, unfussy, and very healthy. And here you can also get smart granola bars.
When looking for food, don't miss this small but superb bakery – By The Way Bakery.
Believe me, this is the best gluten-free bakery!!
This gluten- and dairy-free phenomenon is located on West Putnam Avenue (near the top of Greenwich Street), and serves up the most delicious cakes, cookies, and cakes you'll ever eat. Seriously! You won't even realize that they are gluten-free.
In addition, it is all made by hand in small batches the old-fashioned way. No wonder it tastes so fresh!
Address: 19 E Putnam Ave, Greenwich, CT 06830, United States
13. Montgomery Pinetum Park
Montgomery Pinetum Park is a relaxing natural wonderland near Cos Cobb in Greenwich.
It's a Wooded beauty with stunning tree species (including black hemlock and Japanese maple). This is a popular attraction for those looking for a quiet getaway.
Pack a picnic and have fun at this large state park, hike two miles, or take in the view from Joseph Hartman Outlook.
Make sure to wear duck spray and good walking shoes in summer, as the trail can get rocky and muddy in places.
This park is amazing when the foliage is in full bloom, but it is closed from mid-November to mid-March, so plan your trip accordingly.
Don't miss the Garden Education Center and the Greenwich Town Greenhouse. Are you visiting with your four-legged best friend? You can take him (or her) with you, but ensure you use a leash.
Address: 14 130 Bible Street, Cos Cob, Greenwich, Connecticut, United States
14. Ferry ride and Great Captain Island
Few activities can beat a cruise on the island.
Similarly, the length of Greenwich Harbor on a clear, sunny day. It's just simply remarkable.
Not only will you feel the saltwater breeze on your face, but you'll also enjoy the beautiful views of the Greenwich Coast and a relaxing tour of the vicinity.
Two miles off the coast of Greenwich are two islands: Great Captain Island and Island Beach.
During the summer months (early June to mid-September) three ferries depart from Arch Street to these attractive islands.
Great Captain Island is the top of the two destinations and has a dazzling granite lighthouse that dates back to 1868.
After disembarking, explore the hiking trails of Island B. Also enjoy oak and walnut trees, bird watching, picnic or relax in one of the beach areas.
Island Beach (formerly Little Captain Island) is also a state park.
The original owners donated the park to the locomotive in 1918 and it is best known for its 300-foot sandy beach on the eastern and western shores.
Tickets are available at the Arch Street Ferry Dock, but you'll need a seasonal park pass or a single-access park card to purchase them.
The Cruise to Nowhere trip is especially popular. Consisting of a two-hour tour of the area, this rejuvenating excursion is one of the best things to do in Greenwich.
Long Island Sound
From June to September, head to Arch Street Ferry Terminal to catch the boat to one of the Greenwich Islands in Long Island Sound.
Generally, these run hourly or half-hourly, and as expected, there are more calls on the weekends.
Address: 100 Arch Street, Greenwich, Connecticut, United States
15. Fjord Fish Market
If you want to know exactly where your seafood comes from, a visit to Fjord Fish Market is just perfect.
There is an excellent selection of first-class cod, oysters, crayfish, and wonderful seafood delicacies. Oh, not to mention the lobsters, salmon, prawns, and much more.
You can also have delicious, fresh meals ready whether you prefer fish and chips, oysters or lobster rolls, filet sandwiches, Cajun halibut, grilled salmon, pokemon, or sushi.
In short, it's a place to explore seafood to the fullest. Who knows, you might try something new and light your taste buds on fire.
Address:158 E Putnam Ave, Cos Cob, CT 06807, United States
16. Diane Books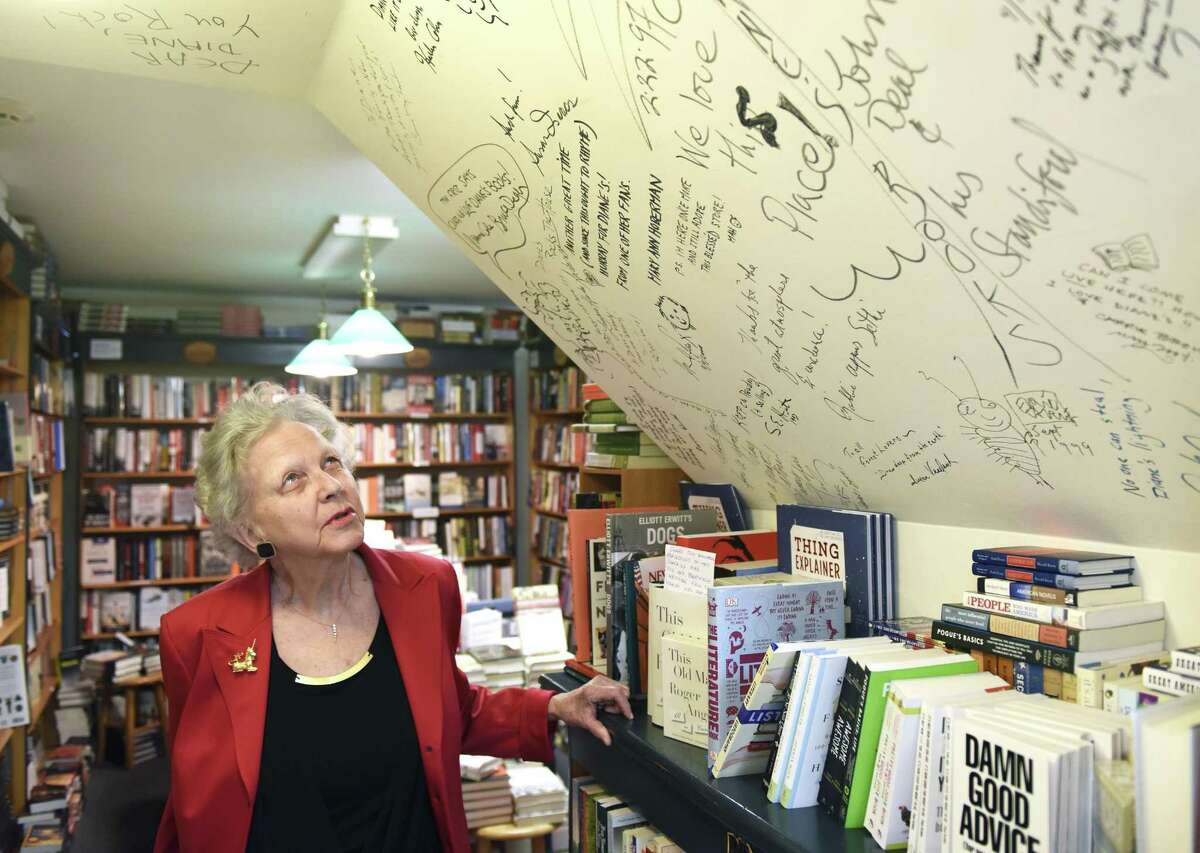 Diane's Books is a 30-year-old local bookstore the size of a public library.
The store claims to have the largest selection of family notebooks in the United States. In other words, they're the biggest and best in this regard.
The book store also has great and friendly staff who are happy to answer questions and point you in the right direction.
If you're only visiting Greenwich, you can have your books mailed to you, and the store also offers a free gift-wrapping service.
Of course, kids will love Diane's books, but there's also plenty that adults love, including visits from famous authors.
In September 2018, Beatrice Williams, Lauren Willig, and Karen White (Ocean of Glass) came to visit.
Address: 8 Grigg St A, Greenwich, CT 06830, United States
17. Greenwich Botanical Center
The Greenwich Botanical Center is housed in Montgomery Pinetum Park. Which is a public park located in more than 100 acres of jungle Lush.
The center is housed in a beautiful horticultural building with an interest-inducing greenhouse.
When you visit here, you can engage in gardening, special events, classes, exhibitions, and volunteer activities.
It was once the property of businessman Colonel Robert Montgomery, who planted rare coniferous trees on his land.
Not to mention, the place is famous for the rare conifers that adorn the land.
The forest contains paths along with beautiful mature trees, and it features a variety of plant specimens and wildflowers that come alive in spring and early summer.
You can reserve a pool deck, benches, picnic tables, and a barbecue grill point.
In addition, this place borders Pomerance Park, which has a beautiful pond nestled in a rugged forest.
Address: Bible St, Cos Cob, CT 06807, United States
18. Donald M. Kendall Sculpture Gardens
Spend a day shopping at another exciting art attraction. Donald Kendall Sculpture garden is located on the campus of PepsiCo's corporate headquarters.
The Garden is named Donald Kendall after the former chairman and CEO of PepsiCo.
He was responsible for the elegant sculpture gardens, which is located on approximately 168 acres of well-kept land, and superimposed with 45 works by pioneering sculptors of the 19th and 20th centuries.
From late March till late October, you can tour the art of Rodin, Alberto Giacometti, Barbara Hepworth, Alexander Calder, Henry Moore, Joan Miro, Claes Oldenburg, and also Max Ernst, to name a few.
Final Remarks
There you have it, the very best and most fun things to do in Greenwich, Connecticut.
We hope you find this list very helpful.
And above all, ensure you enjoy your tour to the fullest!