The beautiful city of Elyria is located in Ohio, United States.
It lies on the south of Lorain County and along the black river. Elyria is filled with adventurous and fun places people can visit and have an awesome time.
This town also offers you many places perfect for relaxation that are void of all the noise and struggles of city life.
A trip to Elyria will be a memorable experience in the fun-filled city.
These are 21 great things you can do when you visit Elyria.
Things To Do In Elyria
1. Wolfey's Bistro and Pub
How nice does it sound to enjoy a super nice delicacy, sipping a nice drink with cool live music playing in the background? Very nice right? Of course, it is.
You get to experience this anytime you visit Wolfey's Bistro and Pub.
Here you can freely enjoy great food accompanied by smooth live music at Wolfey's Bistro and pub.
The top foods on its menu are Stromboli, cheese, lobster macaroni, and pizzas. Assorted drinks and wine are also available at the pub.
The Foods here are incredibly delicious, and the servers are also quite nice.
You also get to enjoy complimentary Wi-Fi and discounts, especially during their happy hour.
Whenever you visit Elyria, be sure to get an unforgettable experience with great-tasting food, superb drinks, and awesome music at the Wolfey's Bistro and pub.
Address: 1069 E Broad St, Elyria, 0H 44035, USA
2. Forest Hills Golf Course, Elyria
Are you interested in golfing?, then put your golfing skills to good use at the Forest Hills Golf course.
Professional golfers, amateur players, and lovers of the game of golf would find the Forest Hills golf course enjoyable.
The golf course is a standard 18-hole course. The facility also features holes of all difficulties, which creates a fun challenge for golfers of all skill levels.
It has holes running along the black river, ponds, hills, and bunkers to keep the game challenging and interesting.
Forest hills golf course also has a driving range where golfers can practice their golf swing.
In addition, the driving range can also serve as a recreational area for amateurs.
The Golf Course is owned and operated by Lorain County Metro Parks.
The course features 6,161 yards of golf from the longest tees for a par of 70. And the course rating is 69.7. It also has a slope rating of 117 on blue grass.
In addition, the course is always being improved one way or another, so if you haven't been here for a while, it might be time for a visit!
A snack bar is available for you to grab a bite at intervals as well as a pro shop where all the needed equipment can be gotten.
This should be your next stop in Elyria as a golfer, lover of golf, or just if you want to have a good time.
The course opens daily from 7 am to 7 pm.
Address: 41971 Oberlin, Elyria Rd, Elyria, OH 44035, USA
3. Mexican Meals at El Patron Mexican Restaurant
Make your tastebuds happy with excellent Mexican cuisines courtesy of El Patron restaurant.
They are not just known for the wonderful dishes, but also for the friendly atmosphere and exceptional customer service.
The Mexican decorations and mouth-watering homemade specialties like Tacos, Burrito, Tamal, and much more would make you want to visit over and over again.
Mark Crabeels
Absolutely love this place, have been going for almost 10 years. The last year they have really stepped up their game and have a lot to offer! We go as a family every Sunday and we are never disappointed. The staff is incredibly friendly and so hard working. The frozen house margarita is the best I've ever tasted Anywhere . The Choripollo is so good and flavorful and my wife loves the chicken chimichangas. I recommend this place as often as I can.
The restaurant is nice to dine with family and friends.
The opening hours of the restaurant are as follows:Monday-Thursday: 11 am- 10 pm, Friday and Saturday: 11 am- 10:30 pm, Sunday: 11 am- 9 pm.
Address: 629 Chestnut Commons Dr, Elyria, OH 44035, USA.
4. Black River Reservation
This is a great place for the whole family to have a great time.
It has a nice trail paved for anyone that wants to jog, walk, ride their bike, or skate.
You also don't have to worry about disruptions or suspicious people, as the security here is top-notch.
There are also lots of wildlife and green plants.
Black river reservation is spacious enough for you to have your picnic in the picnic area, and if you're in the mood, you could also throw a party here.
The focus of the Black River Reservation is the 6.5-mile hike/bike trail which runs along the Black River. The trail is generally known as the Bridge way trail.
This fully accessible asphalt trail is suitable for hikers, bicyclists and other modes of non-motorized transportation and it connects High Meadows on Ford Road in Elyria to Route 611.
Also, the Bridgeway Trail is highlighted by a 1,000-foot bridge that crosses the Black River twice.
If you like walking, running, rollerblading, cross-country skiing, or any kind of non-motorized movement, you'll love the Bridgeway Trail.
The peacefulness and serenity are some of the things you'd also love about this place.
And can you guess the most exciting part??
It's free!! Absolutely free!
You can have all the fun you want from 8:00 am-4:30 pm daily at no charge.
Address: 1495 Gulf Rd, Elyria OH 45035, USA.
5. Midway Mall, Elyria
Are you contemplating spending some time in Elyria?
How about a paying a visit to the shops in Midway Mall, Elyria?
You and I know that a vacation is incomplete without a shopping spree!
And there's no better place to shop all you want in Elyria than Midway Mall. The mall offers the best shopping experience in town.
At the Midway Mall, you can shop for varieties of items at great prices.
The mall is spotlessly clean, well lit, and a great place to come and walk when the outside weather is too hot or cold.
Coupled with that is the presence of great staffs here. The staff have always been helpful and are ever ready to help shoppers find what they need.
Moreover, you have no fear of your children getting missing while you walk around the mall as there is a play area within the facility, where they can play all they want while you attend to your business.
While you have fun shopping, your kids are safe and having fun playing. Sounds cool, right? You bet.
For the most part, parking is never an issue.
You literally have nothing to worry about when you're here.
So include it in your plan and don't forget to stop by Midway mall whenever you're in Elyria.
Address: 3343 Midway Mall, Elyria, OH 44035, United States
6. St. Mary's Church, Elyria
The St. Mary's church parish is gothic-revival style old parish in Elyria.
It was completed in 1883 and added to the National Register of Historic Places in 1979.
The unique building style of this place, decorations, and sculptures are worth exploring even if you're not a Christian.
The altar area has been modernized, but in a positive way. And It is now more egalitarian than ever before.
However, the most impressive aspects of the architecture of this place are the stained glass windows and the baroque decoration in the vault above the altar. They are simply awe-inspiring.
This church is still a fine example of the majesty and grandeur of late 19th century church design.
It would also be an excellent place to join with others in Catholic services for religious people, or for a quiet sanctuary in which to worship alone for a few moments.
Address: 329 Middle Ave, Elyria OH 44035, USA.
7. Elywood Park
One of the parks that is part of the history of the town, Elyria, is Elywood Park.
Here you can have a pleasant view of the magnificence of nature.
Fun things you can do at the park include watching various species of birds, hiking, spotting fantastic wildlife, checking out the caves, and many other fun activities you'd enjoy.
Elywood Park is in Lorain County and has an elevation of 208 metres. It is situated nearby to Cascade Park, and close to Cascade Elementary School.
The park holds an integral part of the natural heritage of Elyria.
If you want to experience tranquility while connecting with nature and the wild, Elywood park should be your go-to spot.
Address: 387 Furnace St, Elyria, OH 44035, USA
8. Elyria's Altas Cinema
What do you think about movie night with your partner and family?
If you're up for it, Atlas cinema has got you covered.
They have the best blockbuster movies and new releases to give you and your loved ones premium entertainment.
The Atlas Movie theater is very reasonably priced compared to most theaters and the employees are really friendly and helpful.
The Movie room is also very spacious with more than 100 seats inside, in addition to that, the sound is comfortably not too loud or too low
The place is also clean, and the chairs are very comfortable to relax and sit for a long time while seeing the movies.
At Atlas cinema, you can be sure you'll get quality value for your money.
Visiting Elyria any time soon?
Endeavor to add visiting this place to your to-do list.
A great cinema experience awaits you at Atlas cinema.
Planning a trip outside of Elyria? Why not check out our lists of things to do in Akron, Canton, Findlay, Toledo, and Sandusky?
Address: 2650 Midway Mall, Elyria, OH 44035-2444.
9. Mega Bites Charters
The freshwater lake Erie provides an ideal fishing and recreational opportunity.
And with Mega bites charters you're going to have a great fishing experience at the Lake.
When you fish with Mega Bites Charters, you will board a 30-foot Baha sport that was made for fishing.
It has a 10.5-ft. beam and plenty of freeboards for safety.
Mega Bites is also powered by a 7.5L, fuel-injected engine that will deliver plenty of HP when speed is needed in weather or emergencies.
The boat is equipped with a new, high-definition Garmin multi-function fish finder, GPS mapping, and Raymarine radio.
Also, all the safety gears are within easy reach and there is a toilet in the cabin.
So anytime you find yourself in Elyria, you will do yourself a lot of good by going fishing at the mega bites charter.
You get to have loads of fun hunting large schools of yellow perch and engaging in deep water fishing.
A memorable fishing experience awaits you at Mega Bite Charters. It's open at all times of the day.
Address: 655 W River St S, Elyria, OH 44035, United States
10. Roll arena Family Skating Center, Elyria
Fun is usually at its peak when we're with the people we love.
This is more true when you are at the Roll arena family skating center.
It is a nice place where every member of the family can be entertained to the peak. It is a great venue and the floor here is very nice to skate on.
The music here is also really good and enjoyable.
The Staff here are also very kind. And it's an awesome place for all ages to skate.
Talking about skating, the Skates are well taken care of same as the rink area, which is more excellently taken care of for how old it is.
It has a game area where the kids can spend some time if they can't skate while you and your partner spend some time at the skating facility.
Asides from skating and playing games, other recreational and fun activities at the center includes; rock climbing, laser tag, and rollerblading.
And if you'd like to, for a good price, you can have the whole place for yourselves for birthday celebration and special events.
There's no dull moment at this center and you shouldn't miss it when you visit Elyria.
Here's their opening hours: Friday; 7:30 pm-12 pm. Saturday; 1 pm-4 pm and 6:30 pm-9:30 pm. Sunday: 2 pm-5 pm. Tuesday:6:30 pm-8:30 pm. Closed on Monday, Wednesday, and Thursday.
Address: 908 Cleveland St, Elyria, OH 44035, United States
11. Hickories Museum
The Hickories museum is an architectural piece built in the 19th century. It highlights the life of the Lorain family, which were inhabitants of Elyria.
In the museum, you'll find woodwork with cherry, mahogany, and oak in Gothic and French styles.
A visit here will most assuredly take you back in time to history you wouldn't want to miss.
The mansion turn museum has interesting features. It has a private chapel, carved faces, six fireplaces, and Tiffany-style windows.
So, if you are interested in unusual residential architecture, or would enjoy seeing what life was like for a wealthy family around the year 1900, then a visit here should be on your agenda.
At the same time, the Museum is doing a good job keeping Elyria's history.
It shows the time when Elyria was an industrial hub with great jobs and a strong middle/upper class.
If you love historic homes and antiquity, the Hickories Museum is a must-visit for you.
It opens on Tuesday through Friday from 1 pm- 4 pm and on Saturday from 1 pm-3 pm
Address: 509 Washington Ave, Elyria, OH 44035-5128
12. Altitude Trampoline Park
Give your kids the best of fun by taking them to the altitude trampoline park.
This Park is filled with lots of fun equipment.
Also, the atmosphere of the park is family-friendly, and it is clean, safe, and fun.
It's a place where you can be guaranteed safe playing while you and your kids have the time of your lives.
We mean your kids can play as wildly as they want to without any risk of injury. This is one reason you should consider visiting the Altitude trampoline park in Elyria.
It is highly entertaining on those trampolines, and the foam pits are interesting and safe.
They have a few games, massage chairs and a place for birthday parties.
Overall, it is a nice setup.
Additionally, as long as the parents keep track of their kids and clean their booger noses, it is sanitary.
There are also sanitary stations around as well.
And it comes at a cost of $20 for 2 hours plus pizza and drink for the kids. You simply can't beat that.
As a bonus, it is surrounded by restaurants, stores, and movie theaters where you can do other things before heading home.
Address: 110 Market Rd, Elyria, OH 44035-2885
13. Cascade Park
Cascade Park is a recreational area that covers 54.6 hectares.
It has picnic areas, sandstone gorges, and two huge waterfalls which are impressive and beautiful to watch.
It also has nice playgrounds, and many places for grown-ups to sit and watch while having the younger ones play around.
There's also ample parking spaces at this Park, and it is pet friendly.
There are various short hiking paths to explore in the Park for a fall evening outing.
In addition, there is a wonderful playground, picnic, and bathroom facility too.
The park has excellent facilities, from restrooms to reservable shelters, to the nature center and a host of others.
visiting Cascade park is a really fun way to have a nice time outdoor.
It opens from 8 am-6 pm daily.
Address: 170 Cascade St, Elyria, OH 44035-5001
14. Rowland Nature Preserve
If you're in search of a place where you can feel intense peace and serenity, a place where you can escape from the noise in town, Rowland nature preserve is the right place for you.
It is a nice place for walks and hangouts, and a place where you can get away from the hectic city's work, unwind, and rejuvenate yourself to your optimum state.
Your kids will also enjoy every bit of the playground.
It features beautiful walking trails and a 12-acre lake for an amazing fishing experience.
The Rowland nature preserve is a magical place.
It's a tranquil and safe place to spend memorable time bonding with your kids.
You shouldn't miss this preserve when visiting Elyria.
And fortunately for you, it is open every time of the day.
Address: Murray Ridge Rd, Elyria, OH 44035
15. Buffalo Wild Wings, Elyria
Buffalo wild wings is a popular restaurant in Elyria, Ohio. They have the best wings and a vast selection of delicious sauces.
Since 1982, they serve authentic signature seasonings and sauces.
Buffalo Elyria had some improvements recently and they now offer a more lovely dining atmosphere with big televisions for sports lovers.
They serve excellent food and they have great customer service.
The restaurant, Buffalo Wild wing is located in a vantage point in town, and this gives it an edge.
The staff are also kind and very knowledgeable of their menu.
Besides the delicious meal you'll get here, the fabulous waitress with their great personality will make your visit memorable.
Not to mention, the street tacos here are awesome
You might want to stop by Buffalo wild wings when you visit Elyria to have an experience of what they offer.
They open on Sunday, Monday, and Wednesday from 11:00 am-10:00 pm
And on Tuesday, Thursday, Friday, and Saturday, from 11:00 am-11:00 pm.
Address: 239 Midway Blvd, Elyria, OH 44035, USA.
16. Black River Archery and Indoor Range
Black river Archery is an archery pro shop with an indoor 20-yard range.
It's a great place. And the manager is super knowledgeable on equipment repairs.
They provide kid and adult lessons in archery. You can also join the leagues and Archery Clubs.
This is also a great place for adventurous couples to have a date night.
The equipments are offered up for rent at a cheap price and the place is highly welcoming.
It's also a great place for your kids to learn the skill of archery and fulfil some of their childhood fantasies.
You should look forward to visiting this place as it would not just be interesting, who knows, it could also help build some important skills that would be useful to you.
Address: 114 Kenwood St, Elyria, OH 44035, USA
17. Bur Oak, Elyria
But Oak is one of the most prominent parks in the Lorain county metro park system and your tour around Elyria would not be complete without a visit to this place.
It features the Bridgeway trail and the steel mill trail.
It also features three separate picnic areas, each one contributing to the variety and beauty of the notable park.
Visiting Bur oak will help you appreciate the beauty of nature much more.
You can also engage in various fun activities in the park.
Address: 6150 Ford Rd, Elyria, OH 44035, USA
18. Erie Island Coffee Shop
Have a taste of the espresso drinks here in Elyria and you'd discover a whole new "specimen" of coffee.
The Elyria Erie Island coffee shop is awesome! Their lattes are really great and the veggie omelette here is really good and inexpensive.
The coffee unlike others, has no trace of bitterness. Instead, it has a delightful hint of sweetness and chocolate.
The result is an excellent coffee drink with an amazing taste unlike any you've ever had before.
You can only understand the feeling and taste when you get to taste this coffee yourself. Visit Erie island coffee to have the experience.
And most importantly, here you get a great start to the day all around.
Address: 148 Middle Ave, Elyria OH 44035
19. Espresso Bakery
When on tour in Lynn, let Espresso bakery satisfy your bakery needs.
You can get a variety of snacks, ranging from specialty donuts to bagels, and a lot more for your family and friends.
Just like the Espresso coffee is superb, the pastries are just as great, so you wouldn't want to miss out on anything. Seriously stopping by Espresso Bakery is a no Brainer.
The food and coffee are mouth-watering.
The employees are also the sweetest people and the price is extremely fair.
No other coffee joint and bakery in Lynn holds a candle to this place.
It opens from Wednesday through to Friday from 5 am – 2 pm.
Address: 100 4th St, Elyria, Ohio USA
20. New Elyria Public Library
The Elyria public library system was established in 1864. It opened in 1870 with 2000 books.
Readers are leaders and reading opens your mind to new worlds, new ideas, and information.
That's more reason why you should visit the Elyria public library.
On a tour in Elyria, it will be nice to read at least a book from the town's historic library.
It's a library. What's not to love?
Friendly staff, materials displayed in a welcoming fashion with suggestions for reading and viewing, computer access, and if you use the online account to request your material via hold, the staff even pulls it from the shelves for you within a couple days.
Also, because they are a part of CLEVNET, they have access to so many more materials than other systems.
It's a place totally worth checking out.
Address: Library 211 Second Street, Elyria, Ohio 44035
21. Finwood Estates, Elyria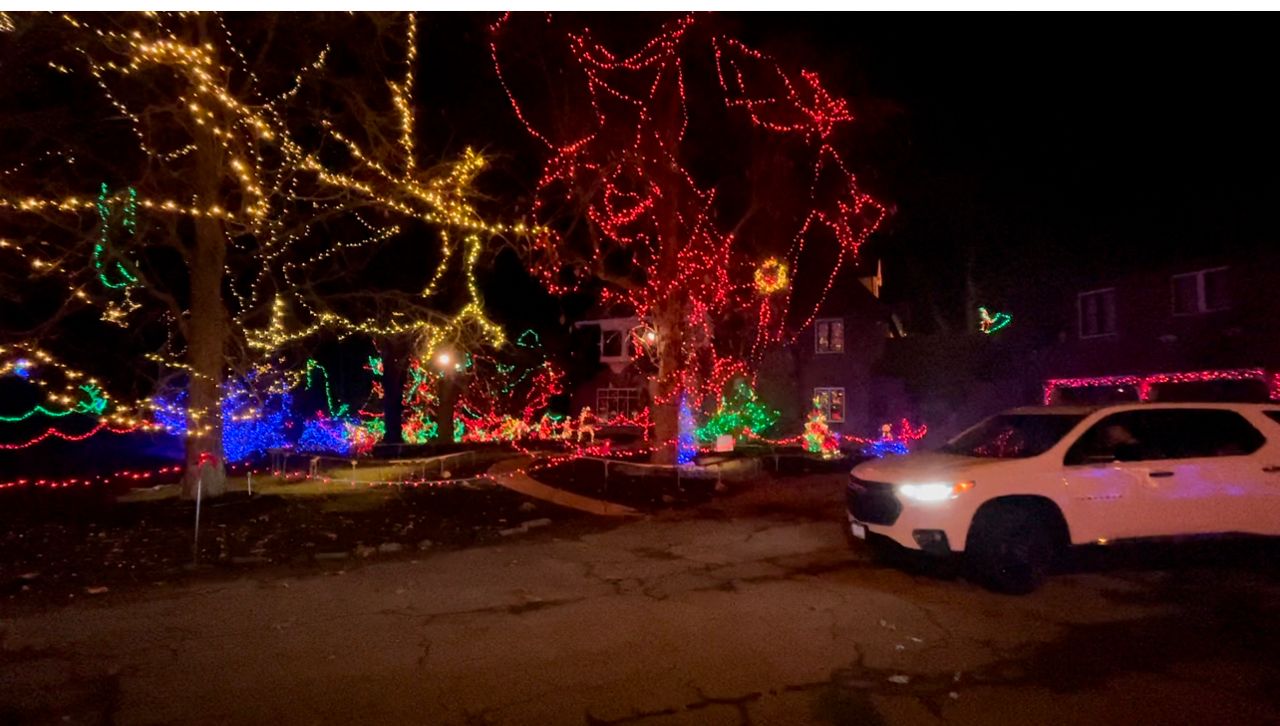 This two-story Tudor-style house and historic landmark was built back in 1929 for Common Pleas judge Guy Findley and his wife Jennie on 41 acres of wooded land.
Much of the woodwork in the house was cut from trees on the estate, which has many varieties of trees and plants from all over the world.
A great bulk of the trees were planted by the Findleys.
The property was deeded to the city of Elyria in 1945 for park purposes and in 1978, Mrs. Findley transferred the property to the city.
The house is open to the public once in a while, mainly around Christmas, allowing the public to look inside and see it as it once was in the 1930s.
There are meeting facilities and nature trails as well.
Finwood Estate in Elyria is also home to a beautiful display with thousands of lights.
Normally the building is open to the public to visit with Santa and other fun activities,
And to date, the drive through light experience is still open to the public for free, and it's absolutely worth the visit!
Address: 799 Abbe Rd N, Elyria, OH 44035, United States
Final Remark
All these and more are things you can do to have an enjoyable stay in Elyria, Ohio.
Planning a vacation to Elyria, Ohio? Work with this list to have an amazing time in this city.
Wishing you happy travels.