Atlantic City, also known as the "Las Vegas of the East,".
The nickname came by due to the city's numerous theaters, which put on acts both day and night, as well as sporting events like boxing contests and beauty pageants.
The presence of numerous casinos also adds to the Las Vegas feeling.
The city was founded in the 1850s and offers a wide selection of entertainment and amusements, as well as vast sandy beaches.
But even if you don't want to gamble you will have no trouble finding places in Atlantic City to visit.
Since it was established, the city is full of history and interesting sights.
There's Atlantic City cruises that treat you to a special dolphin-watching expedition and an incredible view of the AC skyline.
Aside from your incredible adventure with Atlantic City Cruises, there's PLENTY MORE to do in and around America's Favorite Playground.
You can go to the museums, go surfing, even feed your Sweet tooth to satisfaction.
While you are in Atlantic City, be sure to enjoy these other attractions!
With so many things to do here, you might be overwhelmed with things to do in Atlantic City.
We have compiled a list of things to do just for you.
Things to do in Atlantic City, New Jersey
1. Absecon Lighthouse
One of the best and first things you can do in Atlantic City is going to the Absecon lighthouse.
The Absecon Lighthouse was first illuminated in 1857 as a beacon for Atlantic Ocean seafarers.
The Absecon Lighthouse is also the third tallest lighthouse in the United States and the tallest in New Jersey.
You should know by now you will be treated to a mesmerizing view.
Though the lighthouse has 240 stairs, however, tourists are invited to ascend to the 228th floor.
So you can take an amazing journey into time and ascend the 228 steps of the Absecon Lighthouse.
You'll see breathtaking views of the Atlantic City skyline.
There are windows to look out along the climb
Up top, you'll come face-to-face with the original first-order Fresnel Lens, first lit in 1857.
There's also an informative guide at the top there who will provide information and answer questions.
The lighthouse's recent multi-million dollar restoration also includes a stunning replica of the Lightkeeper's dwelling
Also includes an educational museum, charming gift shop, exhibit in the original Oil House, and expansive grounds.
Despite the fact that the lighthouse was discontinued in 1933, it continues to attract people from all over the world.
Similarly, the lens has been lighted every night since its decommissioning for the enjoyment of everyone
The lighthouse is open every day in July and August, as well as five days a week the rest of the year.
The lighthouse museum is free to enter; however, if you want to climb to the top, you must pay a small fee.
Visitors can elect for an adventurous "keeper sleeper overnight" excursion in addition to climbing the lighthouse.
The overnight gives visitors the opportunity to live the life of a lighthouse keeper.
A visit to Absecon Lighthouse while in Atlantic City will leave you stunned.
Address: 31 S Rhode Island Ave, Atlantic City, NJ 08401, United States
2. The Sugar Factory, Atlantic City
If you are a sweet tooth coming to Atlantic City, you are in luck as all your crazings will be satisfied!
The best part? is you don't have to take a break from your cravings.
The Sugar Factory, located on the boardwalk of this famed New Jersey town, offers a dining experience unlike any other.
In addition, the Sugar Factory is a wonderful date night spot for couples or families.
With the vibrant pops of color, glittering crystal chandeliers, and a big yellow ducky that greets you upon entry, it's an unforgettable experience.
Prepare to leave stuffed after your meal as food portions are a good size and very filling.
This restaurant will bring out your inner child and gobsmack any children you're visiting with.
Burgers are done just right. As far as the desserts, they are out of this world.
The dessert menu is indeed the true lure at this sweets-themed restaurant.
There is a whole page of specialty drinks. All but a few can be made non-alcoholic.
Kids will love the drinks since several have candy added.
The Sugar Factory offers a sweets shop that you must visit before departing, in addition to the extreme dessert selections.
Are you still wondering you haven't exercised your sweet tooth enough?
Towering milkshakes topped with candy necklaces, full-size cupcakes, and huge lollipops, as well as a monstrous 24-scoop ice cream sundae topped with doughnuts, Cones, and candy galore, are just a few of the incredible options.
Address: 1000 Boardwalk Ave, Atlantic City, NJ 08401, United States
3. Atlantic City Beach
Atlantic beach is a public beach in New Jersey and it is a great place for the family to go together.
There is plenty for the kids to do. The kids will love playing in the sand and swimming in the ocean.
The boardwalk is only about 500 feet from the beach.
Parking is free here but come early to get a spot.
Otherwise, you will have to look for it in nearby streets or there is also some empty area near some playground and construction site
Best part? There are no beach tags required.
With kids, you can go up on the boardwalk, go on the rides, play mini-golf, and so on.
When you get hungry, you can grab a slice of pizza, get ice cream, funnel cake, hot dogs, hoagies, and everything on the boardwalk.
It's just fun throughout here at Atlantic Beach.
The city's own beach, Atlantic City Beach, is interestingly distinct from the major southeast-facing coastal strip that runs parallel to the Atlantic City Boardwalk.
Address: Atlantic City, NJ 08401, United States
4. Atlantic City Boardwalk
The Atlantic City boardwalk is a famous destination as it is the world's oldest and longest boardwalk.
Chances are if you're visiting Atlantic City you'll spend some time on this great wooded way, so let's have a full glimpse of what you should be expecting.
The boardwalk stretches five miles along the Atlantic Ocean's coast
The boardwalk, in particular, is jam-packed with activities for people of all ages and inclinations.
The wooded path is ideal for early morning biking, window shopping, wandering aimlessly.
The restaurants, casinos, and amusement centers crowding the promenade might overwhelm you.
Weave in and out of colossal casinos, trying your luck at card tables and slot machines.
The Atlantic City Boardwalk provides shoppers a unique experience with local finds
The finds include saltwater taffy and delicious fudge to Atlantic City-themed souvenirs and gifts.
There's also the garden pier known as the arts and cultural center of the Atlantic City Boardwalk.
It is complete with the Atlantic City historical museum and Atlantic City Art Center.
The Pier Shops at Caesars offer world-class shopping, dining, and entertainment.
This consists of approximately 90 high-end shops and restaurants, boasting such luxury names as Gucci and Louis Vuitton.
Casino gift shops are easily accessible from the Boardwalk as well.
More so you can Hop on the tram car for a ride from one end to the boardwalk to the other.
The tramcar is a really good choice avoid walking the distance or for when the little ones are just too tired
The Atlantic City Boardwalk is one of the most interesting sites to visit in New Jersey.
Address: Atlantic City, NJ, USA
5. Atlantic City Casinos
Doing something totally out of the usual on a vacation can be so beautiful and satisfying.
Atlantic City sure has some unusual things you can do on a Vacation, and going to Casinos is one of them.
As gambling is nearly synonymous with Atlantic City, several casinos can be found in the seaside town.
They offer everything from slots to table games including blackjack, roulette, and poker.
AC has several Casinos and some favorites include the Borgata, Harrah's Atlantic City Casino, resorts Casino Hotel, and so on.
There's also a Hard Rock casino loved for the outstanding view which overlooks the ocean.
Resorts Casino Hotel lies along the northern edge of Atlantic City (also just off the boardwalk), positioned near Steel Pier.
The Borgata Hotel Casino & Spa is one of the most opulent casinos in Atlantic City, and it's about two miles from the boardwalk.
In addition, the Borgata has a number of well-known restaurants (Bobby Flay and Wolfgang Puck have restaurants at this property).
Thanks to their clean atmosphere, diversity of gaming options, and attentive service, Atlantic City Casinos are one of the best you can go to.
Address: Atlantic City, NJ, USA
6. Steel Pier
If you are a thrill seeker, you'll feel very much at home here at the Steel Pier.
Located on Atlantic City's world-famous boardwalk, only steps from casino resorts and New Jersey's magnificent miles of beach.
You might wish to spend a few hours at the Steel Pier amusement park if you're visiting Atlantic City.
The 1,000-foot-long amusement park is packed with thrill attractions including crazy roller coasters, a swinging carousel, and the "Monster Plunge".
Steel Pier Amusement Park includes loads of food and drink vendors, entertaining games with top prizes, and so much more in addition to the super-fun rides.
Rides such as the Rock-n-Roll, the Ferris wheel, and the Drop and the Slingshot provide thrills.
These are accompanied by wonderful views of the Atlantic City shoreline.
If you want a better view of the beach from above, one of the helicopters rides available here is a good option.
To participate in the rides, you must purchase tickets, which can be purchased individually or in a book; additional attractions, such as helicopter trips, are extra.
More kid-friendly attractions, such as a teacups ride, bumper cars, and the "Silly Steamer," are available.
Summer nights at the park are made much more enjoyable by the seaspray and ocean breeze.
Each of these attractions is located on a pier that juts out over the Atlantic Ocean and is open to the public.
The Steel Pier has something for everyone, whether it's skydiving to the stars, over the ocean etc.
You could even host an event with the greatest view in town.
Prepare yourself for a lot of action, whichever option you choose.
Address: 1000 Boardwalk, Atlantic City, NJ 08401, United States
7. Chef Vola's, Atlantic City
How about some Italian foods on your vacation?
Chef Vola's is an excellent Italian restaurant in Atlantic City.
This restaurant is so popular that you'll have to make reservation months in advance if you want to eat there.
So do not expect to just walk in, Won't Happen. The reservation process is very unique but it is well worth it.
It's an old 3 story house just a block off the boardwalk.
The restaurant is located in the basement of a modest house.
Aside from the delicious food, Chef Vola's is known for its ambiance.
Visitors approaching the restaurant stroll through a residential area with no evidence that it exists; there is no sign, parking lot, or other typical restaurant indicators.
So you think what's all the hype about?!
It's about a dining experience you would expect when you sit down with your family to enjoy an authentic Italian home-cooked meal!
From the moment you enter you feel as if you a part of a family and then reality hits you when the smell from the kitchen come upon you.
Pictures of prominent guests from decades of patronage adorn the walls.
Aside from the excellent service and delectable meals, you'll feel as if you're dining in your grandmother's basement.
If you're looking for fun things to do in Atlantic City, go no farther; Chef Vola's is a must-see.
So call Chef Vola's now to make a reservation since it will be approximately 3 weeks minimum before you will be able to enter.
Don't worry, the wait is absolutely worth it. Bon Appetit!
Address: 111 S Albion Pl, Atlantic City, NJ 08401, United States
8. Chicken Bone Beach
Chicken Bone Beach, located south of downtown is a once-segregated beach.
The beach got its name from an erroneous rumor that the sand was covered with discarded chicken bones left behind by African Americans on this "blacks only beach" in the early to mid-nineteenth century.
When they finished eating, they buried the chicken bones in the sand. So it was named.
Because of pressure from local businesses, the beach became segregated long after the Civil War ended, a tragic period in American history.
Although the beach merges in with the nearby ones, it is distinguished by a memorial plaque.
It's a nice beach and there's a selection of places to do and eat, as it's along the Atlantic City Boardwalk.
This beach is one of many interesting yet beautiful sites to visit if you want to take a wonderful stroll along the New Jersey shoreline while learning about American history.
Furthermore, it is one of the few free activities available in the small town.
Address: Atlantic City, NJ, USA
Planning a road trip outside of Atlantic City? Be sure to check out our lists of things to do in Woodbridge, Paterson, Lakewood, and Hoboken!
9. Atlantic City Aquarium
If you have been to any aquarium before you would agree aquariums are cool.
If you agree that aquariums are cool, then know that one of the coolest aquariums in the world is located in Atlantic City.
The City aquarium's coastal position adds to the beauty of its environment.
Once inside, you'll be astounded at all of the intriguing marine life.
Many fascinating hands-on, interactive exhibits highlighting marine life from across the world may be found at the Atlantic City Aquarium.
Sealife from the New Jersey coast, such as sea bass, sand tiger sharks, and northern stingrays, are among the highlights.
In fact, the Atlantic City Aquarium is one of many locations to visit that is entertaining for the whole family.
The touch tanks with tropical sharks and stingrays, as well as the other reptiles and amphibians on display, are popular with children.
An exotic animal presentation takes place twice daily.
The presentation introduces some of the aquarium's most interesting species and provides information on their eating habits, habitats, and more.
Atlantic City Aquarium is a fun sight to view and is one of many awesome places to visit.
Best of all, it's one of the few free activities for kids aged three and up.
It is also open seven days a week, all year.
Address: 800 N New Hampshire Ave, Atlantic City, NJ 08401, United States
10. Ripley's Believe It or Not! Odditorium
Ripley's Believe It or Not! is a museum that houses amusing oddities from around the world as well as local oddities.
You'll find intriguing exhibits of odd items at Ripley's Believe It or Not! Odditorium in Atlantic City,
These exhibits will definitely pique your interest and imagination.
The best part is that you can go with your whole family.
These include odd but impressive crafts like a spider built out of scissors and knives, as well as engineering marvels like the world's smallest production car.
There are over a dozen galleries with exhibits.
Aside from the bizarre exhibits, Ripley's Believe it or Not! also has a super fun "Lazer Maze Challenge".
Visitors will duck, crawl, and navigate a laser-beamed maze in the hopes of not touching a laser.
With so much to see and do all under one strange roof, you'll leave the museum scratching your head over all you've just seen.
Also check out the roulette table constructed of jellybeans, which is said to be made up of roughly 14,000 beans,
Talk about the Jivaro shrunken heads from the Peruvian Amazons, which may appear scary or unpleasant to some.
Whatever your feelings about these anomalies, a visit to the odditorium is a fun diversion from the casinos and beaches of Atlantic City.
Address: 1441 Boardwalk Corner of Boardwalk and, N New York Ave, Atlantic City, NJ 08401, United States
11. Saltwater Taffy
The taffy, which has its beginnings in Atlantic City, is one of the few native specialties that you should try.
Despite their name, these soft, bite-sized treats do not contain any seawater, though they do include a small amount of salt.
Along the Atlantic City Boardwalk, you'll find a plethora of establishments selling taffy.
Some of the establishments include James' Original Salt Water Taffy, steel's fudge, James Candy Company, etc.
But don't miss the crowd's favorite, Fralinger's Original Saltwater Taffy
It all began here at fralinger's.
The TREATS are DELICIOUS and affordable.
Must visit before you leave Atlantic City.
Bring some Goodies back to your Place of Employment or your Neighborhood as well as your Lovely Family Members.
Address: 1901 Boardwalk, Atlantic City, NJ 08401, United States
12. Borgata Casino
This hotel and casino, which first opened its doors in 2003, features a variety of world-class accommodations, restaurants, gaming, and facilities.
Well, no doubt this is one the best, if not the best casino in Atlantic City
It is definitely an upscale from the other casinos nearby, especially the ones on the boardwalk.
For a start, the hotel rooms range in size from small economy rooms to presidential suites, all of which are tastefully furnished and adorned.
The hotel rooms are very clean and upscale as well.
The restaurants are classy, the buffet has great choices and is very tasteful.
Do not miss the buffet.
In fact, arrive hungrily and prepare to figure out a way to eat slowly and use those two hours efficiently
Visitors can win big on the casino floor by playing slot machines, card games, roulette, sports betting, and other activities.
Borgata also has a number of nightclubs and bars that keep the celebration going all night.
Moreso, wings at the sports bar are some of the best you'd ever have.
The same goes with the cheesesteak and the duck fat fries.
The gambling isn't so shabby either.
Finally, you can relax in the pools, spa, salon, or fitness center after a hard day or night of dining and doing all sorts.
We recommend this fine place to anyone that wants a classier resort to stay at and a cool place to place some bets.
Address: 1441 Boardwalk Corner of Boardwalk and, N New York Ave, Atlantic City, NJ 08401, United States
13. The Quarter at Tropicana
The Quarter at Tropicana is a great place to visit when in Atlantic City.
It is home to some of Atlantic City's top stores and eateries.
The Quarter at the Tropicana Casino Resort is a bustling, Old-Havana-themed shopping area.
It boasts over 40 stores, eleven nightclubs, and even a spa for when your feet hurt after a long day of shopping.
In fact, Tropicana has everything from a movie theatre to clubs and the hottest restaurants.
They have a wonderful selection of food to select from and things to do and they are located right in the middle of the boardwalk
You will also find a nice selection of stores for serious shopping or just browsing window displays.
Carmine's, Cuba Libre Restaurant & Rum Bar, and The Palm are among The Quarter's fine-dining establishments.
The Quarter is a famous tourist destination in Atlantic City because of its unique Latin ambiance and numerous entertainment alternatives.
You will not be disappointed taking the time to visit one of the best spots on the Atlantic City Boardwalk.
Address: 2821 Boardwalk, Atlantic City, NJ 08401, United States
14. Caesars Atlantic City Casino
Given its status as one of the world's most well-known casino brands, it's no wonder that the Caesars Atlantic City Casino is a must-see.
This Roman Empire and Greek-themed casino is one of the largest in Atlantic City.
You can also lodge at the hotel.
The hallways to the rooms are spotless and very modern, the rooms are also large and very clean.
Aside from gaming, you can go straight to the eating tables.
The Gordan Ramsay Pub & Grill, KWI Restaurant and Noodle Bar, and Nero's Italian Steakhouse are all popular eating options at Caesars.
The Caesars Atlantic City Casino is known as the "Hub" of the boardwalk because of its great location.
Address: 2100 Pacific Ave, Atlantic City, NJ 08401, United States
See also the list of things to do in Jersey City, Princeton, Wildwood, and Cape May!
15. Knife & Fork Inn
You know you can be in the present and still travel back in time in Atlantic City.
This and more is what Knife & Fork Inn offers you.
The Inn is a beautiful historic building with a really unique old-world atmosphere.
In fact, this restaurant is the oldest and most historically significant in the town.
Knife & Fork Inn, which opened in 1912, was originally a men's club, but the ladies' lounge on the second floor welcomed women.
Despite the Prohibition Act, the restaurant freely sold alcohol to customers during the 1920s.
It is a fine dining experience, and the food is always good.
Visitors to this superb restaurant today are treated to world-class cuisine and service reminiscent of the Roaring Twenties.
The bartenders a very adept at making excellent cocktails.
This is not a place to go if you're watching your waistline. These sauces are rich and flavorful.
People love their "Parmesan Brussels Sprouts" and "Stuffed Veal Chop", and locals also mention "soft shell", and "tin their reviews.
The restaurant is open every day of the week.
This inn has kept up with the times in many respects, yet its front, internal architecture, and decor remain reminiscent of a bygone period.
So you won't be disappointed.
If you're going to be in the Atlantic City area anytime soon, Knife and Fork Inn is a must-visit.
Address: 3600 Atlantic Ave, Atlantic City, NJ 08401, United States
16. Lucy the Margate Elephant
Lucy the Margate Elephant, America's oldest roadside tourist attraction, is located near Atlantic City.
Visiting Lucy the Elephant is a must for any visitor to the Jersey Shore.
It's a unique piece of Americana and roadside attraction history that has stood the test of to delight visitors to this day.
James V. Lafferty built the elephant statue, which stands six floors tall, in 1881.
Lucy the Margate Elephant's entire history can be found here.
The elephant may be seen in Josephine Herron Park, near to the charming Lucy's Beach Grill, directly on the beach.
There is no charge to see the elephant or browse the gift shop, but you must purchase tickets for a guided tour if you want to go inside the elephant.
So don't just stand outside and take photos, take the tour! It's a short and inexpensive tour but it really is worth it.
Parking is available and free, but they do monitor it during the summer to make sure people only use it to visit Lucy.
Address: 9200 Atlantic Ave, Margate City, NJ 08402, United States
17. Little Water Distillery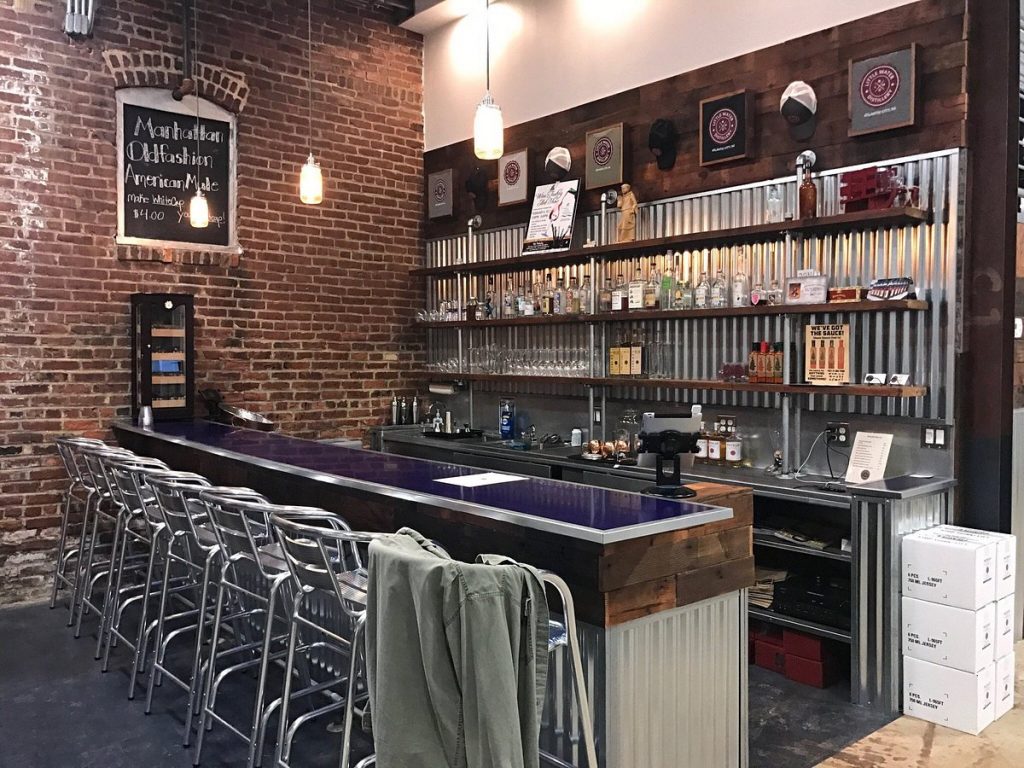 Little Water Distillery is a small distillery located in the center of Atlantic City, New Jersey
All of the cocktails are very tasty; the "mules" are made with their own ginger beer & spirit of choice
Little Water Distillery is where to go if you want to have taste of great spirits such as rums, whiskey, vodka, and gin.
They currently distill their own gin, vodka, whiskey, and rum.
The acclaimed liquors of the distillery may be found on the shelves of pubs and whiskey store.
The menu is constantly evolving so you're encouraged to visit often to try new, interesting, and delicious cocktails.
In addition to the alcohol, many of the mixers are made in-house.
The bar at Little Water is a fun place to hangout and drink in the cool vibes.
The owner, Mark, is very passionate about his liquors, cocktails, and bar.
The distillery offers guided tours and tastings, as well as rotating drinks in a stylish setting.
The tours are fun and entertaining.
So, stop in for a tour and tasting before moving to the bar for a cocktail.
Little Water is a nice change of pace from your typical casino bar.
You don't need to fight for the bartender's attention and the bar tab won't break the bank.
Throughout the year, Little Water Distillery also hosts unique events.
If you're going to Atlantic City, make sure to look at their events calendar to see if you can catch one of their entertaining events.
Stop by Little Water Distillery the next time you're in Atlantic City.
Address: Park and Enter on, 807 Baltic Avenue, Lexington Ave unit B, Atlantic City, NJ 08401, United States
18. Tanger Outlets Atlantic City
A good vacation and travel isn't complete without some shopping.
Tanger Outlets Atlantic City is a big open-air outlet shopping complex with over 100 businesses spread out across many blocks in Atlantic City.
With so many options and business to shop from, there's no better way to shop.
From the Atlantic City Boardwalk and neighboring casinos, it's only a short walk away.
The outlets are great. You've got every popular brand item store you can possibly want.
There is just about every store you may need here from high-end brands like Calvin Klein to Dollar Tree.
The shopping experience is similar to strolling around a tiny town, where you can hop from one store to the next
There are wide streets, safe, and accessible stores all within walking distance from one another.
The majority of stores here are well-known fashion labels such as GUESS, Calvin Klein, Tommy Hilfiger, to name a few.
Although the Nike Store has a way to get in it that causes you to cross a busy intersection, then there's a little trail to the store.
If you take the short cut out, it is a little trail, a jump over a guard rail, and crossing the busy intersection again.
We all love Nike, so the stress of the shortcut is worth it. The store is also accessible from Atlantic Ave.
Starbucks and Subway are just two of the many culinary options available at Tanger Outlets Atlantic City if you need a break from shopping.
There's a fish tank too and it is also remarkable to experience with young kids especially when it's feeding time for the fish.
As a tip, the best time of year to go is Christmas time they have a Santa there.
Then you can have a family picture with Santa for free.
Address: 2014 Baltic Ave, Atlantic City, NJ 08401, United States
19. Atlantic City Ballet
The Atlantic City Ballet serves as a prime artistic resource to the residents of Atlantic City and the surrounding areas.
There are a plethora of fantastic things to do in New Jersey, particularly in Atlantic City, but none is more refined than a visit to the Ballet.
The dance group, which is based at the Circus Maximus Theatre, is comprised of the world's most skilled dancers.
AC Ballet offers access to fully-staged performances by a highly skilled company of professional dancers
There are also educational programs designed to fit the needs of a diverse student population.
The beauty and brilliance of each show, choreographed by celebrated artistic director Phyllis Papa, is unrivaled.
The City Ballet aspires to provide a diverse range of ballet artistry, and in its 38 years of existence, the company has presented both traditional and original works.
Address: 2301 Boardwalk, Atlantic City, NJ 08401, United States
20. Atlantic City Parasail
If you don't have parasailing on your bucket list by now, you should add it.
If you have it, then it's time to tick it off that bucket list.
This restaurant, which opened in 2010, will take you high above the Atlantic Ocean
It will give you a breathtaking view of the boardwalk, casinos, hotels, and charming neighborhood streets.
Throughout your trip, you'll be able to take in the spectacular vistas of the ocean and marine life.
Your flight will be propelled by a cutting-edge boat that runs on clean diesel fuel, enhancing your whole experience.
We would totally recommend Atlantic City parasailing for anyone who wants to see Atlantic City from the air or just for a super fun boat ride!
The boat voyage, which is an adventure in and of itself, will take about 90 minutes.
If you happen to be an adventurous person with a disability, considering a really awesome experience, give Atlantic City Parasailing a try and you will have the thrill of a lifetime.
Address: 800 N New Hampshire Ave, Atlantic City, NJ 08401, United States
21. Atlantic City Historical Museum
The Atlantic City Museum is a step back in time.
Atlantic City Historical Museum presents 150 years' worth of city history, displaying historical memorabilia inside Boardwalk Hall.
The beginning of Atlantic City from old hotels, Steel Pier, the Miss America Pageant pictures is available here.
Artifacts, costumes, photographs, song sheets, postcards, and a variety of Miss America souvenirs are among the exhibits.
There are also historical Thomas Edison beach images, and Steel Pier's world-famous high-diving horse.
You will learn many things you did not know about Atlantic City (such as the Mr. Peanut tie-in).
There is also a video presentation that covers the city's growth.
Its growth into a popular beach, its decline in the time of many beaches and backyard pools, and its resurrection via Casinos are presented.
The Atlantic City Experience, a collection about the city's unique development on exhibit in the Atlantic City Free Public Library, is well worth seeing.
Address: 600-698 Boardwalk, Atlantic City, NJ 08401, United States
22. Atlantic City Cruises
A little dolphin-watching expedition here and there wouldn't hurt, right?
The dolphin-watching expedition is one of the most popular tours offered by the company.
Visitors can sail the Atlantic Ocean with an incredible view of the AC skyline as a backdrop with Atlantic City Cruises.
You will have the opportunity to witness marine creatures up close and personal while aboard Cruisin' 1.
The full-beverage service, which includes soft drinks, beer, wine, and a variety of other spirits, is one of Crusin' 1's most popular features.
If you're visiting with a group, tours onboard Cruisin' 1 are a terrific opportunity to celebrate and have a good time.
Address: 800 N New Hampshire Ave, Atlantic City, NJ 08401, United States
23. The Irish Pub, Atlantic City
The Pub at the Irish Pub and Inn is a gem among the tacky glitz of Atlantic City.
It is one of the few old hotels remaining from the glory days,
The Irish Pub, dubbed "America's Greatest Pub" by numerous major newspapers, has been serving bar food and beverages since 1972.
Even though times have changed but the food still tastes delicious.
Anytime is an excellent time to visit because it is open 24 hours a day, seven days a week, all year.
Fish and chips, burgers, and the famed St. James Potatoes are among the pub's menu items.
The steer burger is 1/3 pound fresh Angus beef melted cheese lettuce onion tomato coleslaw and steak fries.
St. James potatoes are crispy steak fries coated with homemade gravy topped with melted farmhouse cheddar
The Irish Pub, located just off the Atlantic City Boardwalk, is housed in an ancient Victorian Inn with rooms starting at $25 per night.
There are a number of interconnecting rooms, a nice bar, leading to an outdoor courtyard where you can sit.
The Irish Pub serves cocktails, beers, shots, and more all day long, in addition to fantastic pub food.
The menu is excellent. Appetizers and entrees and sandwiches.
Meatballs appetizers and spring roll appetizers are very good. A corned beef sandwich is also excellent.
In addition, the walls are covered with memorabilia from times gone by.
Always providing the eye with something new to glance at.
Address: 164 Saint James Pl, Atlantic City, NJ 08401-7106
24. Storybook Land
Do you want to have the feeling of childhood again?, look no further as storybook Land is the perfect place in New Jersey.
Family-friendly attractions in Atlantic City are hard to come by, but Storybook Land is a must-see for both adults and children.
For over 60 years, Storybook Land has been keeping the spirit of childhood alive in an entertaining and educational atmosphere.
Storybook Land is everything that Disney World isn't.
Even though it is situated right next to a major road once you go inside you are in a shady oasis.
It is super-clean with beautiful landscaping. The young people working there are friendly, courteous and helpful.
This charming, vintage amusement park brings the characters from your favorite children's books to life.
The park features rides and other attractions based on stories such as "The Three Little Pigs," "Little Red Riding Hood," and "Alice in Wonderland."
It costs less than one-third of a Disney ticket, and has virtually no waiting lines or long walks between rides to wear you out.
Four glorious hours for 4 to 10 or 12 year olds .
A little cafe with basic items is available if you are so inclined.
Many low-key rides, as well as a few high-intensity rollercoasters and the like, are suitable for toddlers and up.
The park also has fun train rides, a maze, swings, and other attractions.
Throughout the year, the park hosts special events where you may engage with farm animals and more.
What more could you want?
There is the gift shop which you have to go through to get out. But you are not obligated to buy anything.
Any time of year is a fantastic time to visit Storybook Land, one of Atlantic City's finest amusement parks.
Address:
6415 E Black Horse Pike, Egg Harbor Township, NJ 08234, United States
25. AC paintball
If you don't know what to do to celebrate that teenage boy's birthday, this is it!! Easy to book online and pay online as well.
Even if you want to do a bachelor's party, come here too.
It may be difficult to find sports and outdoor activities to do in Atlantic City, but AC Paintball has you covered.
This is a perfect place for anyone looking to play paintball or do some sports in the general Atlantic City area.
A day on the paintball field is high-energy and full of excitement, whether you're going with a group or looking to join an existing party.
Morning and afternoon packages are available for both groups and individuals at AC Paintball.
They are always ready for you whenever you arrive and the referee is always pleasant.
They have a variety of fields that allows for different game types!
The best part is that you can rent all of the equipment you'll need right on the premises, so you won't have to bother about packing your belongings.
Furthermore, AC Paintball alters field layouts on a regular basis, so you'll never play the same course twice.
They also have picnic tables and you can bring food and drinks.
Not too far away are several pizza places that allow you to pick up or some will deliver while the boys are playing.
They have several different courses to play on and the kids enjoy them
If you're looking for something to do outside in Atlantic City, we propose AC Paintball.
In fact, this place is a must-visit for anyone looking for team building and bonding experience for groups.
Address: Atlantic City, NJ, United States
26. The playground
The Playground is a retail marvel located on the most spectacular piece of real estate on the edge of the Atlantic Ocean.
Too hot outside but still want to see the beach and sea? This is the place to go.
They have chairs to kick back in and see the view with air conditioning.
This place really is a marvel.
Asides from the views, visitors to the Playground are treated to high-end shopping at every turn.
Shoppers may expect a high-end shopping experience with world-renowned designers such as Louis Vuitton, Gucci, and Burberry.
The Playground is very inviting. Everything is shiny and new.
The Playground is home to a variety of exquisite eateries, ranging from fine dining to casual grills, in addition to luxury shopping.
Hot dogs and pizza joints are back-to-back on the Boardwalk.
In addition, The Playground offers outstanding entertainment options such as clubs, live music, spectacular shows, fantastic happy hours, and much more.
Go all the way to the back of The Playground and go outside on the balcony for a great view of the Ocean.
Finally, this is a nice place to sit down and chill out, watch the beach bathers and the ocean. Lovely view.
Address: 1 Atlantic Ocean, Atlantic City, NJ 08401, United States
27. Atlantic City surf school
A vacation to Atlantic City isn't complete without proper surfing.
Where else to go than the Atlantic City Surf School.
There are a plethora of activities to do in Atlantic City, but Atlantic City Surf School stands out.
A class or two at this School is all you need.
Atlantic City Surf School promises complete surf training along some of the East Coast's top breaks
With a maximum student to instructor ratio of 4:1, you will love this place.
AC Surf School can meet your surfing demands.
If you'll be in town for a while, the school also provides private and group lessons, as well as camps.
Lessons are also divided into beginner and intermediate groups.
You'll learn to paddle out, stand up, ride waves, and control the board during surf classes.
Dryland teaching, beach and water safety, and board and balance control are all included in the kid's programs.
During the summer, sessions are held seven days a week and are a unique opportunity to explore the Atlantic Ocean.
The school now offers Standup Paddleboard (SUP) instruction in addition to standard surf lessons.
Atlantic City Surf School also teaches surf etiquette.
Camps are available for children aged 9 to 15, with a "Teenie Wahine" option for children aged 9 to 13.
Address: States Ave. & The Boardwalk Atlantic City, NJ 08401, United States
28. The pipe organ concert Recital
The Pipe Organ Concert Recital is a lovely way to spend an afternoon in Atlantic City, New Jersey.
This is a beautiful building and well worth a visit.
The concert's major focus is the Midmer-Losh Opus 5,550, a majestic beast that is still the world's largest instrument.
In addition, the organ has four entries in Guinness World Records, including "Largest pipe organ ever constructed".
It also holds "Largest musical instrument ever constructed", "Loudest musical instrument ever constructed", and holds several records in the organ world.
It is one of only two organs in the world to have an open 64-foot rank.
In the summer they have a half-hour tour plus half-hour concert daily.
Every Wednesday year-round, there is a free 2-hour organ tour with a half-hour concert.
You'll be treated to a varied playlist of world-famous tunes performed by skilled experts throughout a concert.
The best part about going to a Pipe Organ Concert Recital is that it is completely free.
Address: 2301 Boardwalk, Atlantic City, NJ 08401, United States
Start planning your trip to Atlantic City
The resort city makes for a great vacation spot because it has a bit of everything: beaches, casinos, outlet malls, and state-of-the-art restaurants.
Between lighthouse & sightseeing, shopping, restaurants, and the local aquarium, there's engaging activities for everyone.
With countless new attractions and things to do, you would agree that this a perfect destination spot.
Have a nice vacation and don't bet all your money away.