Quincy, located on the Mississippi River in western Illinois, is a picture-perfect city with a riverside and cliffs.
It was once the second-largest city in Illinois.
On Quincy's tree-lined avenues, there are sophisticated parks, and neighborhoods dotted with monumental architecture. It is just impossible to overlook.
Provided that, the Downtown Quincy Historic District and the South Side German Historic District are the two historic districts in Quincy.
These historic districts showcase the architecture of the city's many German immigrants from the late 1800s.
From exploring the museums (especially the all Wars museum) to getting one of the best dealerships you can get on any vacation, there's just so much more to do.
Things To Do In Quincy
1. Quincy Art Center
When looking for things to do in Quincy, Illinois, the Quincy Art Center is one of the greatest options.
Since 1923, the gallery has served as a center for art appreciation. It is located in the city's East end Historical District.
It features an extensive collection of artworks that show off the city's artistic aspect.
Throughout the year, several rotating exhibitions are given. The exhibition focuses on important contemporary Midwestern art, as well as work by national and international artists.
in addition, it now has over 400 paintings, drawings, prints, posters, and sculptures in its collection.
The Art Center hosts exhibits and art shows regularly, so check the calendar to see when the ideal time to visit is.
Don't miss out!
Address: 1515 Jersey St, Quincy, IL 62301, United States
2. Bill Klingner Trail, Quincy
If you're looking for a wonderful place to walk, run, bike, or splash around in a creek; check out Bill Klinger Trail.
This is a very enjoyable trail right in Quincy. The Bill Klingner is an asphalt-covered trail running nearly 3 miles.
The trail winds through Quincy's northern suburbs, following the green corridor that runs alongside Cedar Creek.
Very well kept up trails. Easy to follow. In summary, it looks like oceans of wavy grass on the gravel trail.
The trail is a wonderful community effort, guiding you through idyllic woodland while also providing access to amenities like a playground and disc golf course.
You will also enjoy beautiful bridge views. Nice frisbee golf course. Even the bathroom facilities are impressive. Family and Pet-friendly.
It is suitable for walking, jogging, and bicycling.
There are recycling bins, trash cans, and pet feces disposal bins available. Playground equipment for kids and workout equipment for adults are also available.
The best part?. The trail is closed to motor traffic, and it is opened from dawn to dusk.
Address: 2533 N 18th St, Quincy, IL 62305, United States
3. Downtown Quincy Historic District
Do you want to travel back in time while still in the present?. Look no further, the downtown Quincy historic district is the place for you.
In short, you'll be gobsmacked to discover an entire district lined up with historical buildings, buildings constructed and built in the 19th and 20th centuries in Quincy, Illinois.
Looking at these excellent architecture masterpieces can transport you to another time. All this while standing amid these beautiful old structures.
Using Washington Park as a base, you may spend a pleasant couple of hours strolling through Quincy's historic district.
That park, which is laid out in a square pattern, has had the same size for nearly 200 years. It was also the setting of the sixth Lincoln-Douglas debate in 1858.
Meanwhile, simply follow the "Looking for Lincoln" markers. You will learn more about former US President Abraham Lincoln.
The Elkon Hotel, built in 1924, and the Quincy Post Office, erected in 1887, are two of the buildings on display.
On Saturday mornings during the summer, there is a farmers' market. Not just that, there's also live music on the 2nd and 4th Friday evenings as well.
The downtown area has a variety of activities that will wow you.
Address: Quincy, IL 62301, United States
4. John Wood Mansion
The John Wood mansion is such a wonderful asset to the Quincy community.
In case you are wondering who John Wood is. John Wood was the 12th governor of Illinois.
Meanwhile, the 14-room house, which Wood built for his family, allows visitors to see fashionable 1830s furnishings and Greek Revival decor.
Some of the furnishings are original and some reproductions, but you will enjoy every bit of it.
The four giant Doric columns and four massive chimneys, as well as the exquisitely carved, opulent embellishments inside the mansion, will leave you speechless.
It generally tells how well these beautiful designs have stood the test of time.
Every piece of furniture/artwork has a fascinating backstory. It transports you back in time. Discusses the persons, their lives, and what they accomplished.
The portion on Abraham Lincoln is excellent. The gift shop is very nice. Lovely trees and gardens. There's also a great log cabin there.
It's such a good time being able to learn about the history of this town.
Include the John Wood Mansion in your plan when visiting Quincy, Illinois, and meet the man behind this fascinating and adventure-filled city.
Address: 425 S 12th St, Quincy, IL 62301, United States
5. Edgewood Orchards
Since 1930, Edgewood Orchards have been providing high-quality fruit and fruit products.
Edgewood Orchards create outstanding apple cider and raise 12 excellent apple types. Pumpkins, squash, gourds, candies, apple butter, apple pies, nuts, jams, and honey may all be found in Edgewood Orchards' store.
They have over 3,000 apple trees that create high-quality, ripe apple cider with a proprietary blend of tart, sweet, and neutral flavors.
Apples are fresh and excellent in taste. The drive out there is pretty too, since you can see the pruned apple trees on the right side of the road and beautiful homes with enormous yards on the left. It's just like heaven!
In short, Edgewood Orchards produce over 12,000 bushels of apples every year, which is a significant amount of fruit.
Visit Edgewood from 9 a.m. to 5 p.m. Monday through Saturday and 11 a.m. to 5 p.m. Sunday for a memorable experience.
Address: 1628 Edgewood Orchard Ln, Quincy, IL 62305, United States
6. Quincy Museum
The Quincy Museum is located on Maine Street, which is lined with historic and aesthetically gorgeous homes from the 1800s, all of which are a part of Quincy's rich history.
The Museum has had several homes since it was established in 1962
Quincy Museum provides a wide range of services to its guests in order to cater to their entertainment, recreational, and cultural needs in Quincy, Illinois.
The building is three stories tall, with three front-facing towers and a spacious front porch.
To reflect the era when the Newcombs lived there, the rooms on the first floor are decorated in a Victorian-era style.
You can find the exhibits of local history on the second floor. The Ellington Stone is an intriguing object. It may be proof that La Salle traveled the Middle Mississippi River Valley before Joliet and Marquette.
Exhibits of Mississippi River animals and Native American civilizations may be found on the third floor.
It appeals to both children and adults, as it has an entire activity room. There's also an animal area, and it gives lots of info on older times, wars, etc.
The atmosphere here is lovely. Homey yet professional.
The Quincy Museum's gift store is a terrific spot to stop and buy unusual goods for kids and gifts. The gift shop also sells the American Girls series of historical dolls.
Old-fashioned wooden toys and historical craft kits for children are also available at the store.
Bridal showers, weddings, meetings, and parties can all be planned at the museum.
Address: 1601 Maine St, Quincy, IL 62301, United States
7. Quincy Brewing Company
Whether for a quiet visit during the day or a few drinks in the evening, the brewery's got you. With a wide selection of beers, including their own brews, there is something for everyone.
Quincy Brewing Company launched in downtown Quincy in 2019.
The Company is one of the best spots to drink a bottle or more of locally brewed beer.
They have 16 beers on tap, including their own Villa KIPA, Bayview Blonde, and Wichman Sisters Wheat, which is a fan favorite.
The bar hall is open with a roll-up window. There are also garage-style doors with table viewing into the brew room. Games provided. Clean bathrooms. Also, the patio has seating with back gate access for food trucks.
Address: 110 N 6th St, Quincy, IL 62301, United States
8. Villa Kathrine
The Villa is a Moorish-style structure built-in 1900 by the wealthy and eccentric George Metz.
As a matter of fact, George Metz's sketches of Islamic architecture that he saw on his global travels were used to inspire many of the building's interior and external features.
The property, according to mythology, was built for a woman Metz had fallen in love with. But the woman refused to come live with him.
Metz lived alone in this house for over ten years. He lived with just his Great Dane and Bingo for companionship, but he did throw extravagant parties.
The narrative claims that the dog(bingo) is buried with a large quantity of gold somewhere on the grounds.
From Monday to Sunday, you can take a tour of this magnificent structure. Appreciate the patio, reflecting pool harem, and overall finery and craftsmanship.
Anyone interested in architecture design, please check it out and get inspired.
There is a timeless quality to the details of this place, from the sun and moons to the tiles and lanterns.
Address: 532 Gardner Expy, Quincy, IL 62301, United States
9. All Wars Museum, Quincy
This is not one of the largest war museums, but it is one of the best out there.
It isn't just a collection of stuff or anything, but a thoughtful journey with personal perspectives for each of the wars. Wars dating back to the Indian Wars.
All Wars museum houses artifacts from every United States military conflict, from the Revolutionary War to the most recent "War on Terrorism."
Likewise, the museum guides you through the military's history with the assistance of very informed experts. It is such a fascinating experience.
Even though this museum may appear tiny, it is jam-packed with a lot of artifacts. It still houses a collection that rivals that of larger institutions.
The diorama collection is incredible. One of the WWI Beaches of Normandy, for an instance, features a 45-second sound sample from the actual battle.
In addition, there are animal shelters on the same grounds. It's ideal for children.
All Wars Museum is open every Tuesday through Saturday from 9 am to 12:00 pm and from 1 pm–4:00 pm on Sunday.
Address: 1707 N 12th St, Quincy, IL 62301, United States
10. Scotties Fun Spot
Scotties Amusement Spot, located just outside of town, is a nearly 3-acre family fun center.
Allow your inner child to come out and play at Scotties Fun Spot's different arcade and other games.
Hard to believe this company has been in business for over 80 years.
They have a section with go-karts, bumper cars, mini bowling, roller skating, mini-golf, and laser tag. They also have a section with go-karts, bumper cars, mini bowling, roller skating, mini-golf, and laser tag.
From arcade games to kid-friendly activities, you'll find something for everyone in your family here.
It is on the fringes of the city's eastern side. Might also be your next destination if you want to celebrate a particular occasion in a unique way.
If you are hungry, pizza, burgers, salads, and ice cream are served in the grill area. They are all served with ice cream.
In 2014, 2016, and 2017, it was voted the finest place to take the kids for the day, and birthday parties are a blast!
The new 18-hole mini-golf course with an Outback theme is terrific fun for all ages. Open all day, but there isn't much shade yet, so it's best to play at night.
It's open from 11 a.m. to 10 p.m. on Friday and Saturday, and from 12 p.m. to 7 p.m. on Sunday, so you'll have plenty of time to try out each game in the city's premier entertainment district.
Address: 8000 Broadway St, Quincy, IL 62305, United States
11. Quincy Community Theater
Throughout the year, Quincy Community Theater hosts a variety of notable shows, for instance, touring performances, and seminars and classes.
Over the last few years, Quincy community Theater has been one of the greatest treasures in the city.
Community Theatre is a great place for people from all walks of life to experience an amazing community.
Quincy Community Theater combines the Tri-States' talents and resources to improve community theater. It does this by creating accessible, professional-quality shows and providing first-rate educational opportunities for all.
The theatre invites the shy, the boisterous, and everyone in between.
The seating capacity of the Quincy Community Theater is 498 people.
The orchestra pit, which houses 25 musicians and their equipment, may be accessed by removing nine parts of the apron.
The lighting and sound in the theater are controlled by a computer from a booth in the back of the auditorium. Likewise the soundboard between the orchestra section and the mezzanine.
Come to Quincy Community Theater with your friends or family to see exceptional performances, art exhibitions, and exhibits; you'll have a great time and learn a lot.
Address: 300 Civic Center Plaza Ste. #118, Quincy, IL 62301, United States
12. Clat Adams Bicentennial Park
What an awesome park to be, overlooking the Mississippi River.
Clat Adams Bicentennial Park is a three-acre park on Quincy's waterfront, between Front and Hampshire Streets.
The Park is also an excellent place for public activities during the summer. Events like band concert, July 4th celebration are also celebrated there.
You and your pet are welcome to have a picnic under the enormous blue and white gazebo. Take in the scenery of a magnificent fountain. On the paths throughout the park, leashed dogs are welcome.
Besides, the park has benches overlooking the river, a nice big fountain.
You can spend hours just watching the boats come through the harbor and relaxing with the calm sounds of the beautiful Mississippi River.
Address: 501 All American Park, Quincy, IL 62301, United States
Want to explore other parts of Illinois? Check out the list of things to do in Naperville, things to do in Springfield, and things to do in Galena!
13. Log Cabin Village
The log cabin village is particularly a beautiful and scenic representation of the early settlement of Quinsippi Island.
A visit to the Log Cabin Village in Quincy, Illinois, is an experience you might not want to miss out on.
Charming and delightful on an island along the Mississippi River. Free to guests and anybody interested in stepping back in time to frontier life in the Midwest year-round without charge.
The cabins are well-kept, but there are occasional acts of vandalism. There is also a small playground and facilities on-site, as well as private boat ramps.
The four log cabins, a log church, a log corn crib, and a stone smokehouse in this Quinsippi Island Park attraction give you a sense of the Lincoln era.
If a herb garden appeals to you, you can also pay a visit.
Address: 1419 Bonansinga Dr, Quincy, IL 62301, United States
14. Ben Bumbry Riverview Park
Ben Bumbry Riverview Park is a 23-acre park located at the corner of 2nd and Chestnut Streets.
The breathtaking views of the Mississippi River will captivate you. Also overlooking the river is a statue of George Rogers-Clark.
The park is one of three parks on Quincy's north side, featuring rock-lined roadways.
Furthermore, picnic tables, grills, restrooms, a basketball court, and playground equipment are all available at the shelter house.
You are sure to have a good time in the park.
Address: 730 Maine St Quincy City Hall Plaza, Quincy, IL 62301-4053
15. Deters Frozen Custard
If you want the best frozen custard and so many varieties, this is the best place for the best custard ever.
Deters Frozen Custard provides courteous service in the sector of Ice Cream and Frozen Dessert Shops, as well as fresh donuts and a hot cup of delicious coffee.
Excellent custard at a reasonable price. Order a large cone only if you're truly hungry, as the portions are quite huge.
This is an excellent spot to take a family on a budget because the costs are reasonable and there is a designated area for children to sit and enjoy their snacks. Besides, it's also perfect for couples that just want to enjoy their custard.
Enjoy delicious donuts, desserts, and more at Deters Frozen Custard with your friends or family.
Above all, the quality is outstanding. We Strongly Recommend it.
Address: 755 Friedens Rd, St Charles, MO 63303, United States
16. Gardner Museum
The Gardner Museum's mission is to promote greater understanding and appreciation of Quincy's designs and architectural legacy, as well as the Upper Mississippi Valley and the United States.
It's an informative display detailing the Moorman's crossing over the Mississippi and what life was back in the 1800s. The building itself has a lot of history.
The Gardner Museum also aims to investigate the impact and influence of national events on its development, which it does by interpreting and protecting history through research and preservation initiatives.
Quincy's designs and architectural heritage are preserved through the presentation and production of exhibits and public educational activities, as well as the preservation of relics and records.
Visit the Gardner Museum with your friends or family to learn about Quincy's unique history and relics.
Address: 322 Maine St, Quincy, IL 62301-3929
17. Boyer's Western Wear
Are you having problems with your boots? Or perhaps you just bought your first pair of real leather boots? Could even be your 10th pair and just want to learn how to make them last and keep them looking nice. You are in the right place.
Boyer's Boots N Shoe had earned the rights to claim they know boots inside and out.
It is a family-owned business that has been in business since 1920. It is the ideal place to buy boots and Sh
Boyer's Shoe Repair was founded in 1920 by Edd Boyer, a great, great-grandpa.
As a result, third, fourth, and fifth-generation shoe cobblers run the family business, and they're dedicated to providing exceptional customer service that keeps customers coming back.
Boyers Western Wears has a vast selection of clothing, including Western Boots and Wears, Hats, and much more. The store specializes in work footwear, and they also have a Boot Wagon mobile safety truck.
Boyer's Western Wears also provides shoe repair services. Their extensive Repair Department performs expert repairs on shoes, boots, ball gloves, belts, wallets, coats, headgear, and other items.
Address: 420 N 36th St, Quincy, IL 62301, United States
18. Bonkers, Quincy
Bonkers is a place you can take your kids and let them roam around and you know they're safe.
Or do your kids have a lot of wildness that they can't seem to let out? The maze-like playground will pique their interest and encourage them to be more playful.
Kids can have a great time at a cheap price.
Climbing, crawling, and playing in a massive Play Zone will be a blast. You'll also enjoy all the best, newest, and largest games, such as skill, video games, and massive cranes.
At Bonkers, you can have a fantastic time playing games or celebrating your wins with wonderful prizes from their Prize Center.
They also have a very good-sized toddler area with plenty to do that is gated in.
Bonkers offers birthday party packages and cuisine options according to your budget, likewise there are also group packages for school groups, exclusives, overnighters or scours, summer camps, and more.
By all means, they ensure that everyone in the group has a good time and a memorable day.
Address: 229 N 48th St, Quincy, IL 62305, United States
19. Kroc Center
The Kroc Center is arguably the best place to work out in Quincy
Excellent place to go to maintain your physical and mental health. Very friendly staff.
The Kroc Center redefines what it means to be a community center. Its goal is to provide a space for the community to engage in spiritual and physical wellbeing.
Furthermore, swimming lessons, yoga sessions, volleyball leagues, painting classes and seminars, rock climbing classes, and even tai chi for seniors are among the classes and programs available.
This is a place you must check out. Being a member of the Kroc center is cheaper than paying for classes individually. Also, being a member has its perks too.
Address: 229 N 48th St, Quincy, IL 62305, United States
20. Fat Back's Smokin' Racks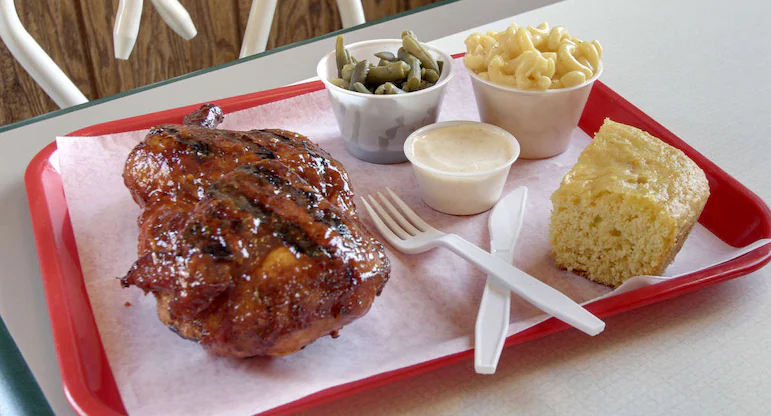 If you need something to grab, the Fat Back's Smokin' Racks is the place to be.
With a peaceful and family-friendly ambiance, with music playing in the background and hot cuisine in front of you, it's hard to go wrong here.
When you walk inside the restaurant, you will be greeted by a friendly staff who will recommend a range of menu items.
Also, their succulent and supple ribs, smokey pulled pork sandwiches, BBQ nachos and pulled pork, beef brisket, and smoked chicken with their unique BBQ sauce will not disappoint.
Address: 901 N 24th St, Quincy, IL 62301
21. District Designs
District Designs specializes in vintage goods, upcycled furniture, repurposed home décor, and entertainment needs. This place is a terrific place to start your vacation in Quincy.
There are Unique and creative designs. The owners also work well with Out-of-town purchasers.
District Designs also sells jewelry, apparel, and a variety of other items. Moreso, the objects in District Designs are manufactured, remade, or sourced locally by local sellers.
In short, you'll find one-of-a-kind products for your home or office. District Designs has hand-picked and placed stuff in themed vignettes; everything is elegantly exhibited to inspire you.
Address: 509 Maine St, Quincy, IL 62301-3931
Check out also the list of things to do in Schaumburg!
22. Dogwood Festival
Each year, in late April or early May, Quincy celebrates the arrival of spring with a four-day festival.
The first Dogwood Festival was held in 1969. The festival came about on a weekend. It was meant to promote local businesses and boost tourism in Quincy while the dogwood trees were in full bloom.
The Dogwood Festival has been an annual fixture for more than half a century, coinciding with the spectacular blossoms of its namesake trees. It highlights Quincy's strong community spirit.
The fact that this is one of the northernmost sites where dogwood trees can grow is commemorated with a big parade down Maine Street.
Also, a variety of fun side events like amusements and merchants in Washington Park, a Little King and Queen pageant, and a family-friendly block party.
23. Hooty's Bar & Grill
Hooty's Bar and Grill is a family-owned and operated restaurant that has been open since 2000. In a pleasant and welcoming setting, Hooty's Bar and Grill serves home-cooked daily culinary specialties and sweet beer.
Hooty's Bar and Grill is a fantastic destination to visit for a fun and memorable experience. They offer a variety of games, drinks, and other amenities to ensure that you enjoy your stay.
There are also bar games, amazing cocktails, and a wonderful selection of beers to choose from.
Besides, outdoor seating is available at Hooty's Bar and Grill, which is usually ideal for groups or casuals looking for a relaxing evening.
Come to Hooty's Bar and Grill for wonderful food, great beer, games, and to mingle with the locals.
The place is open from 12 pm – 1 am from Wednesday to Sunday, 3 pm -12 am on Monday while they are open from 12 pm-12:30 am on Tuesday.
Address: 901 N 12th St, Quincy, IL 62301, United States
24. Great River Harley-Davidson
Great River Road Harley-Davidson is a motorcycle dealership in Quincy, Illinois.
Similarly, if you're looking to rent or buy a motorcycle, Great River Road Harley-Davidson is the place to go.
This is truly one of the best dealerships you'll ever be in.
It doesn't feel like a dealership when you walk in the door. You are greeted right away and made to feel welcome. It's more of a home away from home place, just that they have cooler toys.
The upbeat atmosphere of people who enjoy what they are doing and are happy to be there is really astonishing.
Particularly, this is the ideal spot for bikers to rest, shop, and take in the breathtaking scenery of the open road.
However, from Monday through Friday, 9:00 a.m. to 6:00 p.m., and Saturdays, 9:00 a.m. to 6:00 p.m., Great River Road Harley-Davidson is open to the public.
If you're into motorcycles, add a visit to Great River Road Harley-Davidson to your list of things to do in Quincy.
Address: 1116 Oak Forest Dr, Onalaska, IL 54650, United States
25. Terrapin Farms
Terrapin Farms in Quincy, Illinois, is a great place to get fresh produce and groceries.
Beautiful flowers, amazing produce, friendly people, you couldn't ask for much more.
If you're on vacation in Quincy, be sure to stop by Terrapin Farms for some delicious fresh veggies.
The Terrapin Farms are 4th Generation Vegetable Farms located at Four Winds Farms in Quincy. Moreover, they raise 12 acres of vegetables, pumpkins, flowers, and more.
Similarly, with reasonable prices for homegrown produce and a myriad of fun homemade food, including pies, jellies, and more.
The Terrapin farmers also have a farm Stand that sells produce from their farm and other farms within 50 miles of Adams County.
Explore the fields, take a stroll around the magnificent flower beds, find a nice spot to rest, and take in nature's beauty, or purchase at the farm stand.
Address: 3729 N 36th St, Quincy, IL 62305, United States
Start planning your trip to Quincy, IL
With so many architectural masterpieces to discover and the fun-filled activities to be done, this city is a den of Hidden Gems.
Likewise, you can even attend festivals with you and your family.
There are tons of things to be done. Plan your vacation, take your time, and have a blast.