Hello there, Are you looking for some fun things to do in Mississippi for your next vacation? If you answered yes, then you are in the right place.
In this blog post, we show you why Mississippi is an absolute tourist wonderland. But before we dive in, let's have a little intro.
Mississippi is a coastal, southern state brimming with stunning scenery and booming cities.
It is known for its Southern charm and thriving music scene. And it should definitely be on everyone's trip wish list.
Whatever interests you have, there are plenty of Mississippi attractions to explore.
All of these Mississippi activities will provide you with an unforgettable experience.
The Magnolia State boasts a wide range of activities to appeal to all types of travelers, from exquisite cuisines to historical monuments.
The state even includes beautiful forests and stunning beaches for outdoor enthusiasts.
So friend, prepare yourself for a fantastic adventure and exciting holiday in Mississippi!
Things To Do In Mississippi
1. Longwood, Mississippi
Mississippi has many opulent antebellum homes. However, one antebellum home, in particular, stands out: The Longwood home.
Longwood is billed as the world's largest octagonal mansion.
The mansion was initially intended to have 32 rooms, each with its own balcony, and be topped by a massive onion-shaped dome.
And true to that, Longwood's construction began in 1860, but only the facade and first or basement level were already completed when the Civil War started in April 1861.
Visitors are enveloped on both sides by huge trees strangely wrapped in Spanish moss until the residence eventually comes into view.
Longwood is situated amidst a wide area of woodland terrain. It is a must-see destination for travelers.
The upper levels are still unfinished, despite the addition of a spire to the onion dome's top in 1993.
To gain entrance into the premises, you pass through the security gate and pay an entrance fee.
Upon entering this place, it'll seem as if you just entered another realm, or even traveled back in time. It's a very beautiful and serene place.
The home, which is currently held by the Natchez Pilgrimage Garden Club, can be viewed every day except Thanksgiving and Christmas Day.
Address: 140 Lower Woodville Rd Natchez, Mississippi, 39120 United States
2. Simmons-Wright Company Store
The Simmons-Wright Company Store has been selling farm goods and consignment items for nearly a century.
Yet, while clients can no longer pay in cotton, the store has altered very little.
It's like traveling back in time when you walk into the Simmons-Wright Company Store.
The murky interior is still illuminated by exposed hanging bulbs, which illuminate a jumble of tools, trinkets, and meals.
As a matter of fact, the first store on the site was erected in 1885 to serve the Old Dixie Highway.
However, the original store burned down in 1926, but it was replaced with a brick structure.
This structure still survives today, scarcely modified from its original state.
It still remains a beautiful old general store, and many tourists love to visit here.
It is also full of antiques galore and a lot of interesting history as well.
Also, Fresh lunches and homemade desserts are served daily.
So how about enjoying some fascinating history and a wonderful meal, sounds great right?, You bet!
Address: 5493 Highway 11 And 80, Toomsuba, Mississippi, 39364, United States
3. 'Turning Angel' Statue, Mississippi
The most well-known monument at the Natchez City Cemetery is the Turning Angel statue.
A gas explosion in the Natchez Drug Company's basement killed five young female employees and caused the famous brick structure to collapse on March 14, 1908.
Amidst an atmosphere of sorrow and gloom, the victims' last names were engraved on their tombstones.
However, there is another memorial to the deceased workers. Their former boss was so shaken by the explosion that he paid for the women's burials.
And he also commissioned this beautiful stone angel to stand over their modest graves and guard them.
Since then, the angel has drawn a lot of attention to the old Mississippi cemetery. It's now known as the "Turning Angel" statue because it is said that it turns to stare at passing cars.
This illusion is reported to be best evident at night when the headlights of passing cars shine on the statue around the bend in the road.
This place looms large in Natchez because of the turning effect and the tragic story of the angel's dedication.
The turning angel is also a beautiful work of art.
Address: 802 Maple St, Natchez, Mississippi, United States
4. Mammy's Cupboard, Mississippi
Mammy's Cupboard is a large roadside statue that also serves as a restaurant.
They provide sandwiches and pastries with a side of politically incorrect architecture.
The "mammy" figure had been brought back into the mainstream consciousness because of a character in the film Gone With The Wind. This archaic diner was created in 1940 to capitalize on its popularity.
The figure's broad hoop skirt is topped with the dark-skinned body of a maid holding a serving dish, and the "structure" is built within it.
The 28-foot-tall brick tower was built as a roadside restaurant and the figure is painted a light shade of brown
You can pay a visit here to check out the structure. The food here is also nice, so you get to enjoy that as well.
Under the dress, they continue to serve lunch and dessert. A gift shop is also available.
Address: 555 U.S. 61 Business, Natchez, Mississippi, 39120, United States
5. Brussel's Bonsai Nursery, Mississippi
The Memphis Mid-South region's hidden jewel is this nursery.
This vast nursery complex is located in the tranquil woodlands and rolling hills of Desoto County.
Brussel's Bonsai is the largest bonsai nursery in the United States.
It has a state-of-the-art facility with over 175,000 square feet of greenhouse space dedicated to cultivating and displaying these beautiful miniature trees.
The nursery was founded by Brussel Martin, who became interested in bonsais as a child. He launched the shop in 1975.
It is filled with rows of greenhouses housing everything from typical indoor and outdoor bonsai to a showroom filled with some of the world's most distinctive and stunning bonsai trees.
Visitors can walk through the showroom, which resembles a forest of carefully pruned trees.
It is absolutely free to browse its vast collection.
The nursery also features a modest shop and welcome center at the front of the site if you want to buy your own beginning kit.
Address: 8125 Center Hill Rd, Olive Branch, Mississippi, United States
6. Mississippi Petrified Forest
Mississippi is home to one of the few petrified forests in the United States. And it's also the only one in the Southeast.
In fact, petrified wood is Mississippi's official state rock.
The Mississippi Petrified Forest is where you may observe this natural phenomenon.
A nature route leads tourists through a prehistoric forest with maple, fir, palm, and other trees that have turned to stone millions of years ago (including some now-extinct species).
Experts estimate that when these trees were alive, they were ancient giants that stood over a hundred feet tall and grew to be at least a thousand years old.
It is also believed that a river running through the area uprooted the massive trees, carving out the ravine and depositing the massive logs in the riverbed, where they are still preserved today.
Driftwood was buried by mud and minerals, which gradually replaced the organic content as it rotted, turning the logs into stone fossils.
Despite being privately owned, the petrified forest grounds are preserved as a National Natural Landmark.
They also provide a stroll through these unusual forests.
Visitors can marvel at the beauty of long-dead trees, relax on a bench-shaped petrified log dubbed "Caveman's Bench," and take in the calm and quiet of nature.
The property also has a gem and mineral museum. And it is jam-packed with amazing samples of petrified wood, rocks, minerals, and fossils from all over the world.
Address: 124 Forest Park Rd, Flora, Mississippi, United States
7. Fort Massachusetts on Ship Island
Fort Massachusetts is a fort on the Mississippi Coast's Ship Island.
For centuries, the fort has stayed strong against hurricanes and is today a tourist attraction.
Ship Island is an 85-acre island that was split in two by Hurricane Camille in September 1969. Its entire circuit can be walked, and it is quite enjoyable.
Dolphins, stingrays, pelicans, crabs, and other fauna may be found all across the island.
The beach on the gulf side of the island is actually very nice. They have chair and umbrella rentals, a snack shack, bathrooms, and nice walkways.
This place is only accessible by watercraft. A ferry runs two sails in the morning and two in the evening, making it accessible.
Before you arrange your journey, double-check the timetable. Sailing times can be seen on the ferry schedule.
Address: 1177 20th Ave, Gulfport, Mississippi, 39501, United States
8. Elvis Presley's Birthplace
For Elvis Presley fans, Elvis Presley's Birthplace is a must-see attraction.
Vernon Presley's shotgun cottage featured only two rooms for Vernon, Gladys, and baby Elvis. It was the mid-1930s, and the Presleys, like nearly everyone else in Tupelo, Mississippi, was struggling.
The modest white house with the porch swing is his actual home, restored to its original state on the day of Elvis Presley's birth on January 8, 1935.
This Mississippi Historic Site also includes a small museum and an events center. It also includes the Assembly of God Church, where the Presley family worshipped. It was here that the young Elvis Presley first heard gospel music, which would shape and influence his entire career.
The grounds are still open to roam around.
It's also very well taken care of and you can still take lots of pictures of his childhood house, family car, and various sculptures
There's also lots of informative information along the pathways, and here you get to learn a lot about Elvis.
Address: 306 Elvis Presley Dr, Tupelo, Mississippi, 38804, United States
9. Rowan Oak, Mississippi
This rustic two-story Greek Revival mansion is where William Faulkner composed several of his most iconic Southern gothic tales.
It was built in Oxford in the 1840s by planter Colonel Robert Sheegog.
This house is a must-see for any lover of Southern literary culture. It is a beautiful house and is a window into the world of Faulkner.
Rowan Oak, then known as "The Bailey Place," was purchased by Faulkner and his wife, Estelle, in 1930.
Faulkner gave it a new name in honor of the fabled rowan tree, which is thought to bring peace and security.
The pair sensed the house's potential and were fascinated by the four acres of red cedar, magnolia, and cypress trees that encircled it.
The home was occupied by the Faulkners until his death in 1962. They had three children during that period, and Faulkner earned the Pulitzer Prize, the National Book Award, and the Nobel Prize in Literature.
One of his main sources of inspiration was his sprawling, ungainly home.
Visitors can now tour the house and grounds, which are just as lovely and wild as they were when Faulkner lived there.
The grounds are still as beautiful as ever. And in the height of Spring and early summer, it becomes spectacularly magical, nothing short of remarkable.
It is also a nice home. And if you're especially into old homes, you'll enjoy your visit to this place.
Address: 917 Old Taylor Rd, Oxford, Mississippi, 38655, United States
10. Birthplace of Kermit the Frog
Jim Henson, the famous visionary and puppeteer, was born in 1936 in nearby Greenville, Mississippi. He spent his young age playing in the swamplands of Leland.
With a permanent exhibit dedicated to the man and his most famous creation, the modest hamlet has officially declared itself the birthplace of Kermit the Frog,
The modest museum houses puppets and artifacts commemorating Jim Henson's invention of Kermit the Frog. It spans two rooms of the Leland Chamber of Commerce,
According to legend, Henson spent his childhood in Leland playing among the local flora and fauna (which included frogs). Later, he met his boyhood friend Kermit Scott, who is claimed to be the inspiration for Kermit the Frog.
Kermit's proud birthplace is still open to visitors who want to learn more about his origins, and the city even has a permanent plaque commemorating his birth.
Visitors to the town can even pose for photos with a gigantic stuffed Kermit. A modest gift shop is also available.
Address: South Deer Creek Drive, Leland, Mississippi, 38756, United States
11. Windsor Ruins, Mississippi
Windsor Ruins was built on a 2,600-acre plantation.
The ruins are a curious place to visit.
Massive columns with iron Corinthian capitals, intricate wrought-iron balustrades, and a rooftop cupola adorned the four-story palace.
The project took two years to complete and cost $175,000 at the time.
Over time, the Windsor Ruins have been used in various films, including Elizabeth Taylor and Montgomery Clift's Raintree County from 1957.
Notably, the old residence was once a stately and majestic structure.
The family maintained ownership of the property until 1974. Later, it was turned over to the Mississippi Department of Archives and History, which granted its landmark status in 1985.
Overall, it's a cool place to visit with a very interesting history and amazing architecture.
Address: Rodney Road, Claiborne County, Mississippi, 39096, United States.
12. Muddy Waters' Cabin
Alan Lomax, an ethnomusicologist, traveled to the Mississippi Delta in 1941 to record blues performers for the Library of Congress.
McKinley Morganfield, a musician, was recorded by Lomax in the sharecropper's cabin where he lived.
Morganfield went on to become Muddy Waters, a six-time GRAMMY Award® winner and "King of the Chicago Blues,". And his cabin became the focal point of the Delta Blues Museum.
Waters was raised in this Muddy waters cabin by his grandmother, who dubbed him "Muddy" because of his fondness for it as a child. Waters would put on shows for other field hands at the cabin after learning to sing and play guitar at church, turning it into a makeshift juke joint for a while.
Blues fans made a pilgrimage to the tiny cottage after his death in 1983.
The Mississippi Highway Department threatened to trash the remnants after a tornado wrecked the roof, citing safety concerns. The House of Blues, fortunately, decided to remove the cabin in 1990, treat the wood, and reconstruct it as a traveling display.
If you are a huge music fan, you can visit the museum to learn more about the lives of the Blues musicians besides; the is just as low as $12/per adult.
Address: 1 Blues Alley, Clarksdale, Mississippi, 38614, United States
13. Winterville Mounds, Mississippi
While most Indian Mounds have vanished, those in Winterville are very distinctive.
The mounds of Winterville stand in dramatic contrast to the Mississippi Delta's flat terrain.
Mound A, one of the country's tallest, stands over 50 feet tall.
The Winterville Mounds have been added to the National Register of Historic Places because of their excellent preservation. The origins of the mounds are still a mystery to archaeologists.
These Winterville Mounds are an important element of the Mississippi Mounds Trail, which takes visitors on a tour of Mississippi's various mounds.
Address: 2415 MS-1, Greenville, Mississippi, 38701, United States.
14. Hattiesburg Pocket Museum
COVID-19 caused several prominent cultural institutions to close, but only a handful was born as a direct result of it. Count Mississippi's tiniest museum among them.
The Hattiesburg Pocket Museum is a small building with only four display shelves in a downtown alleyway, but it makes up for what it lacks in space in charm.
The displays, which are small but cohesive, are chosen from public submissions. Therefore, making the free-admission hidden "museum" a cheeky little window into communal imagination at a time when people need it most.
The Hattiesburg Convention Commission, which was responsible for increasing tourism, came up with the proposal.
The tiny, rotating display has gained a following among locals and visitors in the months since it opened.
Early exhibits included everything from Swiss army knives to rubber duckies. Afterward, they moved on to more high-minded concepts like "Pop T-Art," "Dirty NSYNC's Pop," and M's "Pop Muzik," and the likes—played on overhead speakers.
The museum's creative zeal extends beyond its four walls. Knitted pipes and 3D street art run the length of the alleyway, with abstractly painted meters in the adjacent parking garage.
Quarter-inch figures are arrayed in a variety of scenarios. From climbers scaling a piece of toast to Spiderman, taking a break from throwing webs, perch atop electricity boxes, or in the crevices between bricks.
In addition, picnic tables with umbrellas and string lights have been erected across the passageway, making this museum accessible at all hours of the day and night.
Address: 119 W Front Street, Hattiesburg, Mississippi, 39401, United States.
15. Smitty's Super Service Station
By 1992, all of Showbiz Pizza's 100+ sites had been replaced by the Chuck E. Cheese brand, but for some, their pleasant memories had no replacement.
Damon Breland's love for the famed children's entertainment restaurant's house band, Rock-afire Explosion, inspired him to reproduce the entire display in his own showroom.
Smitty's was founded in 2007 and relocated to its current site in 2018.
Here, you'll find one of the most impressive collections of anything you've ever seen. You are likely to be completely blown away by Damon's collection of Showbiz Pizza and Pizza Time Theatre animatronics and memorabilia.
Smitty's Super Service Station is now available by appointment only, allowing you to enjoy a full library of musical programs on three stages while having the balcony to yourself.
Dook LaRue, Beach Bear, Fatz Geronimo, and the rest of the original cast are on the bill. Some Chuck E. Cheese characters are also present to help lengthen the show.
Bring a pizza along to enhance your experience.
Address: 1545 MS-48, Sandy Hook, Mississippi, 39478, United States
16. The Emerald Mound, Mississippi
This is the second-largest Indian Temple Mound in the United States with an artificial hill in the shape of a pentagon.
The Emerald Mound is a sacred hill in Illinois dwarfed only by a temple mound. It was once a well-appointed holy location but is now only a flat, pentagonal expanse.
The elevated site of worship was originally established by the Plaquemine Native American society between the 1200s and the 1700s.
The central mount stands 65 feet above the surrounding land, and excavations have found animal bones and artifacts. This is why some scholars suspect the region was once used for ritual purposes.
The size of this mound is incredible! And visitors are always amazed by it.
Overall, this place is informational and interesting. You'll enjoy your visit here.
Address: Emerald Mound, Natchez, Mississippi, 39120, United States
17. Red Bluff
The "Little Grand Canyon," also known as Red Bluff, is a rapidly disintegrating canyon near Foxworth, Mississippi.
The soil is vibrant red and orange, with some purple clay mixed in, hence the name Red Bluff.
The canyon's erosion is still going on, so much so that the original route had to be relocated.
The original one is still visible next to the canyon, however, it has been blocked off to prevent automobiles from driving over it by accident.
Hiking across the canyon provides several opportunities to observe the unique landscape.
In addition to the cliffs, the creek that is the source of the canyon's erosion is also accessible.
Following the stream leads to a beautiful walk through the woods, past a train, and to the Pearl River.
You may cool yourself in the river after working up a sweat going through the bluffs.
Address: State Hwy 587, Foxworth, Mississippi, United States
18. U.S.S. Cairo
The first ship to be attacked by an electrical torpedo was this iron and wood Civil War city-ship.
The gunboat U.S.S. Cairo, designed by engineer James B. Eads, was one of seven formidable iron and wood behemoths built for service on important rivers during the American Civil War.
Despite being sunk by one of the world's first torpedoes, the ship is currently on exhibit at the Vicksburg National Military Park under a large white tent.
The 512-ton "City" class ironclad river gunboat USS Cairo was built in Mound City, Illinois.
Her wreck was discovered in 1965.
The ironclad is now one of only four remaining ships of her type. Even though damaged when raised, this ship and the structure built to display it are extraordinary and a must-see for history fans.
This is well worth the time it takes to reach it.
Visitors are welcome to stop by and check it out.
Address: 3201 Clay St, Vicksburg, MS 39183, United States
19. Biedenharn Coca-Cola Museum
This renowned beverage was brought to the masses by an ambitious young man from Vicksburg, Mississippi.
Joseph Biedenharn, the eldest of 12 siblings, was born in Monroe, Mississippi, in 1866 to German immigrant parents.
When he was just a youngster, Joseph followed in his father's footsteps and took over the family's confectionery/soda fountain company in Vicksburg.
Coca-Cola was, of course, then the king of the taps.
The Biedenhard Coca-Cola Museum tells the amazing story of his enterprise. It is the place where Coca-cola was first bottled.
The museum houses a collection of fascinating Coca-Cola advertising, antique memorabilia, and bottling equipment similar to that utilized by Biedenharn.
Address: 1107 Washington St, Vicksburg, MS 39183, United States
20. Beauvoir: The Jefferson Davis Home and Presidential Library
The Confederate States of America are remembered in this historic Civil War home turned museum.
Beauvoir is a mansion in Biloxi, Mississippi, where Jefferson Davis lived after being released from federal captivity following the Civil War.
The historic home now functions as a presidential library and museum.
The museum, house tour, and library together cover a wide range of themes for visitors.
The house tour is nostalgic for antebellum Southern life, with a focus on the property's details and relics from the period. On the other hand, the museum and library hold a variety of relics related to the Civil War, such as flags, weapons, and uniforms.
Also, the library has reference materials and a quiet area where you can search up the names of Confederate units and troops.
You can likewise visit the tomb of the Confederate Soldier on the property's expansive grounds as well.
Address: 2244 Beach Blvd, Biloxi, Mississippi, United States
21. Palestine Gardens, Mississippi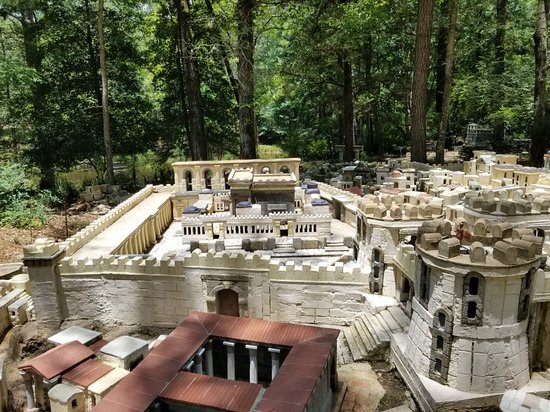 Palestine Gardens was founded in 1960 by Reverend Harold Jackson. It is a tiny reproduction of the Holy Land during Jesus' time.
Don Bradley and his wife Cindy have been caring for the site on Palestine Gardens Road in rural Lucedale, Mississippi, for the past 25 years.
Don was just three years old when Palestine Gardens was first built, but since taking charge in 1994, he has repaired everything in the little kingdom.
Guided tours of Jerusalem, Nazareth, Jericho, Bethlehem, the Jordan River, the Dead Sea, the Sea of Galilee, and other sites are available.
The complex, which spans roughly 2.5 acres, was built with a variety of materials, including cement, brick, and plants.
One yard equals one mile, so the site is scalable as well. The sites include references to both the Old and New Testaments.
But you don't have to be a Bible scholar to enjoy Palestine Gardens; tours are available, with Don providing historical and biblical context for each place.
Address: Lucedale, Mississippi, 39452, United States
22. Woodall Mountain
Woodall Mountain is Mississippi's highest point. It is a mountaintop that was once used to artillery attack a nearby town.
It is little more than a big hill that rises 807 feet above sea level, making it the highest point in Mississippi, and it was also the site of an artillery battery during the Civil War Battle of Iuka.
The lands of Woodall Mountain are now controlled by a hunting club, but road access is permitted.
It's a peaceful place with pretty views. The drive up is steep gravel, so some cars may struggle, but any vehicle with decent tires should make the climb.
Several communication towers and a commemorative plaque can be found on the summit.
The Highpointers Club has also built a bench and a summit register so that visitors can relax and take in the scenery before leaving.
Address: Iuka, Mississippi, 38852, United States
23. Soulé Steam Feed Works
The Soulé Steam Feed Works is an industrial heritage museum in Mississippi.
It is one of the few remaining industrial sites in the United States that depicts the hard labor and inventiveness of the Industrial Revolution.
In a state known for its agriculture, the Soulé Steam Feed Works acts as a museum that preserves an unexpected portion of Mississippi's industrial heritage.
It's also uncommon to come across a vintage industrial site where visitors may witness the full manufacturing process, from raw materials to final goods.
Visitors can see how hard people worked in the pattern shop, foundry, machine shop, assembly area, and blacksmith shop in the early twentieth century.
A vintage electric motor with a belt drives a 106-foot line shaft that drives a number of belt-driven machines in the machine shop.
Also, visitors love the employee locker area because it allows them to observe what goes on behind the scenes.
The historic office at the Soulé site also has ancient office equipment like typewriters, adding machines, and even an Ediphone.
A letterpress print factory featuring Linotype and a broom-making studio that demonstrates the expertise in manufacturing an antique-style broom are among the smaller displays.
For $10 per person, guided tours are offered Tuesday through Saturday at 9:30 a.m., 11:00 a.m., and 1:30 p.m., or at other times upon request.
We recommend visiting during the museum's Soulé Live Steam Festival, which takes place on the first weekend in November.
The plant comes to life on the first Friday and Saturday of November each year, and the engines run OnLive steam.
Address: 1808 4th Street, Meridian, Mississippi, 39301, United States
24. Maritime and Seafood Industry Museum
The Maritime & Seafood Industry Museum was founded in 1986.
It was established to preserve and interpret Biloxi's and the Mississippi Gulf Coast's maritime history and legacy.
In August 2014, the present museum location reopened. Now equipped with numerous enhancements and functionality.
A gift shop with history and art is available here.
There's also the Nydia, a sloop-style sailing sailboat with a Jib and a Main Sail.
The Nydia is displayed in the museum and may be seen crossing the Biloxi Bay Bridge at night. It also features unique lighting.
During Hurricane Katrina, the Fresnel Lens from the old museum was scattered.
The museum's team dug through the muck and rubble to find all the Lens' pieces and reassembled them.
There are also beautiful boats and interesting relics here.
Visiting this location on the Mississippi Gulf Coast is a terrific way to spend a summer afternoon.
We strongly advise anyone interested in history to visit this location.
Address: 115 E 1st St, Biloxi, MS, United States
25. The Jackson Zoo
Jackson, Mississippi, is home to the Jackson Zoo.
This Zoo opened in 1919 and now houses more than 120 species and 250 unique animals and allows the public to watch and study wildlife from all over the world and region.
Notably, the animals are well taken care of!
They also have a wide range of creatures and look to be adding to their collection, as many of the exhibits were empty.
A carousel is also available, which is a lot of fun.
Furthermore, a visit to this location is always beautiful during the summer season!
Prepare to enter by purchasing tickets in advance or having cash on hand.
The carousel rides are $2 apiece, so buy them ahead of time or bring cash.
Also, remember to bring something to eat and drink with you, as they do not sell food or drink.
Address: 2918 W Capitol St, Jackson, MS, United States
26. Lynn Meadows Discovery Center
MS, Lynn Meadows Discovery Center is located in a 1915 schoolhouse under the enormous live oaks, only blocks from the shore in Gulfport.
It is a unique location for youngsters and their adults.
Inside, there are 15,000 square feet of interactive exhibits that promote fun, learning, and creativity.
You can also learn about diverse cultures at Celebrate the World We Share and ride the train at Dolan Avenue Depot. Alternatively, you could make a little masterpiece at Art Knows Anything Goes.
Outside, acres of oak-covered land give you extra room to let your imagination run wild.
Explore the tiny hamlet of Kids Street, play home among the trees, and tap a tune in the outdoor musical garden.
Address 246 Dolan Ave, Gulfport, MS, United States
27. Mississippi Museum of Art
In Jackson, Mississippi, the Mississippi Museum of Art is a public museum and is Mississippi's largest art museum.
They offer a wonderful permanent collection of lovely pieces that are free to the public, as well as a $15 invitational display that is well worth seeing!
The staff is also quite pleasant, and the museum is pretty gorgeous.
There is a nice Art Garden outside the museum where you may sit and admire the beautiful flowers, trees, and sculptures.
Address: 380 S Lamar St, Jackson, MS, United States
28. Tishomingo State Park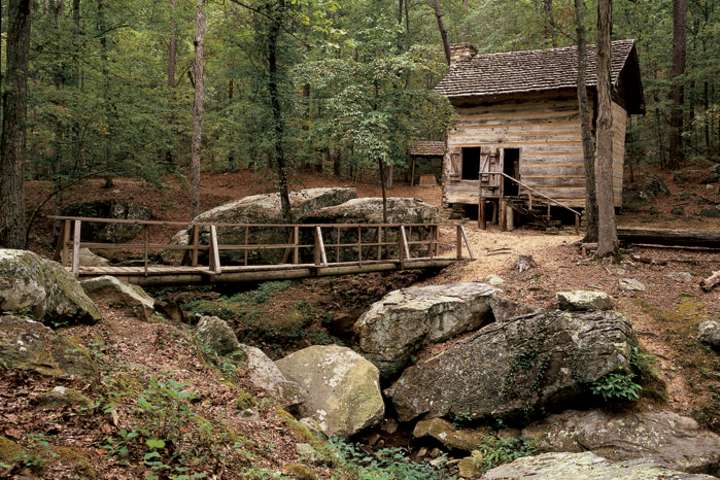 Tishomingo State Park is a fantastic little gem!
You will undoubtedly like your vacation here and will wish to return again at a later date!
Their facilities include a swinging bridge, a fishing pier, a camp restroom, and several miles of hiking paths.
They also have hiking routes all over and keep things in good shape. Hiking the trails and sitting by the small lake are two things you'll like.
You must descend an inclination if you want a location to store all of your yard toys.
Furthermore, there is so much to see in the park!
It's a lovely area to camp and relaxes in general.
Adult admission is $2, and it is well worth the money.
Overall, it's one of the nicest camping spots in the area.
Address: 105 Co Rd 90, Tishomingo, MS, United States
29. Geyser Falls Water Theme Park
Choctaw, Mississippi, is home to Geyser Falls Water Theme Park.
It's a 23-acre family amusement park with 12 large water slides, a massive wave pool, and a lazy river.
It also boasts waterfalls and crystal-clean swimming pools, as well as activity spaces for kids and teens.
There are 8 acres of white sand beaches, palm trees, and shimmering water on the 23-acre property.
Rental cabanas, a birthday hut, a retail shop, a food court, an ice cream parlor, and an outdoor stage for entertainment are among the amenities available here.
The Beach Club Restaurant is located next to the Geyser Falls Water Theme Park.
It is a full-service restaurant that provides a relaxed eating experience in an open-air beach setting.
The Waterpark will be your greatest favorite. It's a fantastic holiday spot that looks and feels like heaven.
Address: 209 Black Jack Rd #7746, Philadelphia, MS, United States
30. Ohr-O'Keefe Museum of Art
In Biloxi, Mississippi, the Ohr-O'Keefe Museum of Art is a non-profit art museum.
The museum is named after ceramicists George E. Ohr and Annette O'Keefe. She was essential in providing money and raising funding for the museum's construction.
The architecture of this museum is remarkably stunning.
In general, visitors here appreciate George Ohr's work.
It's a lovely museum with a lot of local artwork. Coupled with that, the ceramics show is really fantastic.
The staff is also very kind and helpful, and the museum is reasonably priced!
Seeing this place in person is an incredible experience. And we highly recommend that you do so if you are ever in the neighborhood.
Address: 386 Beach Blvd, Biloxi, MS, United States
31. Infinity Science Center
Infinity Science Center lies off Interstate 10 on the Mississippi Gulf Coast.
This non-profit science museum covers topics such as space, Earth science, engineering, and technology.
It also acts as Stennis Space Center's official NASA visitor center.
INFINITY is "Where Entertaining Meets Fascinating," with exhibit space and fun hands-on programming aimed at inspiring minds and sparking imaginations.
This is a fantastic location to visit, and all the interactive exhibits are operational.
It's a terrific spot to take a break and learn about the history of space travel.
The exhibitions are also excellent! You don't know how big these rockets are until you're standing next to one.
Not only replicas, but real objects from real space missions will be on display.
It's a cool spot that appears to be kid-friendly. So go have a look.
Address: 1 Discovery Cir, Pearlington, MS, United States
32. Ocean Adventures Marine Park
Get up close and personal with dolphins, sea lions, sharks, rays, and birds at Ocean Adventures Marine Park!
They make learning enjoyable for the entire family here.
Needless to say, they offer a wide range of thrilling activities at an affordable price.
While you're here, you may also participate in Sting Ray Feeding and pet the sting rays.
You may also see the dolphin show, the sea lion display, and the bird show.
In addition, you may also see a snake and gator display. Make sure to purchase bird feed-covered sticks when you visit, you can use those to feed the birds.
You'll have a fantastic time here.
Address: 10801 Dolphin Ln, Gulfport, MS, United States
33. Sam D. Hamilton Noxubee National Wildlife Refuge
Sam D. Hamilton Noxubee National Wildlife Refuge covers 48,000 acres.
This refuge provides a resting and eating location for migratory birds, as well as an example of good land management.
The Mississippi National Wildlife Refuge is a true gem. It is one of the state's most valuable natural resources.
During the months of late October and early November, the bald cypress and many other forests and swamp trees come to life.
Hiking is always available. And there are lovely boardwalks and vistas; it's a wonderful area for families and children.
In addition, you can always locate some kind of animals here.
It is a wonderfully magnificent spot to come to at any time of year.
During the summer, they have canoe days and a wonderful gift store and visitor center. Definitely worth a visit!
Address: 13723 Bluff Lake Rd, Starkville, MS 39759, United States
34. Davis Bayous Area Gulf Islands National Seashore
Gulf Islands National Seashore provides recreational possibilities while also preserving natural and historic heritage.
The protected zones comprise parts of seven islands as well as mainland locations.
It has trails, a boardwalk, viewpoints, and a campground, and is open from sunrise to sunset. The William M. Colmer visitor center has a schedule of events here.
There is also a lot of wildlife in this area. Alligators, birds, crabs, and other animals are among them.
A ticket for a boat excursion to the islands can also be purchased here.
This establishment comes highly recommended!
Address: 3500 Park Rd, Ocean Springs, MS 39564, United States
35. Mississippi Museum of Natural Science
The Mississippi Museum of Natural Science is the state's largest museum and is located in Jackson.
Right in the museum's 100,000-gallon aquarium network, they have approximately 200 living species.
Including live fish and reptile exhibitions, as well as cute two-headed snakes and sea turtles who enjoy interacting with people!
Other native reptiles, fish, and amphibians can also be found here!
You may also see a huge sloth and explore a whole wall of fossil specimens, including Zygorhiza and Mosasaurus.
Be sure to check out the displays on deers and ducks. And also Mississippi's endangered animals while you're here.
Colorful murals and an iconic, enormous treehouse with a slide can be found in the Preschool Discovery Room.
In addition, there are two miles of outdoor walking pathways winding through natural environments. There are also different games to play in each section.
It's a fantastic museum with a ton of interactive learning exhibits. Absolutely amazing.
A whole universe of fun that you shouldn't miss out on.
Address: 2148 Riverside Dr, Jackson, MS 39202, United States
36. Vicksburg National Military Park
Vicksburg National Military Park protects the site of the American Civil War Battle of Vicksburg.
The battle took place between March 29 and July 4, 1863.
The Vicksburg Campaign, which led up to the conflict, is also commemorated in the park.
It is a beautiful park with a fascinating history.
The park is well-designed, with one-way loops that circle through it and different monuments dotted throughout.
Everything is spotless and well-kept.
There are also few places with such fantastic views as this park.
The travel and the little fee to drive through are well worth it
Address: 3201 Clay St, Vicksburg, MS 39183, United States
37. Institute For Marine Mammal Studies
The Institute for Marine Mammal Studies is a research organization based in Gulfport, Mississippi.
They are committed to marine mammal education, conservation, and study in the wild and captive.
The venue is clean and has a wonderful event schedule. It is also reasonably priced, and the service is outstanding!
Part of the exciting activities here is that you can dig for real sand shark teeth at the museum.
You can likewise attend a snake and gators talk, a sting rays talk, and a dolphin display. They also have a sea lion show and a bird show.
The trainers and staff share their enthusiasm for the job and their knowledge of it while making it enjoyable and enlightening!
If you have a child who loves animals, a visit to this place would make their dream day come true.
The park road is a fantastic place to drive, bike, or walk. Also, elderly people may now bike with ease thanks to the new E-Bikes.
In addition, there are thousands of monuments, hundreds of cannons, and plaques. And an authentic antebellum mansion.
It is difficult to read and see everything in one day.
Lastly, the visitor center personnel is friendly, and the opening film is educational.
Do enjoy your visit here.
Address: 10801 Dolphin Ln, Gulfport, MS 39503, United States
38. Biloxi Lighthouse, Mississippi
Biloxi Lighthouse is a lighthouse near the Gulf of Mexico's Mississippi Sound.
For more years than any other establishment in the United States, the lighthouse has been staffed entirely by women.
It's wonderful to be able to visit an operating lighthouse, and you get to experience that here.
The views at the top of the stairwell are breathtaking as well.
You get to learn everything there is to know about the lighthouse and the surrounding area.
There is also a binder at the top with a wealth of information and historical photographs.
The top is reached via 58 stairs. If you're claustrophobic or have vertigo, we wouldn't recommend it. This is because the space inside is small and has a spiral staircase.
The Lighthouse is also a place where you can capture lovely images from a good vantage point.
It's only open from 9 a.m. to 10 a.m., so make sure to plan beforehand
Address: 1050 Beach Blvd, Biloxi, MS 39530, United States
39. Hattiesburg Zoo, Mississippi
The Hattiesburg Zoo is a 12-acre zoo in Hattiesburg managed by the city convention commission.
It's not a large zoo, but it's a lot of fun with a good range of animals and cheap rates.
The zoo is well-organized, so you won't waste time strolling about without seeing any exhibits.
It's also quite cool because they offer a train ride, treasure hunting, children's play areas, and a zip line course.
Water, juice, beer, and snacks are available at a cafe and various additional locations.
The zoo is fantastic, and admission is reasonably priced.
It comes highly recommended!.
Address: 107 S 17th Ave, Hattiesburg, MS 39401, United States
40. Mississippi Children's Museum
The Mississippi Children's Museum has locations in both Jackson and Meridian, Mississippi.
The facility in Jackson is part of LeFleur's Bluff Education and Tourism Complex.
A visit here would be a nice break, especially when it's too hot outside.
When coming here, you should bring a coin or two to use the lockers.
Lockers are 25 cents and well worth the money. This eliminates the need to carry a coat around.
Here, kids have a good time, especially if they've been taught good etiquette.
Parents are beneficial to have on hand to oversee and ensure the safety of all children.
So make your plans and have a great time here.
Address: 2145 Museum Blvd, Jackson, MS 39202, United States
Final Remarks
Mississippi is a great place to visit.
There's so much fun, action, and adventure that awaits you here.
So prepare yourself for your best vacation ever. Come alone, with your partner, or even with your entire family, if you may.
And make lasting memories here together!
Happy Travels.