Breckenridge is a charming mining town in Colorado's scenic Rocky Mountains.
Locals refer to the town as "Breck" since it is home to Colorado's largest historic district, which includes several historic structures and buildings.
No season in Breckenridge disappoints, whether you're skiing, snowshoeing, snowmobiling in the winter or camping, hiking, or strolling down historic main street in the summer.
It's one of the highest towns in America, with an elevation of about 10,000 feet above sea level, so the views are breathtaking.
In short, if you're planning a mountain vacation here, you definitely won't get bored.
So get ready, strap on your helmet, buckle your belt, let's dive right into the best things to do in Breckenridge, Colorado.
Things To Do In Breckenridge
1. Breckenridge Ski Resort
There is no doubt that Breckenridge Ski Resort is one of the most popular ski destinations in the country. This alpine ski resort located just west of the Continental Divide is endowed with an amazing landscape. The best we've seen so far and one of the best ski resorts in the United States.
The park spans five peaks in the southern Tenmile Range, Thirty-one lifts, including four high-speed six-seaters, which provide access to the peaks and ski terrain.
At the same time, Breck is super fun! Friendly to all ski capability levels.
Peak 9 is beginner-friendly with long and wide green runs (Silverthorne).
The Peak 7 boasts blue runs while Peak 10 offers black and double-black options.
Peaks 8 and 6 offer some great bowl ski options, especially peak 6, which has several intermediate runs.
Many parking options are available, including a free airport lot.
Each year, Breckenridge hosts the Winter Dew Series, a prominent action sports tour including many of the world's best athletes.
With something for everyone, Breckenridge offers ski and ride schools for beginners and guided back-country tours for very experienced skiers and snowboarders.
There are helpers everywhere to answer questions, and the staff are nice. People, in general, are amiable and nice—great place to have a vacation. Food is affordable, and cheapest ski rental than anywhere else $35/day (boots, ski, and pole) outside the resort on Main St.
Address: 1599 Ski Hill Rd, Breckenridge, CO, 80424 US
2. Country Boy Mine
Country Boy Mine is so much more than Breckenridge's only real gold mine tour; it was well known during its 100-year reign for rich gold and silver production, as well as later for high-grade lead and zinc used during WWI and WWII.
Even though it's no longer in operation, taking a tour of this mine is one of the best things you can do in Breckinridge.
A variety of exhibits, including old equipment and artifacts, allow you to learn more about mining.
In the end, you can feed the donkeys and eat s'mores over an outside fire, and the crews? They are fantastic, and the customer service was outstanding.
Aside from their excursions, Country Boy Mine still offers a variety of other activities.
The mine tour also includes panning for actual gold at the end, which is definitely something you don't want to miss out on. We found lots of gold flakes in the stream and some pyrite, and even some amethyst!
You can also purchase unique pebbles, take part in treasure hunts, participate in outdoor escape room activities, and explore private pathways.
As a plus, the Mine offers a unique experience that teaches about the town's history.
The mine opens 9 am-5 pm every day from Sunday to Saturday.
You can also bring the whole family, take a 1000 foot deep tour into this award-winning mine, one of Colorado's most famous mines, and have a great time!!
Address: 0542 French Gulch RD, Breckenridge, CO 80424, USA
3. Mountain Top Children's Museum
Mountain Top Children's Museum is a beautiful museum catering to toddlers & younger children with crafts, dress-up & building activities.
These institutes encourage informal learning for children ages 10 and under their families/caregivers through interactive exhibits and activities, imaginative play, and participation in active experiences.
The museum exhibits include a Rocky Mountain Wildlife Exhibit that teaches all about animals native to Colorado and the Rockies, and there is a small planetarium and play "lab" where kids can experiment with mixing colors.
And in case your ward is not up to the age of two, there is a special section for children under the age of two.
The museum also has a great staff who are all friendly, fun, and supportive while helping to teach kids about the world around them through getting outside, being active and adventurous, and experimenting with all things fun and wacky.
The Kidstruction Zone allows youngsters to build while wearing hard hats and aprons to look the part.
There's also a space for creative arts and a stage where kids can perform.
The good thing about this place is the entrance fee is cheap while still fully capable of making your kids engaged for several hours.
Address: 100 South Park Avenue Unit C100, Breckenridge, CO 80424, United States
4. Quandary Peak
Quandary Peak is one of the easiest and most accessible Fourteeners in Colorado. The peak is just 20 minutes from downtown Breckenridge.
Even though it is the highest summit of the Tenmile Range in the Rocky Mountains of North America, it remains the most commonly climbed fourteener in Colorado.
For anyone new to hiking 14ers, we recommend taking your time hiking the mountain. 6-8 hours is a decent range, although you'd want to get an early start before the clouds roll in, also the main trail, east ridge, is gently sloped nearly the whole way until you reach the summit mass.
The west ridge can be a little challenging for individuals with some mountain hiking/climbing expertise, and it requires some climbing and route-finding skill to reach the top.
We very much enjoyed our time on this mountain.
There are abundant wildflowers in the valley, mountain goats, marmots, chipmunks, and beautiful summit views.
Finally, there are breathtaking views of several of Colorado's tallest peaks from the top, including Mt. Elbert, Mt Massive, La Plata Peak, Grays, Torreys peaks, and even Pikes Peak.
Unique and worthwhile hike; just make sure you're prepared to bring hiking poles if you have them.
Address: Mc Cullough Gulch RD, Breckenridge, CO 80424, United States
5. Breckenridge Nordic Center
Breckenridge Nordic Center is a cross-country skiing and snowshoeing destination, with over 1,400 acres of groomed tracks located only minutes from downtown Breckenridge.
The center offers a variety of group, semi-private, and private cross-country and skate ski training for beginners. You can also rent Snowshoes, and tourists can participate in a guided snowshoeing tour if they like.
Trail passes are available for experienced visitors, and the center rents and sells equipment, or you can bring your own if you have it.
In its restaurant, the Breckenridge Nordic Center serves deliciously prepared food and hot and cold beverages.
The cuisine is excellent, and the fireplace is warm and inviting; also, the setting is comfortable, and beer and wine are available.
Nordic skiing season runs from November to April, with trail passes costing $20 for adults and $15 for children. If you don't have your equipment, you can rent it for an additional $22 for adults and $17 for children at the facility.
You don't even have to worry about parking, as it is free for those using the center.
As a first-time visitor, or if you haven't been to this place, we would definitely suggest stopping by the Breckenridge Nordic Center!
Address: 9 Grandview Dr, Breckenridge, CO 80424, USA
6. Boreas Pass
Boreas Pass is a nice way to get to Breckenridge from the south in the summer.
The pass's crest rises 11,481 feet above sea level!
Breckenridge Pass was the name given to Boreas Pass Road for a long time.
The boreas pass road is a tiny dirt route with magnificent mountain and environmental vistas that any vehicle can take in the summer.
Compared to other mountain pass roads, the drive itself feels relatively safe. The road is a little uneven in places, but it's well kept.
It only feels a little hazardous when you come across another automobile and have to move to the edge.
There are a few lookouts and photo opportunities along the pass. At dusk, we returned and spotted a moose as well as a fantastic view of the Milky Way and stars.
It is, without a doubt, a stunning pass.
You will find several relics of the ancient train that passed through this area in the late 1880s along the way.
Museums, mines, campsites, ghost towns, and other places offer great opportunities to learn about local history.
Other Breckenridge attractions can be found all along Boreas Pass Road.
If you take your time, the drive to the summit with the historic buildings takes around 40 minutes.
So if you have an SUV, truck, or car that isn't lowered, it's probably best. Most cars can make it up in excellent weather, but in any other type of weather, we would recommend going with AWD or 4WD.
Address: Breckenridge, CO, USA
7. Breckenridge Backstage Theatre
Backstage Theatre is a fairly intimate location, offering great stage views from all its 137 seats and providing some of the best entertainment that you can find in Breckenridge.
It is the oldest theatre company that operates year-round on the Western slope of Colorado.
Do yourself a favor and visit them. The seating on their main stage is perfect. Although the venue is small, the lighting and effects are excellent.
They use what they have to the best of their abilities, you can tell. However, the acting is outstanding. It's something we'll absolutely recommend.
This play is ideal for a dating night filled with laughter (and super-relatable awkwardness).
It's a lovely theatre with a lively lobby (and great booze options). They consistently put on fantastic plays with a fantastic cast and crew.
Manufacturing is of outstanding quality; as well as the casting, the choreography is creative too.
The seats are comfy, but there isn't much legroom, thus no late seating is available (no room to scoot by others). They sell drinks you can take into the movie with you.
Before and after your show, there's a lounge and a bar where you may unwind.
Address: 121 S Ridge St, Breckenridge, CO 80424, USA
8. Sawmill Reservoir
The Sawmill Reservoir is a 10-acre lake located just west of downtown Breckenridge at an elevation of 9,938 feet. The White River National Forest surrounds the reservoir, which is located in Summit County.
If you're in Breckenridge and want to go hiking, you should check this place out. It starts with the Snowflake Lift (4 O'clock Road & Kings Crown Road) and ascends. The terrain is very flat, and the trickling creek is breathtaking. The mountain views open up as you approach the actual lake reservoir and are well worth the trip.
This trail offers the best of both worlds: it's short enough for toddlers and older adults, but it's also lovely and full of great photo possibilities! Although, we met some locals who informed us it's a popular moose-watching area, but we didn't see any on our hike.
The terrain is easy to navigate, and there are some beautiful mansions off the trail. The calm of the flowing creek that runs alongside the walk was wonderful.
If you are 16 and older with a valid Colorado fishing license, you will be allowed to fish in the reservoir.
You will find rainbow trout, as well as a few other trout species, in abundance in the waters.
Hiking to the reservoir is one of the most popular things to do in Breckenridge, especially in the summer, but it's also a quick drive from downtown if you're in a hurry or just want to unwind.
A postcard-perfect mountain and lake scenery awaits at the path's finish, along with a trail around the lake. The Breckenridge Outdoor Education Center is located there.
Address: Breckenridge, CO, USA
9. The Breckenridge Gondola
The Breckenridge Gondola, also known as the BreckConnect, is open to the public all day, every day of the year.
If you want a magnificent view and have never seen a ski resort area, we highly recommend taking this Gondola. It is an incredible sight to see and a fun experience. The staff are kind all throughout the ride.
This is a fantastic thing to do in Breckenridge at any time of year.
The best part is that it is completely free. It's a pleasant, picturesque Gondola trip that lasts about 10 to 15 minutes and includes three stops.
Stop off to visit Peak 7 and Peak 8 for fun activities, shopping, or grab some delicious food to eat.
Two of these are located near the base of ski hills, from which you may access a variety of activities depending on the season.
There is a $10 parking fee near the Gondola. However, there are numerous free parking choices throughout Breckenridge, as well as free shuttle services.
During the summer, the Gondola is open from June 18–September 11, 2021, from 9:30 am to 6 pm. The last upload happens at 4:45 pm.
During the winter, the BreckConnect opens on November 8th from 7:45 am to 5:30 pm daily.
Address: 170 Watson Avenue, Breckenridge, CO 80424, USA
Planning a road drive outside of Breckenridge? Check out the list of things to do in Pueblo, Canon City, Durango, and Thornton!
10. Peak Trails
Peaks Trail via Breckenridge is a 11.1-kilometer moderately trafficked point-to-point trail with a lake near Breckenridge, Colorado. The route is best used from April to September and offers a variety of activities.
It's difficult to choose which trails to hike because there are so many in Breckenridge. Fortunately, this trail proved to be a wise decision.
The track is well-marked, and the landscape, which includes some mountain streams, is breathtaking. The trail goes all the way to Frisco.
Bring plenty of water and snack along.
You can cheer to your hike with ice cream at Abbies in Breckenridge and then take the free Summit Stage bus back to Breckenridge after a fantastic hike.
In terms of terrain, this hike is rated Easy, although it is rated Medium in terms of distance. To avoid adding any extra miles to your trip, search for the Frisco Trailhead 1.0 Mile marker/Rainbow Lake 1/4 mile marker at the end.
Enjoy the hike and come prepared with water, food, layers, sunscreen, and bug repellent.
You are welcome to bring your dogs with you too.
Address: Breckenridge, CO, USA
11. Main Street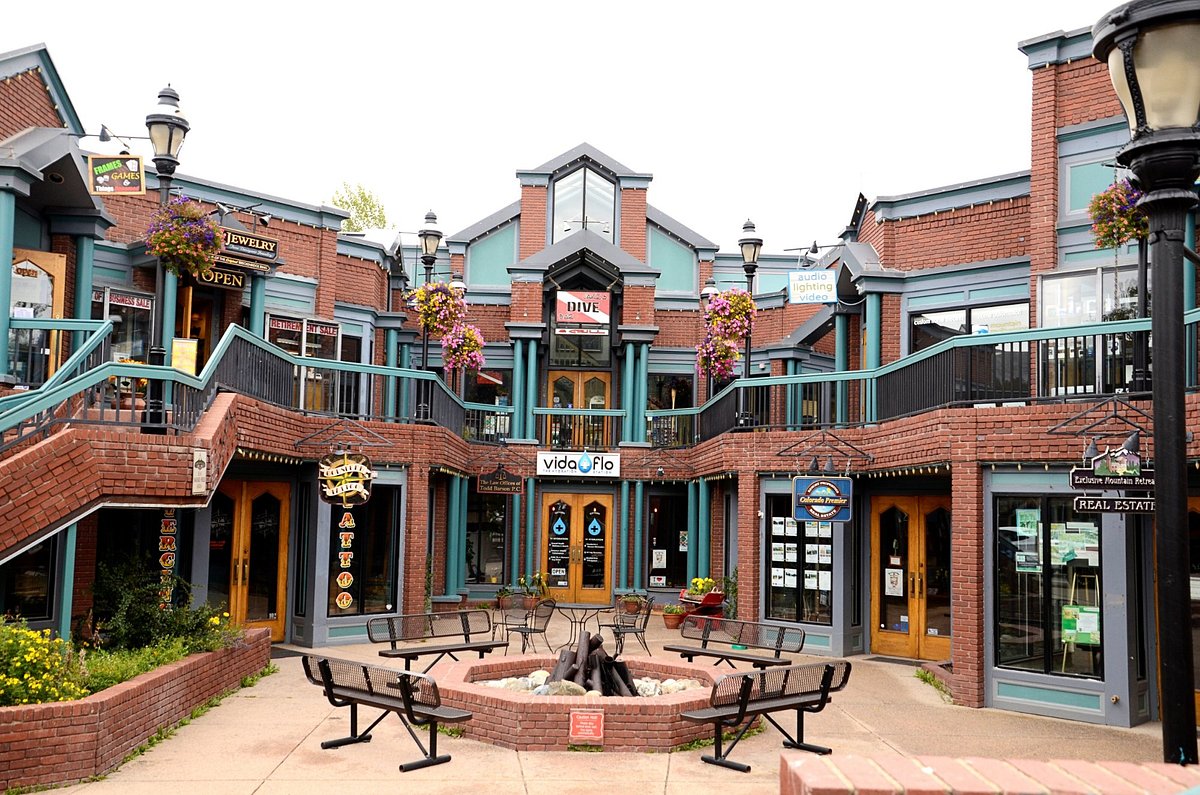 The Main Street Breckenridge is recognized for its fantastic shopping and restaurants, but it also serves as the heart of everything Breckenridge, with fun events, festivals, music, and a plethora of activities for all ages and interests taking place throughout the year.
This place is a must-do if you plan to visit. The street has been conveniently shut off to provide more space for pedestrians. On one side of the river, there is plenty of paid parking. On the other side, there is 30-minute parking.
You can buy largely touristy items and eat at a variety of eateries. There are numerous dessert, coffee, and snack shops in this area. Many of them are one-of-a-kind. Along the main street, there is a river and various outdoor seating areas where you may relax and enjoy the views of the mountains or listen to live music.
The best thing is that you can walk wherever once you park your car or take the shuttle in for your excursion, allowing you to spend more time outside admiring the mountains and taking in the sights.
It's really pretty to see the Aspens changing colors in the fall.
Walking around and looking at all the shops is fun. There are shops for everyone here and looking in each shop is part of the fun.
There are also plenty of places to eat. Breckenridge is popular for the ski season, but even without the snow, it is worth a visit.
There's something for everyone here!.
Address: S Main St, Breckenridge, CO 80424, United States
12. Carter Park
Many travelers consider this park a hidden gem, thousands of people from Colorado and around the world come here all year round as it is one of the best Breckenridge tourist attractions as far as parks are concerned.
This is an excellent location for sledding! The slope is steep enough for a decent run, but not so steep that climbing it is exhausting.
The park is free, however, there are no sleds available. A small dog park is also located near the hill.
Carter Park is a short walk from Main Street, which is convenient if you have energy left over after sledding.
There is a small hill about 2 blocks long that you can sled down.
At the bottom of the hill is a modest pavilion where you can rest and/or have lunch. There are also "free" sleds at the bottom of the hill that people have left behind that you can use. When you're done, just put it back where it belongs so that others can enjoy it as well. Because the hill and pavilion are not "manned," everything is on a first-come, first-served basis, and you must sled at your own risk.
There are plenty of launching locations near the top of the hill, so there's no need to rush or struggle for one.
One last thing, there is plenty of room for the sled to come to a stop, so don't worry about crash landings.
Address: 300 S. High Street/POB168, Breckenridge, CO 80424, USA
13. AVA Rafting and Zipline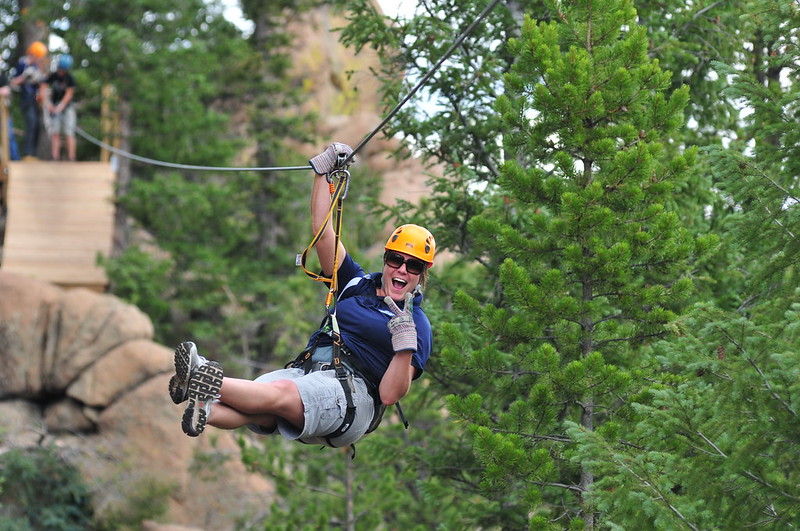 AVA Rafting and Zipline short for Arkansas Valley Adventures is an outfitter and tour group company that provides world-class Colorado rafting adventures on eight rivers for all ages and abilities, as well as zipline tours and rock climbing.
For individuals who have never tried rafting before, beginner and intermediate trips are ideal.
Advanced Plus excursions on Class V rapids, on the other hand, are ideal for thrill-seekers.
You mostly scale the side of the mountain and in between, there are some bridges to cross. You jump off a bridge and safely land onto a platform, and you will scale down the mountain on a pulley system. After all this, you will zip line all the way back to their office.
For rafting, it is a 30 mins bus ride away with a 45-minute return and, for maximum satisfaction, go with a light-wicking shirt.
Address: 116 Huron RD, Breckenridge, CO 80424, United States
14. High Line Railroad Park and Museum
High Line Railroad Park and Museum It's one of the most intriguing spots to see in downtown Breckenridge.
This is a highly recommended spot for families with young kids.
This museum provides a wealth of information and photographs about how the railroad changed Breckenridge and other small mountain towns.
From the road, the trains and playground equipment are visible. It is easily accessible thanks to a wide parking lot.
Speaking of accessibility, you can get a wheelchair to the railroad area, playground, and even the left side of the troll hike.
A restored rotary snowplow is also on display at High Line Railroad Park. It's one of only five machines of its kind in the world.
Address: 189 Boreas Pass RD, Breckenridge, CO 80424, USA
15. Barney Ford Victorian House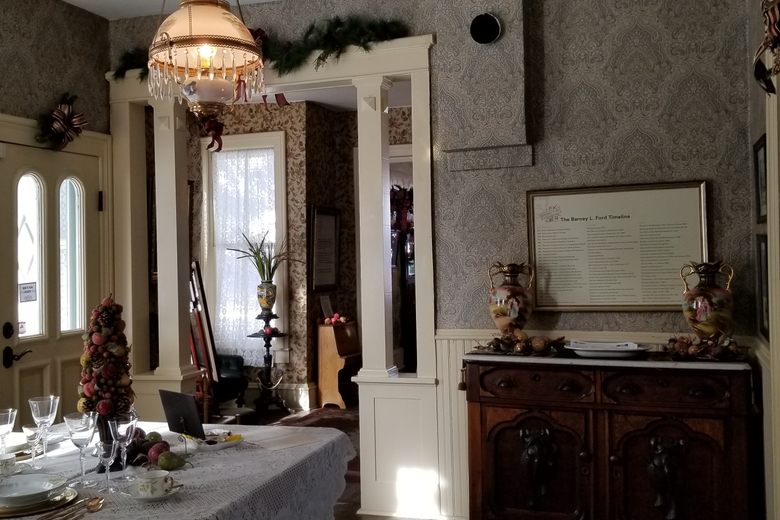 The Barney Ford victorian house, located downtown across the street from the Welcome Center, is a home museum honoring escaped slave Barney L. Ford. Ford was born into slavery but was very driven to live a different life and went on to become one of Colorado's most affluent businessmen in the late 1800s.
Each chamber in the museum includes a distinct exhibit connected to the historical period and portrays a significant stage in Ford's life.
You will learn a lot from him, such as the importance of reading, education, and making the most of your situation from birth until death.
Excellent presentation and the exhibits are in good condition; don't miss the short video on the former owner's description of restoration and determination of some of these historical aspects of the house and grounds.
There are interesting artifacts like an old phonograph, pot-bellied stove. There are plenty of signs which tell the story of the era.
This museum is free, but a $5 donation is suggested. The museum is also on a beautiful piece of property that is used occasionally for weddings and other events.
Only takes a half hour or so to do the entire exhibit and when on your trip to Breckenridge, don't miss the Barney Ford House Museum.
Address: 111 East Washington Ave, Breckenridge, CO 80424
16. Blue River Bikeway
Blue River Bikeway is a 14.2-kilometer lightly trafficked point-to-point trail near Frisco, Colorado that features lovely wildflowers and is suitable for cyclists of all abilities.
If you happen to be in Breckenridge, this is yet another "must do" activity!
Put simply, it is a multipurpose, paved, accessible trail connecting Breckenridge and Frisco.
If you've got the time and a bike, this is a great way to enjoy your stay. Even though it's at a high altitude, the grade is very easy, so one need not be super fit to enjoy it. It can also be used to turn more strenuous backcountry rides, especially the Peaks Trail, into a loop rather than an out-and-back.
We rode up to Breckenridge and back from Frisco. The climb is difficult but well worth it! It's all uphill from here.
However, the view is breathtaking. It's a blast riding back to Frisco! It's all downhill and incredibly smooth! For all cyclists, the downhill ride is a great thing to do. The ascent is a little risky, but enjoyable.
Address: Breckenridge, CO, United States
17. Aurum Food and Wine
The restaurant is named after the Latin term for gold and is overseen by Phillips Armstrong, the restaurateur behind Hush Concepts and Tangerine.
Aurum has a well-deserved reputation for excellence and delectable cuisine and drink offerings, but it's the service team that sets it apart.
Friendly, competent, and attentive service is provided without being invasive. The menu had a more focused approach while still providing a wide range of options to suit practically every appetite.
When the food was hot and ready, several servers collaborated with our main server to ensure that it arrived promptly at our table. We had a great eating experience!
The food was warm to hot when they came to the table. This appeared to show a concern for the service's timing.
The seasoning in the dishes looked to be just right for our diverse tastebuds. The mood was laid-back, well-planned, and sophisticated without being excessive.
GO NOW if you haven't already! It is one of the nicest restaurants in Breckenridge and, as a tip; try the Aurum house-made pasta, you would love it.
Aurum Breckenridge is open for indoor & outdoor patio dining, 7 days a week with Happy Hour from 4 pm to 6 pm, and dinner service beginning at 5 pm.
Address: 209 S Ridge St, Breckenridge, CO 80424, United States
18. McCullough Gulch
McCullough Gulch is a trail located on the north slope of Quandary Peak, at an elevation of 14,265 feet south of Breckenridge.
The trail is best used from June to October and is generally used for hiking and snowshoeing.
This hike is fantastic! It is roughly 2 miles in and out, and it took us about 3 hours to accomplish, with numerous photo stops.
Parking is plenty, but do expect plenty of cars as well. Much of the trail is through a coniferous forest but expects high inclines all the way to the top.
The last stretch will require you to do quite some rock scrambling and the trail, if there's any at all, will become very unclear to follow.
It's difficult to determine where you're going at times on the route, but it's nearly impossible to get lost. The lovely journey will reward you with breathtaking mountain vistas, a waterfall, and a stunning lake that feeds the falls.
The trail is also suitable for dogs.
Due to narrow bridges, uneven rock, and some steep inclines, we would classify this trail as an easy to moderate trek for persons who are energetic and well.
Little tips before you set out on your hike; bring water, go early and avoid the crowds, wear shoes with a good grip, and finally have a good camera to capture every moment.
Address: 4192 CO-9, Breckenridge, CO 80424, United States
19. Good Times Adventures
Good Times Adventures is one of the greatest ways to have a wonderful winter experience in Breckenridge.
It is a Long-standing adventure outfitter and tour company situated near downtown Breckenridge that offers dog sledding and snowmobiling experiences.
The snowmobiles were easy to learn for a 1st timer and the 2 hours went by so fast.
The facilities provided by Good Times Adventures are suitable for people of all skill levels.
They have nice snowmobiles, probably the best in Breckenridge.
The forest route is amazing during snow time. Driving snowmobile was fun and the 11,600 ft view was mesmerizing.
The snowmobiles were easy to learn for a 1st timer and the 2 hours can go by so fast.
This place deserves a 5-star rating, and it is worth being visited.
After snowmobiling, we did dog sledding. It was AMAZING! The dogs are so friendly and fantastic (and vocal). The dogs were well cared for, and it appears that the operation values the canines' welfare.
Bring your ski goggles and helmet for dog sledding. For snowmobiles, bring goggles. They provide helmets for you.
Address: 6061 Tiger RD, Breckenridge, CO 80424, United States
20. Breckenridge Recreation Center
This 80,000-square-foot facility is your Breckenridge destination for inexpensive family entertainment.
It is a fantastic facility and the personnel are helpful and courteous.
There are a variety of fitness alternatives available, including lap pools, a full-size basketball gym, a world-class strength facility, a whitewater kayak park, an indoor turf field, separate indoor and outdoor tennis courts, cardio equipment, and a climbing wall. This has to be one of the country's top public facilities.
The facility's aquatic component includes, among other things, a lap pool and a community swimming pool with a water slide, as well as a sauna, spas, and a swimsuit shop.
There is a small slide (that goes into the 3 foot part) for kids and a larger slide that requires you to be 40-41 inches tall to ride. Puddle jumpers and life jackets are provided.
Although there are family locker rooms, the signage is located on the way out of the locker room.
The recreation center is very cool, safe, and spotless.
Address: 880 Airport Rd, Breckenridge, CO 80424, United States
21. Breckenridge Ghost Tours
For those who like to learn about the town's ghostly past and those spirits that still linger, then sign up for the Breckenridge Haunted Tour.
This tour will take you on a guided walk through the historic district, learning about all the rumors and ghost stories that have circulated Breckenridge.
The Briggle House, a home said to be haunted by early Breckenridge inhabitants, will also be visited by the tour leaders.
Add this to the list of things you would do while in Breckenridge
Address: Breckenridge, CO, United States
22. Vail Pass Path
Vail Pass is the only Colorado mountain pass with a bike route that runs the length of the pass on both sides, providing for a fantastic ride. And it is one of the best trails in Breckenridge, Colorado, is the Vail Pass Path.
It is accessible from any place in Peak County and offers two different distances and levels of difficulty, depending on whether you bike simply to the summit or down the west side to Vail and back.
It stretches 14 miles from town to Frisco, passing through Copper Mountain along the way.
The paved path goes through woods and passes lakes, ponds, and waterfalls. It is marked with a centerline and each side is wide enough to pass other people who are running, rollerblading, etc.
This is an excellently planned trail. Most people only cycle downhill, but the uphill and downhill ride from Frisco to Vail (a total of 28 miles) is well worth the time, effort, and money (bike rental).
Also, if you need a rest and some refreshments, the Copper Mountain petrol station sells refreshments and has a restroom.
The nature and views are outstanding and breathtaking. The air often smells of pine trees and abundant wildlife.
Due to the path's length, cycling is the most ideal way of travel.
Address: Vail Pass, Colorado 80443, Frisco, CO 80443, USA
23. Epic Discovery
Epic Discovery, formerly the Peak 8 Fun Park, is a popular summer adventure park atop Breck's Peak 8. Take a picturesque gondola journey to the summit to see an incredible playscape.
Breckenridge Ski Resort transforms into a legendary summer playground, filled with countless activities. It's the perfect way to experience this small mountain town during the warm months.
Museum exhibits include a Rocky Mountain Wildlife Exhibit that teaches all about animals native to Colorado and the Rockies and there is a small planetarium and play "lab" where kids can experiment with mixing colors.
There is also a creative arts section and a stage for kids to express themselves.
The Kidstruction Zone gives kids the chance to build while dressing the part with hard hats and aprons.
Address: 170 Watson Avenue, Breckenridge, CO 80424, USA
24. The Breckenridge Heritage Alliance
The Breckenridge Heritage Alliance protects Breckenridge's unique historic treasures and connects residents and visitors to the past via imaginative interpretations of heritage places and stories.
It is also a non-profit dedicated to preserving Breckenridge's history and heritage.
There are also other historic hiking and snowshoeing opportunities, as well as a Ski Through History Tour.
They strive to present accurate accounts of that history by bringing it to life through educated guides, selective artifacts and documents in their libraries, and well-kept and maintained museum sites.
Breckenridge's Brexpedition tour is meant to provide guests with a comprehensive picture of the town, including historical monuments, popular restaurants, souvenir stores, and much more.
Several activities are possible here for kids and adults. It is a bit pricey. Best if you are ready to do at least 3 activities (each) then you can get a break. You can do the Alpine Slide and the Gold coast Runner. Different doing a downhill coaster among the trees. You get to control your speed. Still able to see some wildlife. The chipmunk on the Alpine Slide is so cute.
Address: 309 N Main St, Breckenridge, CO 80424, USA
See also the list of things to do in Vail and things to do in Fort Collins!
25. Broken Compass Brewery & Tap House
On May 30th, 2014, founders Jason and Jolene Ford realized a lifetime dream by opening Broken Compass Brewing.
It is a little brewery on the outskirts of Breckenridge. The brewhouse serves beer and only beer, although the tap house stocks several classic flavors of beer such as the Helles and the Irish Red.
The staffs are beyond amazing with their personalities and fun periodic trivia questions
Dogs are also welcomed, so feel free to bring along your four-legged pals.
Occasionally, food trucks set up outside to serve delicious food to go along with your beer. The brewery sells Broken Compass branded apparel.
Address: 68 Continental Ct Unit B-12, Breckenridge, CO 80424, USA
26. Reiling Dredge
Breckenridge was exposed to a new method in 1898: gold dredge boats. These gigantic floating mines and mills proved to be the most efficient method of extracting gold from the soil.
Let's take you back to the time when dredge boat mining helped make Breckenridge great.
The Reiling Gold Dredge, which was built in 1908, was the eighth dredge used to dig gold-bearing earth in the Breckenridge area. Until it drowned in a little pond in French Gulch in 1922.
The Dredge now is a curious beast, a rotting hull drifting in a pond far from any clear supply of water, and it's a floating gold mine used for placer mining.
Breckenridge's long history in the mining business included this type of mining.
It entails excavating dirt and rocks from the deposits of old streams.
This is done to separate gold from debris, whether it's in the form of flake or nugget.
Hand mining was the "traditional" method of placer mining. Flat pans were used by prospectors to locate claims containing significant amounts of gold.
Using rocker boxes, a sluice, and a rifle, this process was subsequently sped up by machination.
These devices were mounted on boats, and mechanical arms were utilized to dig with buckets up to 50 feet deep!
Thus, Dredges were the machineries, and they would move upstream, delivering big rocks downstream.
Today, the Reiling Dredge serves as a reminder of Breckenridge's mining heritage.
However, Summit County established a reputation in the placer mining industry as a center of gold dredge engineering and innovation at the time.
it can be spotted by hiking from French Gulch Road for about three miles.
Address: Co RD 484, Breckenridge, CO 80424, United States
27. Stephen C. West Ice Arena
Stephen C. West Ice Arena is a public ice skating rink in Breckenridge that offers ice skating, freestyle (competitive figure skating), hockey, and games.
Come play on the ice at Summit County's only year-round ice sports facility with daily ice skating and hockey sessions for the whole family.
However, you can skate indoor year-round and outdoor between September-March, also lessons and equipment rentals are available for skaters of all levels.
All levels of skaters can benefit from group and private classes, as well as equipment rentals.
It is what you would expect from a public skating rink; the ice is cold; the staffs are friendly, and the rental skates are in pretty good shape.
Cost $15 per person for 2 hours and every bit of the money and time are really worth it, and if you happen to visit this place with your family, you will get family packages.
It is also fun to watch youth league hockey on an indoor/outdoor rink in the same facility.
Address: 189 Boreas Pass RD, Breckenridge, CO 80424, USA
28. The Breckenridge Arts District
Breckenridge, a community that has produced generations of artists, musicians, writers, and creators, thrives in the creative arts.
There are numerous cultural groups to enjoy and experience, including the Breckenridge Film Festival, Breckenridge Backstage Theatre, and the Breckenridge Music and National Repertory Orchestra.
The Breckenridge Arts District brings together studios, galleries, performance spaces, historic sites, public art, restaurants, cafes, and other creative companies to animate and fill a dynamic cultural corridor in downtown Breckenridge.
The district's major draw is a multi-facility arts center, which includes workshops, exhibits, tours, artists-in-residence, and a variety of other activities for both residents and visitors.
Programs include classes in textiles, ceramics, metalwork, painting, and more, with a focus on educational and experiential enrichment. The Arts District property, which includes ornamental plazas and sculpture gardens, acts as a community gathering area and a stimulus for creative expression in Breckenridge.
Address: Breckenridge, CO, United States
29. Spruce Creek Trail
If you are an adrenaline freak or just someone seeking more outdoor adventures, then this moderately difficult trail is for you.
The Spruce Creek trail offers a variety of scenery as it climbs through lodgepole, spruce, and fir forests and eventually to Lower Mohawk Lake, which is nestled against the mountain walls.
Furthermore, the trail continues a short way beyond this lake to Upper Mohawk Lake, where you can see Mt. Helen and the steep Tenmile Range's southern part.
If you have a 4×4 vehicle, you can drive up to the official start of the trail. Or else you will have to walk a bit, though there are some trails they are working on before the main trail.
You can take periodic breaks and after every part you accomplish, it feels good to know you are closer to the next challenge and the end.
While it's not a very long trail, it gets very steep, so it will probably take longer than you think.
From April to October, it's at its most crowded but also at its most ideal but If you want to go snowshoeing instead, then, of course, opt for colder months
As a tip, bring water, bring some snacks for energy and you will be fine.
Address: Co Rd 800, Breckenridge, CO 80424, USA
30. Breckenridge Snow Sculpture
The Breckenridge International Snow Sculpture Championships is a world-renowned snow sculpture tournament in which teams from all over the world compete to hand-carve 20-ton slabs of snow into massive, detailed works of art in Breckenridge, Colorado.
It usually occurs every January.
Artists from all around the world will participate in this one-of-a-kind event, sculpting finished pieces using only hand tools over the course of five days (65 hours).
Since its inception, this incredible event has been a popular tourist attraction in the area.
You will observe beautiful creatures, scenery, abstract works, and other structures created by the teams as a member of the "audience."
However, It's one of the best free things to do in the neighborhood because there's no admission price!
The sculptures will be on display near the Riverwalk Center until mid-February.
Address: Breckenridge, CO, United States
Start planning your trip to Breckenridge
That's it, some of the best things you can do in Breckenridge, whether you want to go skiing, sledding in the summer or you want to go some hiking in summer.
From terrain parks and breathtaking mountain views to sleigh rides and scenic views, the town of Breckenridge is more than just a perfect place for a weekend getaway. Breckenridge is an ideal vacation spot.