Lubbock is a city filled with beautiful arts, melodic music, cultural scene, and a delightful, hospitable atmosphere.
The city is a beautiful home of music, arts, and culture. Lubbock claims to have more live music venues than any other city in Texas.
Lubbock is firmly on the map because of its alumni, Buddy Holly, a musician who once called it a city home.
It is brimming with beautiful museums, some of which are devoted to history, agriculture, and heritage. You can visit some of the museums for free.
Above all, it's one popular city that attracted tourists to visit recently. You will also enjoy different outdoor pursuits while in Lubbock.
In short, there are so many exciting places you can choose to visit in Lubbock.
Here are the 33 best and most fun places to visit during your stay in Lubbock, Texas.
Things to do in Lubbock
1. National Ranching Heritage Center
The National Ranching Heritage Center, or the NRHC, is viewed as one of the most beautiful places in Lubbock, Texas. And one of the free places to visit in Lubbock.
It was established in 1969; the center is a 27- acre museum and has an outdoor historical park established to preserve and represent the history of Ranching, some of which was dated back to the 18th century to the mid-20th century.
However, the NRHC was chartered as a Texas non-profit corporation in 1969; the Organization's stated purpose was to preserve the physical, social and cultural aspects of ranching and also to showcase the traditions, intrinsic values, and history of one of our nation's most important industries.
These structures include a homestead, schoolhouse, barn, blacksmith shop, railroad depot, windmills, and other historic structures.
In addition, the National Ranching Heritage Center also features almost 50 historic structures, some of which are 100 to 180 years old.
The oldest building is a replica, but all the other structures are carefully moved from countries across the globe.
Visitors can stroll down the pathways to view each of the perfectly restored structures or pay a small fee for a trolley that comes half an hour to take you through the tour on wheels.
Tourists can also peruse the over 40 life-size bronze art pieces and visit the 44,000 square museum showcasing different unique galleries.
You will also find stunning sculptures in front of the building, life-sized and beautifully crafted.
April is the Ranch Day and the most fun day of the year at the National Ranching Heritage Center, Lubbock.
Visitors can expect to enjoy activities centered around ranch skills, ranch science, and ranching history.
Address: 3121 4th Street Lubbock, Texas 79409-3200 United States
2. The American Wind Power Center
Did you know One of the largest Winwill museums in the world is the Wind Power center in Lubbock?. It was a labor of love for Lubbock.
The center was established by Billy Wolfe, a home economics teacher. She photographed, researched, and put a lot of time and effort into preserving the important and cultural significance of the windmill.
It was opened in 1998 and expanded in 2001. Presently, it is home to over 200 different windmills of any design.
The Wind Power Center has over 170 preserved windmills that cover over 28 acres and a beautiful scenery that takes in the lush landscape and grassy hills.
There are over 33,500 square feet of exhibition space for visitors to explore, including replica houses, a windmill, and a G-scale train that runs through the museum.
Besides, it also highlights their importance with reconstructed windmills and educational information. Windmills played an important role in the lives and survival of settlers traced back to the prairie days.
The Windmill Power Center is one of Lubbock's most educative and fun places to visit. However, you can spot the beautiful view of the museum from the road.
Address: 1701 Canyon Lake Dr, Lubbock, Texas 79403, United States.
3. Buddy Holly Center
Are you a music lover? Then this should be among the things you have to do when you get to Lubbock.
Buddy Holly is one of the famous musical geniuses in Lubbock. However, the Buddy Holly Center is dedicated to collecting, promoting, preserving, and to celebrate Buddy Holly, the rock and roll musician that dominated America with beautiful songs in the 1950s.
The center showcases the history of his impressive musical career and life, starting from his childhood days in Lubbock to the height of his musical career.
During your visit, you will also find different artifacts that belonged to the musician, alongside anecdotes and other antique memorabilia, with some highlighted signature glasses and his Fender Stratocaster guitar.
The museum holds different many other personal items like records, a guitar, and a giant sculpture.
Above all, you will see memorabilia of different types that will bring you back to the days of the talented musician.
Across the street, you will see a sizeable life-size statue of the late great Buddy Holly holding his guitar.
Fans of the talented musician should visit the Buddy Holly Center. This will help fans know more about the icon's history and his success story in the musical industry.
Address: 1801 Crickets Avenue, Lubbock, Texas, United States.
4. Fibermax Center for Discovery
The FiberMax Center for Discovery is located in downtown Lubbock. It is a nonprofit organization that stores the history of Agriculture and value in Lubbock, Texas.
The Center is one of the best places to learn about the development and growth of the agricultural industries.
Also, you will find field condition equipment, household items, as well as horse-drawn plows, restored tractors, planter and cultivators, a farm toy collection with over 60 pedal tractors, and over 680 toy tractors for tourists to see.
In addition, it also features various interactive displays of equipment, farming tools, and other interesting information. Of course, the display shows how farmers worked on fields and how tools were designed for trade.
However, the central exhibit hall features the major crops grown in the United States, the history of irrigation and the underground pumps, the contribution of women towards agriculture, and an interactive cotton harvester.
The museum is currently working on a one-of-a-kind children's wing that will tell the story of agriculture through interactive exhibits.
This combination of technology with farming is unique and will make your visit to the FiberMax Center in Lubbock a first-class experience.
Address: 1121 Canyon Lake Dr, Lubbock, Texas 79403, United States
5. The C Tech University Lubbock
The Museum of Texas Tech University Lubbock is a multifaceted cultural resource with six collecting divisions and 8.8 million objects.
It is an educational space for students and visitors. Also, an open space for the public to enjoy, and it is filled with many interesting and fun things to do.
Moreover, there is an opportunity to learn more about Lubbock through public exhibitions.
The National Science Research Laboratory is one of the most attractive places in the university, alongside a collection of awe-inspiring mammals, birds, and different types of genetic resources.
Also, unique collections are in the museum, which are the history of paleontology, fine arts, textile, natural sciences, and anthropology.
You can also view a mammoth skeleton, a replica dinosaur skeleton, collection of pottery and textiles of Southwest Native American origin.
The Museum of Texas Tech University is one of the most beautiful places to visit in Texas.
In short, there are lots of different things you can do while you are at the University, depending on your place of interest.
Address: 3301 4th St, Lubbock, Texas 79415, United States.
6. English Newsom Cellars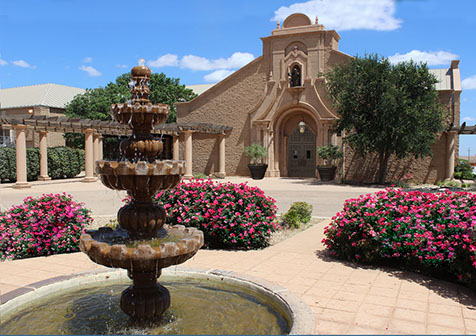 English Newsom Cellars, originated in Lubbock but now offers a spacious tasting room at the resort at Fredericksburg.
It is a destination for wine lovers looking to discover quality estate-grown varietals and award-winning wines.
Besides, it is an international company and has been operating since 1988, even rivaling some of the finest establishments in places like Italy.
It is coupled with impressive and beautiful building architecture with a magnificent view, with both white and red wine varieties already making a great impression as soon as you arrive.
The atmosphere is very inviting but also very relaxed. This is an excellent place for a date night or just to get a drink with friends.
English Newsom cellars is the best winery in Lubbock, with a beautiful venue, friendly, knowledgeable staff, and fantastic wine. Also, you will definitely have a great experience here.
Tours are also available, led by knowledgeable and good-looking staff. Don't forget to get a bottle of red or white wine when visiting.
However, the winery and tasting room are open for visits Monday through Saturday, 10:00 a.m. to 5:00 p.m.
Tours are conducted between 12:00 p.m. and 4:00 p.m. daily. It is one of the largest wineries in Texas to be owned by a woman and one of the area's most beautiful and modern facilities.
Address: 408 E Woodrow Rd, Lubbock, Texas 79423, United States
7. The Science Spectrum Museum and Omni Theater
Are you planning a trip to Lubbock with your family and wondering what to do while you are there?. The Science Spectrum Museum and Omni Theater is the right place for you.
The Theater is a unique, beautiful, and fun place to bring kids whenever you visit Lubbock on vacation.
There are different activities and fun things to enjoy at the Science Spectrum Museum and Omni Theater.
The animal shows allow you to come in contact with all kinds of animals, many of them are different animals that are not from America. They have over 220 permanent exhibits that you can interact with and even more traveling and rotating shows.
Also, the Children's Museum is filled with kid-friendly exhibits and staff to monitor and ensure the safety of the children.
The Physical Science Exhibits in the Museum allow kids and adults alike to learn about physics. Also, the science stage hosts many electricity and chemistry shows your kids could benefit from.
Although the Science Spectrum is known as an attraction for kids of all ages but not everyone knows about the availability to rent out rooms for special events.
To plan any events, you can always get in contact with the Museum's customer service.
There are different options to explore in one place. Be sure to visit.
Address: 2579 S Loop 289 #250, Lubbock, Texas 79423, United States
8. Lubbock Lake National Historic Landmark
If you are a lover of nature or you love to feel the sense of landscape history and beauty, then Lubbock lake National Historical Landmark is the best place for you.
The Lubbock Lake Landmark is an archaeological preserve containing evidence of peoples on the Southern High Plains for almost 12,000 years. However, it is a very nice and beautiful place to know the history of agriculture, ancient and recent human past and animals.
With over 300 acres of land, there are different places you can visit within the valley, more so. You will love to bike and hike because the trails are well kept, so you have no reason to worry.
Besides that, their staff are very knowledgeable about the history of the people, landscape and animals. Once you listen to this history, your love for nature will grow immediately. It is such an experience you would not want to miss.
Not to mention, it is a great and peaceful place to take your kids and pets to enjoy some family bonding time. You can also sit alone to enjoy this gift of nature.
You do not want to miss this fun experience. Make sure you visit Lubbock Lake Landmark whenever you are in Texas.
Address: 2401 Landmark Dr, Lubbock, Texas 79415, United States
9. Prairie Dog Town
Are you looking for fun things to do and a beautiful place to visit in Lubbock and you are a lover of cute little animals? Prairie Dog Town is the place to go!
It was established in the 1930s by Kennedy N. Clapp and his wife and is situated within Lubbock's Mackenzie Park.
It started with four dogs and two burrows, but today, it has grown a lot and even features native grasses and irrigation for the animals.
The cute critters in question have free on the field, running wherever they like. Besides all of that, there is no entrance fee to Prairie Dog Town, so it's one of the city's free things to do. Make sure to visit during your stay in Lubbock.
If you visit Prairie Dog Town, you will have a lot of fun as well as a great experience. It is a nice place for a walk and picnic; they are also friendly and like treats.
Address: MacKenzie Park RD, Lubbock, Texas 79401, United States
Do you wish to explore more cities while in Texas? Check out the best and most fun things to do in Corpus Christi, Wichita Falls, Abilene, Odessa, and Temple!
10. The Silent Wings Museum
The Silent Wings Museum is located in Lubbock and was formally the airport terminal of Lubbock. 70% of those glider pilots were trained here.
The Silent Wings Museum collects, preserves, interprets, and exhibits many artifacts and information relating to the glider program.
It is one of Lubbock's top places to visit for those who love the history of World War II, and it is to honor the glider pilots who fought for the United States in those days.
A tour around the museum gives you a quick view of the World War II gliders and also showcases the realities of those who piloted them through photographs and other forms of memorabilia.
Also, you will also be opportune to see the military equipment, smaller gliders, footlockers, uniforms, and glider parts.
A giant glider that has been perfectly restored and is on display for the public to view, it hangs from the building's ceiling, just low enough for you to view as you imagine the amazing bravery involved with descending from over 1,200 feet to the ground without the aid of an engine in the middle of a war.
Silent wings is an inspiring place to see and learn the history of glider forces from World War II and to see a technology that helps them during the war.
The entrance fee is relatively cheap, a visit to Silent Wings Museum Lubbock is one of the city's coolest cheap things to do.
Address: 6202 N I-27, Lubbock, Texas 79403, United States
11. Lubbock Memorial Arboretum
Lubbock Memorial Arboretum is in the heart of Lubbock; The Lubbock Memorial Arboretum is a unique 93-acre open space of which approximately 17 acres are round by fence.
The Arboretum currently has over 100 varieties of trees and shrubs. Its historical site located in K.N. Clapp Park. It was founded in 1961 and incorporated in 1964 in the historical K.N. Clapp Park.
In fact, it is one of the best places to visit and take your family to. It is pretty and well laid out. The flowers are beautiful also nice to walk around with some friends or alone.
The Memorial Arboretum Lubbock is home to various ranges of trees, shrubs, plants, vines, and flowers.
It is also a home for birds, butterflies, and some other wildlife, mostly native to Texas. One of its most beautiful and pleasant spots is the Sensory Garden, which encourages the use of the five human senses to explore.
You will find an Interpretive Center for nature classes housed in a quaint and lovely red brick building, a walking trail spanning 1.18 miles and a tranquil Playa Lake, packed with waterfowl.
Address: 4111 University Ave, Lubbock, Texas 79413, United States
12. Caviel Museum of African American History
The Caviels donated the building to the city's Roots Historical Arts Council in 2011, hoping one day it would become a museum to represent African-American culture.
Undoubtedly, In 2015, their dream became a reality when the museum opened its doors, becoming the first African-American museum in West Texas, Lubbock.
Exhibits including legacies of African American education, medical practice, and other aspects of community life, artifacts, and informational displays about important figures in the community paint an interesting and enlightening picture.
It is one of Lubbock's newer museums; it enlightens visitors on the history of African-American people in the region, telling their stories with artwork and exhibits.
The Caviel Museum of African American History is situated within the first pharmacy, it was owned by Alfred and Billie Caviel, an African-American couple in America.
However, after five decades, they donated the shop to the Roots Historical Arts Council and retired.
It's now one of the best and most beautiful places to learn more about the African-American community.
Be sure to visit if you want to learn more about African American history.
Address: 1719 Avenue A, Lubbock, Texas 79403, United States
13. Legacy Play Village
Legacy Play Village is a 30,000-sq.-ft. wooden play area, a community-built playground in Lubbock, known as the "castle playground," it has been a staple in Lubbock culture since 2001.
The play village was opened in McAllister Park as a way of a beautifying project and a labor of love for Juniors of Lubbock.
Also boasts of multiple picnic areas and its beautiful architecture is a treat to see and engage with.
It is a delightful place to visit with your family. Kids will have fun and also learn about Texas, Lubbock, and the South Plains as they continue to enjoy themselves.
Indeed, it is one point of interest to consider letting your children enjoy their weekends and also learn at the same time.
Address: 6401 Marsha Sharp Fwy, Lubbock, Texas 79407, United States
14. Joyland Amusement Park
Joyland Amusement Park is a small, family-owned traditional amusement park in Lubbock's Mackenzie Park.
The park operates 6 days a week but only during the evening on weeknights. It was founded 1940s (as Mackenzie Park Playground) and it began operation on 12 June 1949.
It's a traditional park, filled with old-school delights and nostalgic rides, classic activities, and all the quintessential amusement park experiences.
Regardless of the part of Joyland Amusement Park you're in, you will find some food stands close to your location. Think of all different classic and traditional snacks, like funnel cakes and other sinful delights of fried food that will definitely be available for you to devour.
There are different rides for all age ranges and preferences, including the Mad House, Little Coaster, the Dare Devil Drop, bumper cars, the Galaxy, a carousel, and plenty of games for both kids and adults to have fun with. Thrill rides and roller coasters are great for teens and adults.
It is the most fun place for you and your family to visit.
Address: 500 Canyon Lake Dr, Lubbock, Texas 79401, United States
15. Mckenzie Park
Obviously one of the most visited parks in Lubbock. McKenzie Park, a 4.3-acre facility that offers lighted Tennis Courts Playground; BBQs, and Picnic. The park is to honor the City in 1979 as part of the subdivision of the surrounding neighborhood.
It is also filled with lush green grounds and a wide range of activities to spend your time on.
Two golf courses, both of championship level and with over 15 holes, to let golfers get a few games in.
You can visit the park for different activities in this Lubbock, Texas attraction, you can lounge in nature with a picnic, look out over the Brazos River, or stroll around and explore the many gardens and different terrains that Mackenzie Park offers.
It is the ideal location for both adventure seekers and outdoor enthusiasts.
They also have a prairie dog habitat where visitors can watch these pint-sized animals put on a show. Mackenzie Park is also perfect and beautiful for those who want to spend the day immersed in nature relaxing by the Brazos River and enjoying a picnic.
Address: 301 Interstate 27, Lubbock, Texas
Visiting other parts of Texas? Check out some of our things to do in Denton, things to do in New Braunfels, things to do in Tyler, and things to do in Killeen!
16. Ballet Lubbock
Ballet Lubbock is one of the famous places in Lubbock, Texas. It provides gorgeous forms of entertainment and performance art, especially during the holiday season.
You will be sure that you will find more dance activities available, as the ballet sponsors and organizes many different events, classes, and workshops for the community in order to have fun and a memorable experience.
Ballet Lubbock's mission is to change lives. As a pre-professional ballet school, they strive to inspire our community through accessible dance education and performance of the highest artistic caliber.
Ensure you visit during your stay in Lubbock. You are going to love it.
Address: 5702 Genoa Ave, Lubbock, Texas 79424, United States
17. Lubbock Municipal Garden and Arts Center
Lubbock Municipal Garden and Arts Center, the center, opened in 1960. This arts center features gardens, classes & programs for all ages.
Lubbock Municipal Garden and Arts Center provides different types of rental facilities for private functions, such as workshops, receptions, weddings, luncheons, and other group events at low prices. Activities can be accommodated depending on the function and number of guests that will be available.
The center provides the city's local community with music, art, and a horticulture center.
One of the many exciting things to do in Lubbock is that the Municipal Garden and Arts Center is one of the most interesting ways to get a glimpse into the genuine local life of Arts and artists.
It is the city's most-used meeting space facility by the Parks, providing space for clubs, groups, and organizations of all kinds.
Address: 4215 University Ave, Lubbock, Texas 79413, United States
18. Lubbock Veterans War Memorial
Lubbock Veterans War Memorial in Huenke Park is one of the biggest memorials not just in Lubbock, Texas, but in America. The Lubbock Veterans War Memorial is one of the best ways to honor the heroes of the South Plains.
Names of those who passed on while serving the country are all listed in a wall of marble. It cost over 1.1 million dollars to construct the Lubbock Area Veterans War Memorial.
The memorial is a reminder of the sacrifices of the men and women who have given of themselves for our country. Some served, and some gave all for the cause of freedom and stands as a melancholy testament to bravery today.
It's one of the city's sobering places to go and to show respect to the past heroes. It's a beautiful way to remember those who surrender their lives for the country.
Address: 4001 82nd St Henry Huneke Park, Lubbock, Texas 79423, United States
19. Charles Adams Gallery
Charles Adams has successfully managed a professional fine arts gallery for over thirty years in Lubbock, Texas. It's a hotspot for culture and art, and anyone spends their evenings hanging out in this locale.
The gallery features different permanent and rotating exhibits. If you are searching for what to see, you will definitely find something new and interesting.
It's also a beautiful place and has been home to the works of greats individual like Andy Warhol.
If you want to know what's big in the American art scene, then Charles Adams Gallery is the perfect place to visit.
Address: 602 Avenue J, Lubbock, Texas 79401, United States
20. Louise Hopkins Underwood Center for the Arts
Louise Hopkins Underwood Center for the Arts was established in 1997 as a nonprofit arts center. Did you also know LHUCA is the organizer of Lubbock's First Friday Art Trail?
It is to showcase, connect, and support practicing aspiring artists, and it achieves this with its diverse performances and exhibits.
The exhibitions continue to change, showcasing the works of locals that are from Lubbock and international artists such as Tina Fuentes whose art is focused on the Plains of Eastern New Mexico and aerial landscapes of West Texas
It comprises nine buildings spread across four blocks, providing different places to visit and offering plenty of fun and memorable experience
It has a nice gallery with local artists on display. Inside is the Firehouse theater for plays and musical performances. However, you can also arrange a marriage ceremony event at the center. It is also the center for the First Friday Art Trail, which occurs on the first Friday of the month.
If you are seeking theater performances, sculptures, paintings, or drawings from art lovers, this is the perfect place for you to visit.
Address: 511 Avenue K, Lubbock, Texas 79401, United States
21. The Antique Mall of Lubbock
The Antique Mall of Lubbock was established in 1985. This has been one of the premier malls for over thirty-five years. The 24,000-square-foot compound features 50 unique booths, the mall specializes in American collectibles and antiques boasting a variety of pottery, china, vintage clothing, glassware, western memorabilia, jewelry, sports memorabilia, toys, art, and books.
The mall also features a unique and grand selection of General Store, Pharmacy, and Drug Store items such as old store stock, tobacco, store displays, soda, advertising signs, tins, and jars.
If you love hunting treasures, significant finds, and good buys, then the Antique Mall of Lubbock is the best place for you.
One of the Antique Mall's prized offerings is its high-quality Victorian furniture, oak woods, collection of early American, walnut, and featuring mahogany.
If you are an antique lover, you must add this mall to your list and ensure have fun during your visit.
Address: 7907 19th St, Lubbock, Texas 79407, United States
22. Holly Hop Ice Cream Shoppe
This Holly Hop Ice Cream Shoppe Featuring Lubbock's only Authentic Soda Fountain! Step back into the '50s., This old-school shopper sells, as its name suggests, ice cream, and it has the perfect retro atmosphere. Holly Hop Ice Cream Shoppe has outdoor seating and offers takeout.
Holly Hop Ice Cream is pretty famous in the city. Booths are bright and striped white and red, the air is vibrant, and it's a fun, family-friendly environment. It is a beautiful place for couples to enjoy their free time or to be on a date. It's also one of the romantic place in Lubbock.
Milkshakes, Ice cream, and other creamy goodies make for yummy offerings, and there are many flavors, varieties, including vegan ice creams.
Address: 3404 34th St, Lubbock, Texas 79410, United States
See also the list of things to do in Amarillo!
23. The Cactus Theater
The Cactus Theater was constructed in Lubbock, Texas, in 1937 and officially opened in April 1938 as the first suburban neighborhood movie theater.
The Theater certainly has a very Texas-themed name, but it is also something of a historic landmark, having first opened its doors in the 1930s.
It was the first theater of its kind in Lubbock and was slowly and painstakingly restored in the 1990s when it reopened after many years of closure. The theater is now well-known for its live theater, concerts, and Broadway productions.
Through the years, Cactus audiences from Lubbock and the surrounding region have enjoyed many live music productions including: The Cactus Family Christmas Celebration, Nostalgia Nites, Girls' Nite Out, The JDs, concerts showcasing America's legendary Big Bands such as The Glenn Miller Orchestra, The Tommy Dorsey Orchestra have been showcased.
Texas music legends with Gary Morris, Joe Ely, BJ Thomas, Jerry Jeff Walker, The Maines Brothers Band, Nanci Griffith, Guy Clark, Crowell, Ray Wylie Hubbard, Rodney Marcia Ball, Gary P. Nunn, Michael Martin Murphey.
Recent concert highlights include performances by world-class guitarists Tommy Emmanuel, Esteban, Leo Kottke, Eric Johnson and Monte Montgomery
So if you are visiting Lubbock, make sure you check out. You will definitely enjoy the experience.
Address: 1812 Buddy Holly Ave Lubbock, Texas, 79401.
24. The Jan Jennings park
Jan Jennings Park is a 1 mile (2,000-step) route near Lubbock, Texas. This route has an elevation gain.
Jan Jennings Park offers outdoor recreation and nature preservation. Also, a public space opens to the public, and the Park is Lubbock's 16th most popular tourist attraction.
It is definitely a pleasant and beautiful park that has a nice track and a pond with beautiful ducks and birds. Lots of shadows with beautiful trees. Park for kids and volleyball net. Few picnic spots with grill.
It is also a nice and clean place to get out and relax, exercise, let the kids play or fish in the pond, and also has a smooth gravel path that winds around the perimeter.
You don't want to miss this fun experience, check the part out and you will enjoy your time in the park.
Address: 73rd St, Lubbock, Texas 79401, United States
25. Llano Estacado Lake in Lubbock
Do you love to visit beautiful places or you love to get a taste of good wines or you love the combination of both? If so, LIano Estacado is the best place for you to fulfill your needs.
Certainly, it is one of the most beautiful places in Texas. The building is outstanding and the staffs are friendly and very knowledgeable. Besides, their wines are not as expensive as you would think and also, the wines taste good and pure.
They offer red and white wine or a combination of both.
Llano wine is one of the top five wineries in the entire country. Their wine getting to the top five shows that the wine is good, therefore you have no reason to worry about the taste.
Be sure to visit and treat yourself to tasty wines.
Address: 3426 East Farm to Market Road 1585 Lubbock, Texas 79404
26. Play Street Museum
The Play Street is a small format children's museum thoughtfully and beautifully designed to encourage the imagination and learning abilities of kids through play.
The setup is designed for open exploration. Your kids will have fun imagining and pretending in the town square or exploring the many interactive exhibits and kid's activities in the educational play space.
Besides, the museum is absolutely safe for kids. It is the cutest town where the kids' imagination can run wild.
However, the Play Street Museum has a grocery store, a bank, a fire station, a school, and a petting store. Watching the kids run, play, and laugh will bring joy to your heart.
You can also celebrate your kid's birthday in the museum. There's no charge for the accompanying adults and a reasonable cost for kids.
Big enough for the kids to play, but small enough that you can easily keep an eye on them. Adults can actually sit and chat without having to worry about the little ones.
There may be a wait to get in, but there are small tables with books and activities to keep your kids busy while they wait to get in. It is a wonderful place for little ones!
Address: 10609 Slide Rd., Ste. 400 Lubbock Texas 79424
27. Hodges Park in Lubbock
Hodges Park is a large natural environment park that is along the northern bank of the Bow River. The park is to honor former Calgary Alderman Dale Hodges in recognition of his over 25 years of public service and his contributions to the Town.
This park makes the storm-water treatment visible as it travels to the Bow River. However, this shows citizens how storm-water is managed and aims to inspire curiosity and a deeper understanding of how our natural and constructed systems interact.
It is a nice and beautiful place, whether you visit early in the morning for a quick run or for an afternoon stroll. The lake is quite a calming sight.
Above all, the park has a serenity to it that's hard to describe. Water flowing from one end to the other. Plenty of shade trees and a small metal campus as well. There's a large pavilion and restrooms.
The Hodge park is a good place for a barbecue if you are with friends or family. And also has a lake surrounding the parking area.
Address: Marshall and N. University, Lubbock, Texas 79415, United States
28. Frank Higginbotham Park
Frank Higginbotham Park is a 0.7 mile, 1,500-step route near Lubbock, Texas.
The park is viewed as one of the nicest & most well-kept parks in Lubbock. With a longer trail and amazing scenery.
Besides, it is nice and convenient with a running track, volleyball court, and children's play area. Track floods easily after brief rain with a large pond with many ducks to gaze at. It is also not bad for fishing.
Not to mention, the park is quiet and safe, with big trees providing great shades for picnics or other family fun activities in the hot summer.
It is a pleasant place to have more fun experiences.
Address: 19th St & Vicksburg Ave, Lubbock, Texas 79401, United States
29. Aztlan Park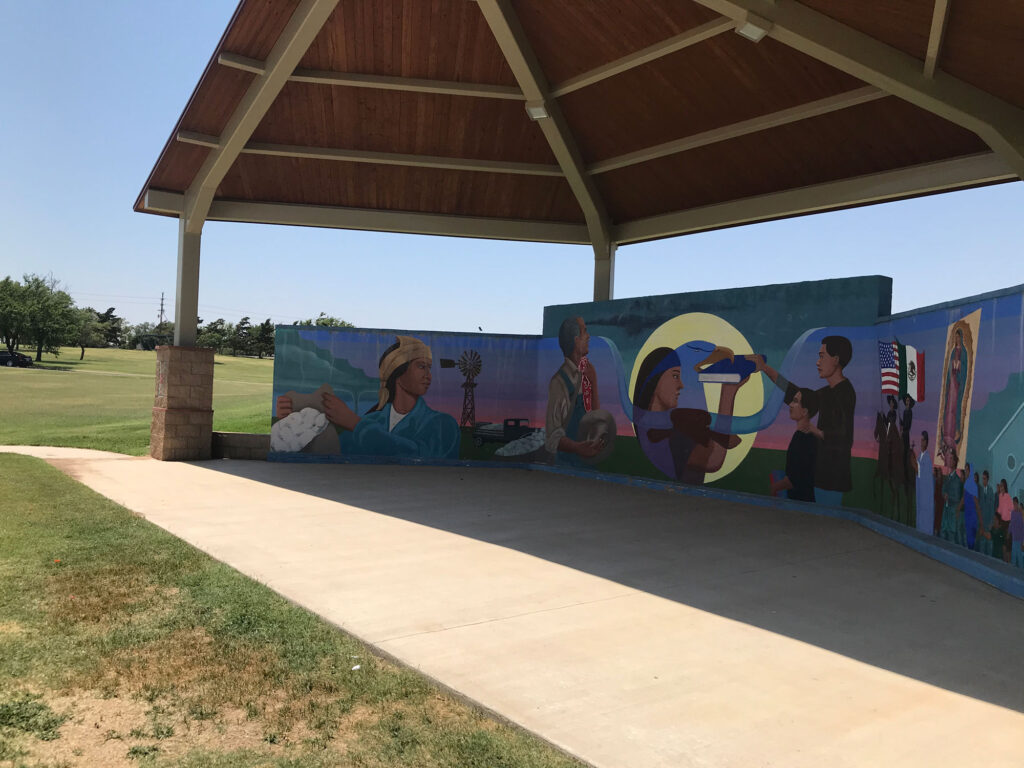 Aztalan State Park was established in 1952. It is a National Historic Landmark and contains one of Wisconsin's most important archaeological sites, showcasing an ancient Middle-Mississippian village that thrived between A.D. 1000 and 1300.
The park covers 172 acres (70 ha) along the Crawfish River.
Mr. Hyer named the place Aztalan because, according to Humboldt, the Aztecs, or ancient inhabitants of Mexico, had a tradition that their ancestors came from a country in the north, which they called Aztalan.
The possibility that these may have been remains of their occupancy, suggested the idea of restoring the name.
Besides, the place is underwhelming in terms of park design, but super interesting in terms of cultural bonding.
The neighborhood is mostly of Hispanic origins and also has a rich culture. The fresco done in the park shade shows the integration of two cultures in a very strong way.
Above all is a semi-sizable park with a playground, including a jungle gym, slide, swings, play diggers, and a lot more.
Address: 1st St, Lubbock, Texas 79401, United States
30. Tech Terrace City Park
Tech Terrace city park is a small park in Lubbock, Texas. This park has a large multipurpose field suitable for kite-flying or a nice game of soccer.
This beautiful park is home to a 0.61-mile track and loops completely around. It also has a gorgeous open area and beautiful trees surrounding the walking trail.
There are benches around the trail to sit, alongside a couple of little garden areas, clean and very well-kept benches, mature trees, and wide-open spaces.
In addition, the Park is a peaceful place to have a family picnic, game of flag football, or celebrate your birthday party.
Great place to just find a little peace and collect yourself from a lot of stress.
Besides its beauty, it also has nice walking trails and plenty of room to play with your pet and family without disturbing the other park-goers.
It is definitely a great place you don't want to miss.
Address: 3107 23rd St, Lubbock, Texas 79410, United States
31. Hoel Park
Hoel is a magnificent park that offers outdoor recreation, nature preservation, and also a public space open to the public, fishing pond with ducks, tennis courts, a picnic pavilion & playground.
The Park offers open spaces under the maintenance of the Lubbock Parks Department.
This is one of the favorite, peaceful and cool parks in Lubbock. There is something for everyone.
You can find a pretty pond with fish, ducks, geese, and a variety of trees. The playground is nice and rarely crowded with a camping-style charcoal grill.
Besides, this place is quite nice to just walk around, play with remote control boats, and feed migrating ducks and geese. It's clean and children can play in the jungle gym building beside the pond.
Although, the playground equipment and benches are an attractive feature that draws in people who seemed to enjoy them. The park is well lighted and has two lighted tennis courts.
Address: 91st Street and Chicago Avenue, Lubbock, Texas 79424, United States
32. Mae Simmons Park
Want to find the best trails for an adventurous hike or a family trip? This park is your go spot!
Mae Simmons Park is the best place for you and your family. The Outer Loop Trail is an 11.4-kilometer heavily trafficked loop trail located near Lubbock.
Running, hiking, mountain biking, and fishing are all popular activities on the park trail. Although, the trail is accessible year-round and is also available for dogs. It has a beautiful and interesting landscape and a variety of terrain.
Surely, the park is pretty fun, with lots of wildlife, including rabbits, prairie dogs, and hawks.
If you are a lover of hiking, this is a great place for you to have to fun experience.
Address: 2004 Oak Ave, Lubbock, Texas 79404, United States
33. Maxey Park in Lubbock
Maxey Park is a well-kept area with a water park and courts for volleyball and basketball. Big public park complex with a variety of small parks.
It's a place with lots of space. Playgrounds, volleyball court, a miniature Alamo, stone benches, and a basketball court, and near it all is a little water park.
The kids can play all day, and the family can also have fun without worries. It's also a great and pleasant place to take the family and bond, also has a pretty good amount of adults playing basketball.
If you love or wish to have a fun time with your family, then this is the perfect place.
Address: 4007 30th Street Lubbock, Texas 79410, United States.
Final remarks
Lubbock, Texas is a beautiful and amazing city. It's parked with different entertainment and attraction that will make you feel relaxed and enlighten your mood.
You can visit some of the 33 best and most fun places listed above.
The list will help you find all the fun places that suit your hubby.
Safe trip and ensure to have the greatest fun experience!