St Simons Island is known as one of the safest and most affluent cities in Georgia.
This city, which is just 82 miles away from Savannah and about 322 miles from Lagrange is a great travel destination for families, featuring an impressive amount of entertaining activities that travelers of all ages would surely appreciate.
St Simons Island is also a pleasurable place to visit for nature lovers, as it boasts of so many insightful museums, well-maintained trails, vast parks, and lots of beautiful botanical gardens.
Known for its salt marshes and sandy stretches throughout the year, this city in Georgia is undoubtedly one of the greatest regions to spend a holiday vacation during any season of the year.
To get the best out of your visit, carefully check through our list of St Simons Island's top attractions that could be of help.
Things To Do In St Simons Island
1. Fort Frederica National Monument
If you're looking for a glimpse into St Simons Island history, you should definitely include Fort Frederica National Monument on your bucket list.
Upon your arrival, you can start your tour by first checking around the nice Visitor Center.
Afterward, you can proceed to explore the exhibits and some of its nicest historic movies, which would definitely add depth to the experience of visiting this wonderful site of Georgia.
Of all the historic museums in the United States, Fort Frederica National Monument is the only site that did so much to preserve colonial American history and the history of America during the medieval period.
Even at that, it's awesome to note that you'll get in for free on any day, which is unusual for a National Park and it is free on sight parking as well.
Perhaps, while you're on-site here, you might get so tired, but that's never an issue! You can stop by at one of the on-sight restaurants for a bite and awesome drinks.
Great piece of history, a pleasurable walk with the dogs, and a more in-depth study of early Georgia history, this is just more than a historic landmark!
During your forthcoming visit to this city in Georgia, be sure to stop by this informative region and dig deep into some interesting past. It'll be so much fun and you will certainly love it!
Address: 6515 Frederica Rd, St Simons Island, GA 31522, United States
2. Fishing Pier At St Simon's Island
Situated along the Pier Village at Mallery Street, the Fishing Pier is a place clock with activities, including swimming, fishing for trout, or an avenue for a leisurely stroll around its scenery area and many more.
With over three wonderful public Piers available here, there are certainly several ways to spend your summer vacation in this wonderful attraction.
You can enjoy an evening stroll with a delicious ice cream cone right in your hand as you catch the most awesome glimpses of daylight sparkling through the water as the sun sets.
In fact, benches in this spot are well placed at each side of the pier, which makes it quite easy to sit and leisurely watch the crabbers and fishermen in their day's bounty.
Considering all these huge adventurous activities in this delightful location, the admission fee here is absolutely free!
Don't be forgetful, it is not really about your quantum of wealth, it's the time you take out to enjoy life in general!
If you're in this St Simons Island, it'll be so worthwhile for you to come over here to enjoy the captivating, stunning views and series of adventurous activities this fun place has to offer.
Meanwhile, know before your visitation that bikes and dogs are disallowed for safety reasons and the operating hours are 24 hours a day, which is quite awesome!
Address: 100 Mallery St, St Simons Island, GA 31522, USA
3. World War II Home Front Museum
The Second World War or World War II often referred to as WW2 or WWII, is a historic occurrence that the entire world can never forget.
Being a global war that lasted from the 1st of September 1939 to the 2nd of September 1945, involving a large majority of the world's countries, this isn't a part of history to be neglected!
Luckily for any visitor planning a trip to St Simon's Island, the World War II Home Front Museum brings to life this historic incident.
You'll be able to explore an array of exhibits reflecting the tragic occurrence that can never go down in the world's history.
Beyond that, there is a covered picnic area on-site and a beach volleyball court with a little garden for visitors that want to take advantage of it.
As for its operating hours, World War II Home Front Museum opens on Monday through Saturday between 10 am to 5 pm and 12 pm to 5 pm on Sundays.
Unarguably, the best part of war is by subduing the enemy without recording a casualty. However, to avoid being ignorant, learning about war and its antecedents is so crucial!
After all, the best way to predict the future is to study the past!
World War II Home Front Museum is certainly a charming spot in St Simons Island that offers something for everyone, from history buffs to nature enthusiasts!
Don't miss it when next you're in this city of Georgia!
Address: 4201 1st St, St Simons Island, GA 31522, United States
4. St. Simons Island Lighthouse Museum
Are you still unsure as to how you should spend your vacation period when next you're in St Simons Island?
It's normal to be naïve. Nevertheless, immersing yourself in the pleasurable activities at St. Simons Lighthouse Museum is a great option you wouldn't regret.
St. Simons Lighthouse Museum is situated near Beachview and was built in 1872 to replace the formal lighthouse that was reportedly built by James Gould of Massachusetts in 1810.
Aside from the fact that you'll be able to discover the amazing history of Coastal Georgia through awesome historical photographs, exhibits of rare artifacts, and interactive designs, this destination also boasts of being one of the best sites that offer the history of lighthouse technology in the world.
The best part, adults only pay $12 as an admission fee while kids and senior citizens don't pay any admission fees.
So, why wouldn't you consider a visit to this beautiful two-story attraction when next you're in St Simons Island?
No matter how logical the excuse may appeal to reasoning, it can never be too good to deprive you of what to enjoy from this downtown!
Remember that the only thing that stands between you and your prospects is the imagination that keeps accumulating as an excuse.
Certainly, either during the winter period or summer, a visit to St. Simons Lighthouse Museum will surely suffice!
Address: 610 Beachview Dr, St Simons Island, GA 31522, United States
5. East Beach, St Simons Island
Agreeably, St. Simons Island boasts several beach areas throughout the city. Hence, it may appear uneasy to have a perfect fit in your itinerary if you're a beachgoer.
Aside from the fact that East Beach is the most popular beach in Georgia, it's unarguably the best spot if you'll love to maximize your beach adventure because of its many fun activities.
Part of the numerous entertaining activities includes kayaking, kiteboarding, and shelling surfing.
Alternatively, if you crave something solo, you can just relax in the beautiful sand.
Whichever your option would be, it's sure you'll have a worthwhile beach experience like never before here!
Interestingly, different from other beaches in this city, East Beach is always clean with soft sand with loads of awesome amenities.
This beach also has a spectacular view and lots of fascinating historic exhibits, delicious southern food, and tons of things for a family to do.
It's undeniably a fantastic destination with a bit of engaging and entertaining activities for visitors of all ages.
In fact, a sunset and sunrise walk is equally a must-do if you're here, as it'll enable you to capture some pleasurable Georgia photos with framing!
There are parking lots and you can as well bring your pets along during the non-peak season.
But then, ensure that you have guiding booties for those paws.
Address: 4201 1st St, Saint Simons Island, GA 31522, United States
Looking for more thrilling cities in Georgia? Why not check our list of the best and most fun things to do in Brunswick, Valdosta, and Newman?
6. Tree Spirits Of St. Simons Island
If you carefully look at some majestic oak trees around St Simons Island, there's a high possibility that you'll see one gazing back at you.
Either peering amazingly from the trunk or from its long-vanished branch, you may possibly realize the presence of some unmistakable pictures of a weathered face.
It's never magic, these are simply 'the Tree Spirits of St. Simons Island!
These uncommon pictural monuments immortalize those sailors who couldn't make it home from a shop that was sailing from St. Simons Island oak.
The image, which is a replica of sadness, depicts their sorrowful and sad state following the tragic incident.
Needless to be told how amazing these images, upon your arrival in this city of Georgia, plan to visit this fun place so that you can come up with your own mythology and legends about these wonderful spirits!
Take a bicycle ride along this island, enjoy the whole day on a scavenger hunt, stroll around the island, or, preferably, participate in other delightful activities along the way.
All these side activities are just a plus to the list of what you'll enjoy here. The tree spirits won't disappoint!
While you're enjoying the amazing fun things, remember to stop by one of the many restaurants to have a nice meal since you owe yourself the best treat!
Address: 306 Redfern Village, St. Simons Island, United States
7. Cannon's Point Preserve
Lovers of animals are the best set of people to be around because not even a single person understands compassion and care better than them!
So, are you one of the many lovers of animals?
If yes, your decision to visit St Simons Island is a great coincidence!
Thinking how? Just relax! Once you arrive in this downtown city of Georgia, Cannon's Point Preserve has all your imaginable wildlife animals!
Surprisingly, this spot house some of the rare intact maritime forest of St. Simons Island, and it is so pleasurable.
This destination also has over six miles of a tidal creek, salt marsh, and river shoreline that offers habitat for animals such as birds, oysters, manatees, and fish!
Shell middens whose existence dates back to 2500 BCE are equally on-site!
To further your enjoyment of Cannon's Point Preserve, you will see several interpretive signages along the trails and it's always delightful.
To fully make your exploration here without any hindrance, take note that only biking is allowed. Hence, if you'll be here with your vehicle, do park it nearby!
Also, since this spot is a forested wilderness, we suggest you take a few reasonable preparations in order to ensure that your visit isn't only comfortable and enjoyable, but equally safe!
If after navigation you still have some time to spend here, you can take time to enjoy some moments in the picnic area.
If that doesn't suffice, you can launch a paddle board, canoe, or kayak from its non-motorized boat launch.
Either way, you'll love to be here!
Address: 560 Cannon's Point Rd, St Simons Island, GA 31522, United States
8. Massengale Park Of St Simons Island
If you're yet to have any plans for your kid's next vacation, consider adding Massengale Park to your bucket list.
Of course, Children are one-third of the world's population and all the parents' future, so they definitely deserve the best vacation experience.
Situated along Ocean Blvd in Georgia, Massengale Park is essentially a nicely shaded picnic area with a large children's play area.
For the adults accompanying their kids here, the artifacts and ruins of the forts are so breathtaking and it'll surely be worth the wait.
In fact, while your kids might be busy enjoying their time playing, you wouldn't want to resist the upbeat experience with great music.
Massengale Park isn't a typical park that's only kids inclined. It surely offers something adventurous for everyone.
Although, the only drawback of this park is that it's mostly with lots of crowds during the spring holiday. Nevertheless, if you can make it here early enough, that's never anything to worry about.
On-site parking is free, admission fee is bearable and unlike other parks in St Simons Island, their closing period is 10 pm!
Address: 1350 Ocean Blvd, St Simons Island, GA 31522, United States
9. Pedego Electric Bikes
If you do not have any childlike enthusiasm to flash back at, endeavor to enjoy every moment in a childish manner!
Should you want to create some beautiful memories for yourself in a childish manner, be sure to check out Pedego Electric Bikes for some bicycle cruising.
From mountain-top to scenic regions, Pedego Electric Bikes at St Simon's Island Is the best way to enjoy this city in a unique way.
What makes this outdoor adventure center quite distinctive is the fact that every visitor is treated like a family and the tour fee is so affordable.
This awesome spot is ideal for nature trips with the whole family and it's always open all the times all throughout the year.
While coming to this location, you can bring your pets as long as it's been on a leash.
Additionally, every visitor will be able to see rare species of all sorts of animals without having to make any extra payments.
No disagreement, the best of healthy living habits remains the same – to be modern, to be creative, to stay one step ahead, to enjoy every moment!
With a visit to Pedego Electric Bikes St Simons, these are so achievable!
Address: 3600 Frederica Rd STE 15, St Simons Island, GA 31522, United States
10. Kids Fishing Billy Bee Charters
If you wouldn't consider visiting Massengale Park with your kids, Kids Fishing Billy Bee Charters is a perfect alternative.
Perhaps it's not an untrue statement that the best choice comes amidst multiple options!
Kids Fishing Billy Bee Charters, often referred to by the locals as the "Billy Bee" is a 22′ pathfinder boat for near-shore and inshore fishing equipped in a way that appears so interesting to kids of all ages.
For a pleasurable family adventure, plan a charter fishing vacation to this wonderful spot and your kids will enjoy the vacationing period so much!
The caption monitoring kids' activities is obviously friendly and personable and always ensures that everyone is involved in the recreational adventure.
On-site kids can catch as many fish as possible such as sharks, bluefish, whiting, and even a sting ray and it's always entertaining!
The fishing exploration will definitely be one that every kid remembers forever. The experience of being on a boat, learning the processes of fishing with a cast line, plus reeling in a big fish, is just amazing here.
In fact, if you take a moment to observe the look on the face of your kids after reeling in this impressive spot, everything will be well worth the price payable!
Do note that trips begin at 12:30 am during the weekdays.
Address: 1000 Arthur J Moore Dr, Saint Simons Island, GA 31522-2205, United States
11. The Coastal Backwater Adventures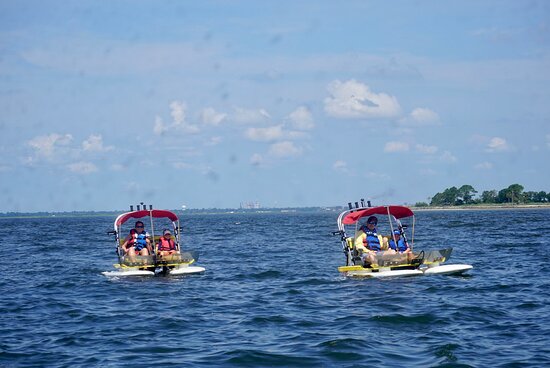 Coastal Backwater Adventures is another tourist attraction in St Simons Island that's essentially for travelers who are looking for a home away from home.
This coastal region is basically a boat tour agency that has been of huge relevance to the inhabitants of Georgia and neighboring communities.
Whether you are looking for a separate site to enjoy the day or you want an adventurous escape, this tourist attraction wouldn't be the wrong choice for you.
Tranquility, excitement, intimacy, and thrill, Coastal Backwater Adventures is apparently a bundle of fun galore!
Although it is not so sure that you'll have a free peaking on site, nevertheless, the tour expenses are so affordable and there are considerably huge amounts of restaurants.
Similar to that, if you love to see aquatic animals, you'll have that opportunity plentiful here. In fact, the fact that you can be adventurous or take time to relax as you like makes cruising here the best to the beat.
If you are looking to spend a couple of hours that combine getting to drive a cool watercraft, seeing the St Simons coastal backcountry & its wildlife, and enjoying the sun and sea, this spot is for you!
By the way, if your theory of living is to enjoy life, don't let your practice goes against that, you'll surely enjoy every moment at Coastal Backwater Adventures!
Address: 100 Marina Dr, St Simons Island, GA 31522, United States
Planning a trip to a more fantastic city in Georgia? Why not check our list of the best and most fun things to do in Augusta, Athens, and Macon?
12. Coastal Biplane Tours
Do you want to see the beauty of St Simons Island at a glance?
Sure, you wouldn't want to visit this city without having a clear view of its beauty!
Therefore, upon arrival, come for an exhilarating seaplane tour at Coastal Biplane Tours!
Established over two decades ago, Coastal Biplane Tours provides a 20-minute flight in a 1940 open-cockpit Waco UPF-7 biplane.
Although not so popular among travelers due to its huge ticketing fees, if you wouldn't be subdued with your choices by its financial requirements, this is an adventure worth exploring.
The most interesting part about this site is that the pilots are so knowledgeable and always ensure that every tourist enjoys the experience thoroughly.
If you have what it takes to fly here, you'll surely enjoy the view of these coastal marshes islands as it's just so breathtaking.
Note, Coastal Biplane Tours is only open on Tuesday through Saturday between 10 am to 4 pm. Meanwhile, there's no tour on Sunday and Monday.
Address: 1821 Demere Rd, St Simons Island, GA 31522, United States
13. St Simons Trolley
Perhaps you might be on a very low budget and so care so much to enjoy yourself while in Georgia, St Simons Trolley will rescue your situation!
Whether it's wintertime or summer, you're guaranteed a professional and highly interesting tour of this historic city.
The tour isn't only to a few selected sites, it's just a history-packed tour that covers an expanse and significant sites in this city.
St Simons Trolley tour will hit all the highlights that you're hoping for & it'll surely give you so many backstories than you'll ever expect!
Amazingly, the bus is in a good condition & it's air-conditioned with knowledgeable drivers.
If you're still not sure of how you could be conservative and have enough fun while in St Simons Island, don't be hesitant to join a tour with this amazing initiative!
Address: 117 Mallery St, St Simons Island, GA 31522, United States
14. The Stables At Frederic
Horse riding has for ages been a part of the landscape and adventurous activities of coastal Georgia.
Whether you are visiting St Simons Island for solo exploration, or a holiday trip, every of your time spent at the Stables at Frederica is sure to create cherished memories.
This awesome destination has been offering once-in-a-lifetime experiences to travelers since it was established by the Sea Island Company in the year 2005.
Besides, this stunning site that's always enjoyed on a leisurely stroll and enjoyable horseback riding adventure, it also serves as a venue for several cultural activities.
If Georgia is your next vacation destination, it wouldn't be wrong for you to come to The Stables at Frederica. Stay a week, a night, a season, or a lifetime. Every moment is a blast!
Importantly, the Stables at Frederica operate on a daily basis from 8 am to 5 pm and the admission fee isn't expensive.
Whether or not you're new to horseback riding, the Stables at Frederica offer a riding experience for travelers of all ages and experience levels and at the end of it, everyone always feels joyful!
Always remember that Shannon Alder wasn't wrong when he noted that "when you are joyful, when you say yes to life and have fun and project positivity all around you, you become a sun in the center of every constellation, and people want to be near you."
You need to refill your joyful moments here!
Address: 150 Frederica Rd, St Simons Island, GA 31522, United States
15. The King And Prince Golf Course
Considering the three key benefits of golfing, you shouldn't plan a trip without updating your travel list to include a golfing attraction.
Firstly, unlike in other sports, while playing golf, the gaming experience is always personal! Often time, you play against nobody but yourself just to beat your formal performances.
Secondly, when you play at least a round of golf, you will spend some time outside. That suggests you'll be bringing enough sunscreen.
Lastly, golfing is a good form of exercise! Aside from the fact that you'll be spending a whole lot of time on your feet, you'll also be doing some sort of walking.
Perhaps if you do not know about these great benefits of golfing, you should have a change of mind by now that you know!
As soon as you arrive in this city in Georgia, the King and Prince Golf Course have far beyond what you'll expect from this small city of St Simons Island!
Needless to call for unnecessary descriptions, the name says it all, you'll enjoy yourself like a king or prince!
The courses are in fantastic shape, the layout is pretty okay, and 'the greens' are wonderful and roll so fast.
Related to that, the staff are super nice and every visitor has a great practice range.
There are also no trafficked crowds which add to the tranquility but then, restaurants aren't on site.
Advisably, endeavor to come with a bottle of water and some chocolates if you're willing to stay for a longer period!
Address: 100 Tabbystone, St Simons Island, GA 31522, United States
16. Ghost Walk Of Saint Simons
In a city as rich with history as St Simons Island, there is high hope that there's something lurking in the dark.
Yes, absolutely! The parable may appear so tricky, but then, a trip through the Ghost Walk of Saint Simons will reflect how fun this city of Georgia is in some scary locations.
Have you ever heard of ghost walk Adventures?
If you're of solid mind and you're interested in exploring something scary but entertaining, Ghost Walk of Saint Simons is for you!
You'll enjoy some of the coolest sites on the island with a sinister, scandalous, dark history.
Of course, the tour guide appears so knowledgeable about the history of this area, which means, while on a tour, you'll not only enjoy ghost stories but the history of this area in general.
This history makes you feel like you're a part of this city on the island because it's ever-engaging and interesting.
But is that all this lovely attraction has to offer? Absolutely not!
Should you be a solo adventurer, you can take time to enjoy a nice sunset cruise. It's a win-win for you!
With the affordable tour fee you will pay, if you're of a solid mind, trying out a ghost tour adventure here wouldn't be anything bad!
Meanwhile, it's advisable you arrive early to secure a seat because there is just one tour a day!
Address: for boarding, 115 Mallery St, St Simons Island, GA 31522, United States
Looking for more thrilling cities in Georgia? Why not check our list of the best and most fun things to do in Columbus, Lagrange, and Savannah?
17. Island Cinemas
In choosing a destination for vacation, the key thing to consider is your budget, the duration of the trip, and the diversities of fun things to do.
Impressively, not only does St Simons Island have cheap sites to be explored, there is equally a huge range of different sites to be with fun things.
Island Cinemas is just one of the many great things you could check out here.
As different from other sites, Island Cinemas is a convenient performing art theater situated in the southern part of this downtown.
It's an entertaining spot that's remarkable for its high performances, quality productions, and several worthwhile comedies.
Having recorded over 300, 000 travelers since its inception, it's not so surprising this attraction has been credited to be one of the greatest places in Georgia.
So, why will you prefer to be an exception to the huge number of meticulous visitors coming to this lovely spot?
That shouldn't be. It's never too late to modify your bucket list!
After all, Charlotte Eriksson's all the time stated that "it's advisable to spend more time doing things that make you forget about the time."
Certainly, after your next trip to this cinema, you'll wish you had known here for ages.
Importantly, the ticketing fee to this attraction is less than $30 and performances begin at noon through the night.
Address: 44 Cinema Ln #6600, St Simons Island, GA 31522, United States
18. Coastal Island Charter Fishing
There are two sets of fishing: one is done as an occupation while the other is done as an adventure.
Either of the two, a record is set straight!
The only difference is that, while one gives a temporary reflection, the other creates a memorable moment that lasts for a lifetime!
Coastal Island Charter Fishing is a dream come through for every fun-seekers planning travel to this downtown city of St Simons Island.
You'll have the privilege of catching amazing fish under the supervision of experienced tour guides.
If you're not too occupied with activities during your trip to this downtown, we recommend you plan to spend a couple of hours here. It's sure you'll never regret it!
Address: 206 Marina Dr, St Simons Island, GA 31522, United States
Final Remarks
The fact speaks for itself! Just to cut it short at that point, there are lots of fun places on St Simons Island.
So, what is delaying your vacation to this city?
There shouldn't be anything! Stand up, get set and ensure you narrow down your itinerary with the recommendations above.
While coming, don't leave your spouse and kids at home, this city in Georgia has fun things for everyone!
We wish you and happy vacation.